November 17th witnessed the end of the 2018 China-friendly Netizens' Silk Road Rediscovery Tour of Beijing-Culture Chapter, an activity hosted by the Information Office of the People's Government of Beijing Municipality. In the 3-day activity, celebrities from 9 countries (United States, Serbia, France, Indonesia, Thailand, Australia, Egypt, Nepal and Ukraine) formed a group of "Silk Road Celebrity Visitors" in Beijing and learned about the city's achievements in cultural protection and inheritance, cultural innovation and public cultural services. After visit, the celebrities were struck by the rich traditional culture of Beijing and praised Beijing for constantly injecting new vitality into traditional culture. They also wished the best for the city's future.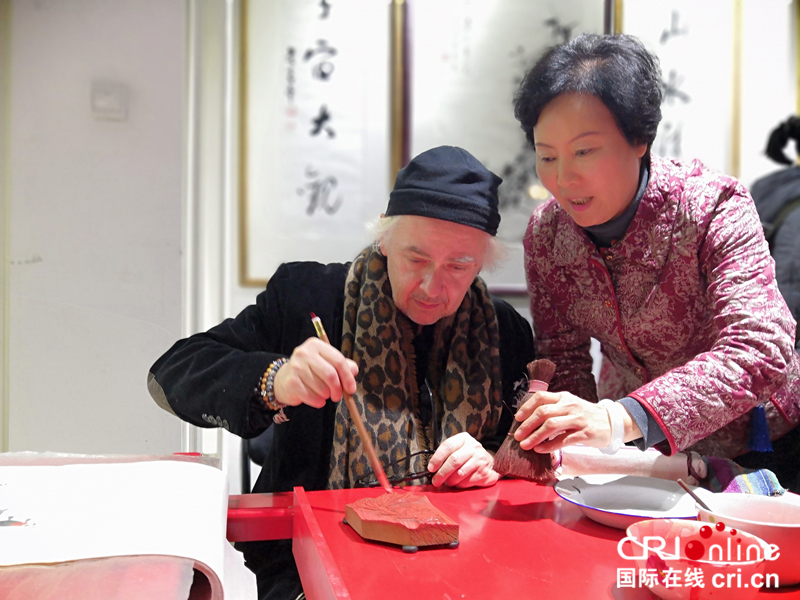 Caption: Ivan Tasovac, former Serbian Minister of Culture and Information and director of Belgrade Philharmonic, learned the last procedure of woodblock printing at Rongbaozhai [Photo by Li Shenglan]
Visit Hutongs, taste cuisines and embrace folk customs of Beijing
Beijing has fully represented the Chinese nation's brilliant culture that has lasted for tens of hundreds of years. The city was built more than 3000 years ago and it has been the capital for over 800 years. Its geographical features have contributed to the integration of the cultures of different ethnic groups and the creation of unique Beijing culture. On the Ancient Cultural Street of the Glass Street, the renowned French traveller Yann Olivier Vernerie was attracted by the bookstores and antique shops on the side and frequently captured their images. He said:"Hutongs are an integral part of Beijing culture. I am delighted to see the artistic features of Hutongs here. Beijing has tried to make the best of Hutongs while preserving their original features. It is an important approach of inheriting traditional culture".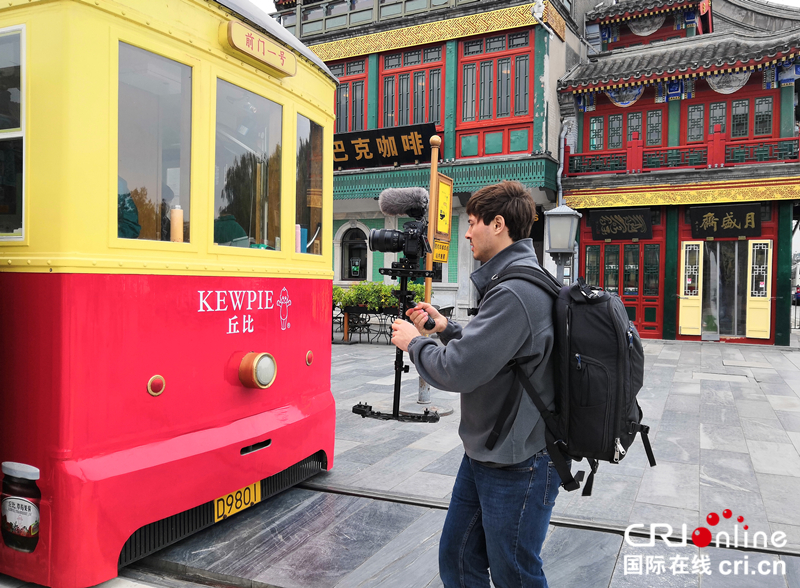 Caption: Jonathan Conti, a well-known American video editor, was shooting the video of "dangdang tram" [Photo by Li Shenglan]
Aside from watching the exhibition of folk customs in the Capital Museum and learning about the intangible cultural heritage of woodblock printing at Rongbaozhai, the celebrities also learned to make Shaomai at the time-honored restaurant Duyichu and tasted the traditional Beijing cuisine of roast ducks at Quanjude. Pintip Dechprarom, a senior media journalist from Thailand, said that Beijing cuisines could be used as the symbols of Beijing culture. Documentaries could be made to show the history and culture of Beijing Roast Duck and the procedures of making and eating it. They can be presented to other countries, helping more viewers get to know about Beijing cuisines and the traditional Beijing culture represented by them.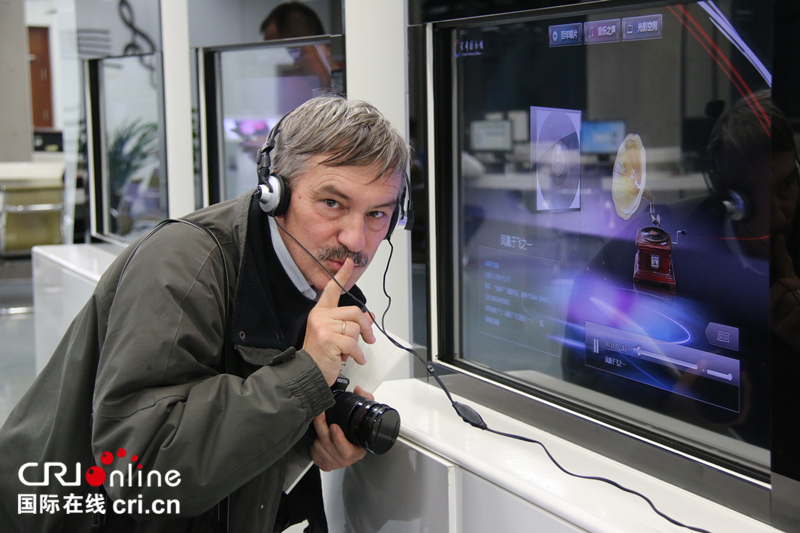 Caption: The Ukrainian photographer Chekanovsky Andrey Anatolevich was "listening to a book" in the Capital Museum [Photo by Yang Bin]
Public cultural services have created a platform for cultural exchanges among nations
Culture provides the endogenous power for a city and great support for its economic and social development. As the national cultural center, Beijing has always been prioritizing improving public cultural services. With the improvement in recent years, more people have got to know about Beijing and fallen in love with this city. Ivan Tasovac, former Serbian Minister of Culture and Information and director of Belgrade Philharmonic, said:"I came to Beijing 5 years ago. This time, the city has taken on a new look. The municipal government has made a wise decision to prioritize cultural inheritance and innovation. Through this visit, I have come to know the specific measures that have been implemented by Beijing to enhance cultural inheritance and innovation. Typical examples include public cultural service facilities like Zhongshan Music Hall, the Capital Library and the National Theatre for the Performing Arts".
Ivan Tasovac also believed that cultural service facilities and cultural activities could create a good platform for cultural exchanges, which would narrow the distance among nations. "The Belt and Road Initiative inspires more creative ideas and actions. The Belt and Road countries will be linked more closely together through cultural exchanges. When we talk about human beings, it is the emotion deep inside that matters. When we talk about art, it is culture symbolized by it that matters. When we talk about culture, it is people-to-people exchanges that matter. Cultural exchanges are the most universal repeated process in life and they are the most effective means of deepening interpersonal relations".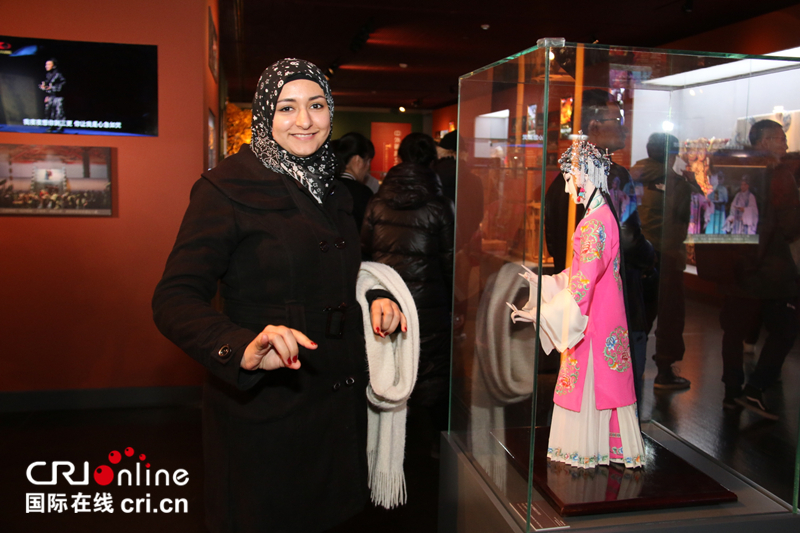 Caption: Doha Samir Sobhy Aly Tolba, a renowned young singer from Egypt, was imitating the gestures of Peking Opera figures in the National Center for the Performing Arts [Photo by Yang Bin]
Science, technology and creativity Beijing's cultural and creative industries are full of vitality
In recent years, Beijing has been vigorously enhancing the protection and inheritance of traditional culture and trying to present it to more people through modern technologies. Doha Samir Sobhy Aly Tolba is an Internet celebrity in Egypt and she has won the first place in the Grand Prix Competition for Egyptians Singing Chinese Songs. She has her own ideas about how to promote Beijing culture, saying that the young are the main force of cultural inheritance and innovation. "We can hold more activities similar to the competition, activities that are liked and supported by the young generation. In this way, more people will learn about Beijing culture and promote its inheritance".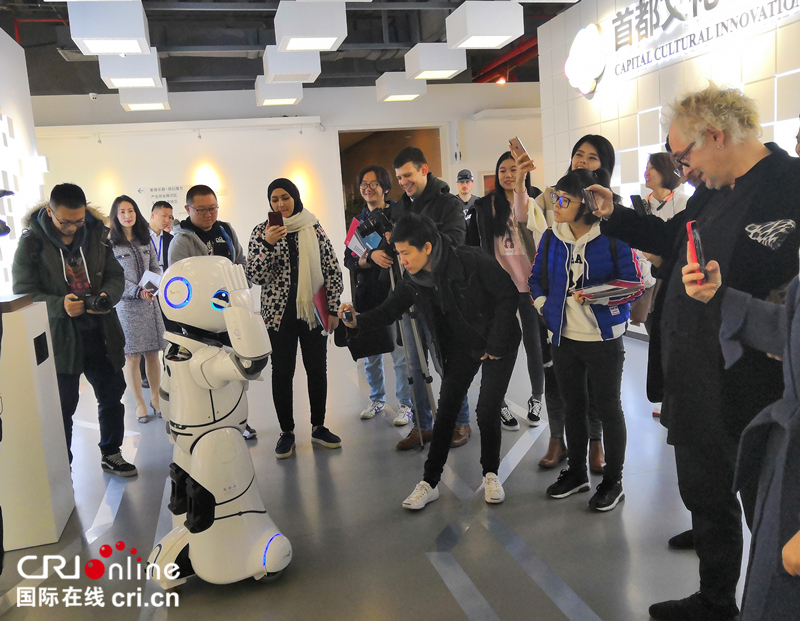 Caption: The "Silk Road Celebrities" were watching the performance of an intelligent robot at the exhibition center for Beijing's cultural and creative industries [Photo by Li Shenglan]
Digby James Wren, a professor from Deakin University, Australia, said that this visit helped him feel the charm of Beijing's traditional culture and the vitality of the cultural and creative industries here. However, Beijing's culture is rich in meaning and more time is needed for exploration. When he comes to Beijing next time, he will definitely spend more time delving into the culture here. "We would choose New York as our top destination since it featured new technologies and innovation 100 years ago. Now, however, we expect much more of Beijing since it is a combination of history and modernity. I believe Beijing will, like a beacon, attract more people to its embrace".
Cultural promotion is an important part of improving society and livelihoods, and enhancing urban development. Over the past 40 years of reform and opening-up, Beijing has, while protecting and inheriting traditional culture, injected new vitality into it through technological innovation, presenting it in new and vivid forms.