There are a group of young people from the Belt and Road countries. They are studying, traveling, working, or living in China, and therefore bound up with China. They have been witnessing the rapid change of China, sharing their own stories about China with others, and praising China for its change.
Recently, CRI Online has been releasing a series of news reports, Youth along the Silk Road Praise China, to listen to these young people's stories about China.
The protagonists of this episode are Nathaniel Blogbah Toe and Amalia Argentina Aguilar Nicolau. Nathaniel is the business and marketing manager from Liberia broadcasting system. Amalia is a multimedia journalist from a TV broadcasting channel in Panama.
On Nov. 7th, the journalist met Nathaniel and Amalia at the graduation conversazione of 2018 Seminar of Documentary Talents of Silk Road Countries. As the representatives of their countries, Nathaniel and Amalia have got a deeper understanding of the development of China's media industry and the cooperation and friendship among China and other countries in various fields based on the Belt and Road Initiative.
2018 marks the 5th anniversary of the proposal of the Belt and Road Initiative. Talking about the influence of the Belt and Road Initiative, Nathaniel said, "To Liberia and China, the Belt and Road Initiative has promoted social and cultural development, infrastructure construction and communication in different fields."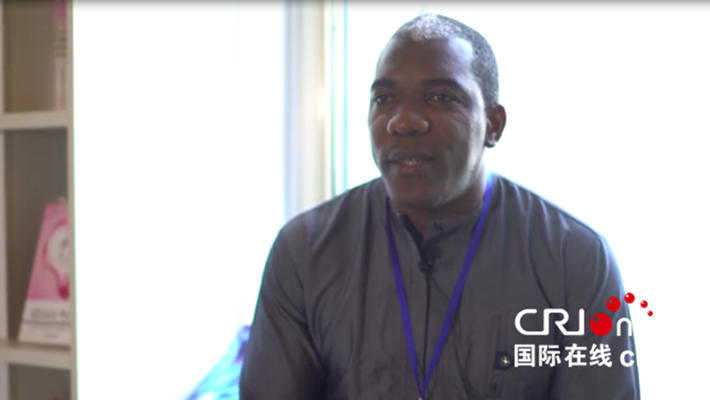 Caption: Nathaniel is being interviewed by CRIOnline
According to Nathaniel, during the implementation of the Belt and Road Initiative, Liberia and China are focusing on major projects construction and trade cooperation. Now China is supporting Liberia's development with its own development and technology experience, such as China's assistance in the construction of Libyan government house. Nathaniel said, "We're looking forward to enhancing cooperation with China, in order to improve the infrastructure, promote the development of the manufacturing industry and agriculture, and enhance trade between the two countries."
In June, 2017, Panama and China officially established diplomatic relation. From then on, the two countries have won great opportunities for development. Amalia, a multi-media reporter from a TV broadcasting channel in Panama, said, "After the establishment of diplomatic relation between two countries, China and Panama have been cooperating in a number of projects." Panama and China are cooperating in infrastructure, transportation, trade, culture and many other fields.