There are a group of young people from the Belt and Road countries. They are studying, traveling, working, or living in China, and therefore bound up with China. They have been witnessing the rapid change of China, sharing their own stories about China with others, and praising China for its change.
Recently, CRI Online has been releasing a series of news reports, Youth along the Silk Road Praise China, to listen to these young people's stories about China.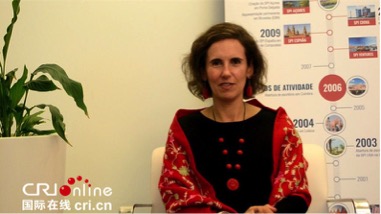 Sara Medina, the young Portuguese entrepreneur [Photo provided by the interviewee]
The protagonist of this episode is Sara Medina, a young Portuguese entrepreneur, and she has been working in China for more than fifteen years. She is working in SPI, an international consulting company which can provide services in the aspects of technology, innovation, international cooperation and many other fields.
Talking about the relationship between Portugal and China, Sara said, "China is the Asian country which has the most trade with Portugal. Portugal has been developing much faster in the past few years and we have the sophisticated infrastructural facilities at present. You can see that technology is developing quickly in some universities and research institutes. So we're willing to join the Belt and Road Initiative."
In her mind, the Belt and Road Initiative is an important proposal by Chinese government and both Portugal and China benefit from it. Recently, Chinese president Xi Jinping has visited Portugal and seventeen agreements in the areas of electric vehicles, energy, finance have been signed during this meeting. "Without any doubt, it's a very important step of the cooperation between Portugal and China." Sara said.
Actually, Portugal and China have developed cooperation in many fields. "Such as the cooperation between China Three-gorges and EDP, the biggest electric power group in Portugal." Sara introduced. "There are also lots of things that Europe should learn from China, like the efforts for innovative development. During these years I have lived in China, I'm very impressed by the development in the area of enterpreneurship, all the business incubators and science parks. What's more, in some universities, I can feel they have done quite a lot of work in attracting foreign students and promoting technological development, and that makes me feel amazed." Sara said.
Sara also showed her ambition for her work planning, "As an international consulting company, we aim at bringing more Chinese companies to Europe, and helping them to find different types of partners in Portugal and other European countries so that they can develop further cooperation."