There are a group of young people from the Belt and Road countries. They are studying, traveling, working, or living in China, and therefore bound up with China. They have been witnessing the rapid change of China, sharing their own stories about China with others, and praising China for its change.
Recently, CRI Online has been releasing a series of news reports, Youth along the Silk Road Praise China, to listen to these young people's stories about China.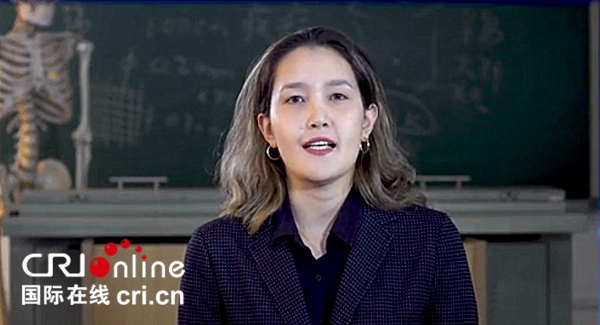 Caption: The Kazakhstani student Zu Feiya is receiving an interview [Photo by Li Jin]
The protagonist of this episode is Zu Feiya (Tursyngali Zulfiya). She is studying in acupuncture and tuina in Beijing University of Chinese Medicine for her master's degree. Zu Feiya said that she had suffered from dorsal muscular soreness once. Then she had a chance to get in touch with Chinese medicine. With the help of acupuncture and tuina, she recovered pretty well. Due to this experience, she decided to go to China and study Chinese medicine.
"After the proposal of the Belt and Road Initiative, Kazakhstan and China have initiated or deepened cooperation in various fields, such as medicine, sanitation and health. Chinese medicine, as a result, has been known by an increasing number of Kazakhstani people." According to Zu Feiya, at present, Kazakhstan has a number of Chinese medicine clinics, and quite a few Kazakhstani people will go to see Chinese doctors when they feel ill. Under this background, many Chinese medicine institutions including hospitals and universities start to cooperate with Kazakhstan.
Zu Feiya believes that in the field of Chinese medicine, both Kazakhstan and China have their advantages and requirements for further development. Hence, under the Belt and Road Initiative, Kazakhstan and China can initiate communication about Chinese medicine resources in order to create a win-win situation. With rich medical plant resources, Kazakhstan can conduct medical research together with China on Chinese medicine materials. This will not only bring new opportunities for Chinese medicine, but also promote the development of Kazakhstan's medicine industry. In addition, after the proposal of the Belt and Road Initiative, Kazakhstan's requirement for Chinese medicine talents has been gradually increasing, while Kazakhstan doesn't have abundant Chinese medicine talents. Thus, Zu Feiya said, "I hope more Chinese experts and doctors will come to Kazakhstan for academic exchange." In this way, these experts will bring excellent Chinese medical technology and ideas to Kazakhstan to cultivate more talents.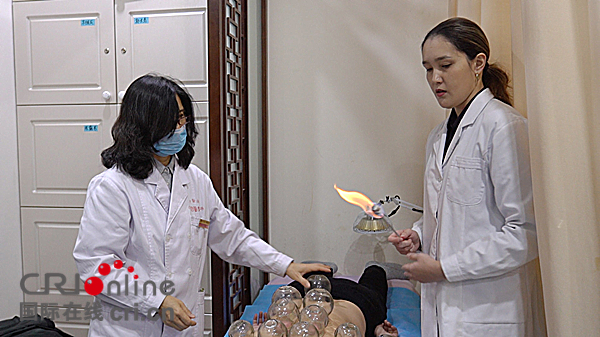 Caption: Zu Feiya is learning cupping glass, a kind of Chinese medicine therapy [Photo by Li Jin]
After graduation, Zu Feiya will go back to Kazakhstan. "In some areas of Kazakhstan, after I receive my graduation certificate authentication, I can work in Chinese medicine." Though students studying in Chinese medicine like her can only work in private hospitals or open clinics in Kazakhstan, Zu Feiya is still full of hope in the future. She believes that the Belt and Road Initiative will create infinite possibilities for the co-development of Kazakhstan and China in the field of Chinese medicine. Zu Feiya hopes that she can open her own clinic in the future. In this way, she can cure illness, introduce Chinese medicine to more people, and contribute herself to the cooperation between Kazakhstan and China.