The 2018 Chagan Lake Ice Fishing & Wintry Jilin Tour, a media tour organized for the benefit of both Chinese and international journalists, officially kicked off at the Changchun FAW Red Flag Cultural Exhibition Hall on December 22.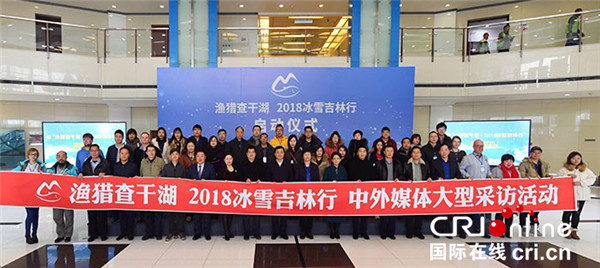 Participating journalists posed for a photo op with government officials. (Photo by Li Peng)
Some 100 journalists from home and abroad attended the launch ceremony. Throughout the week-long journey, they will explore, experience, document thoroughly and present to viewers, listeners and readers through multiple platforms the unique wintry charm of Jilin province as a premier tourism destination.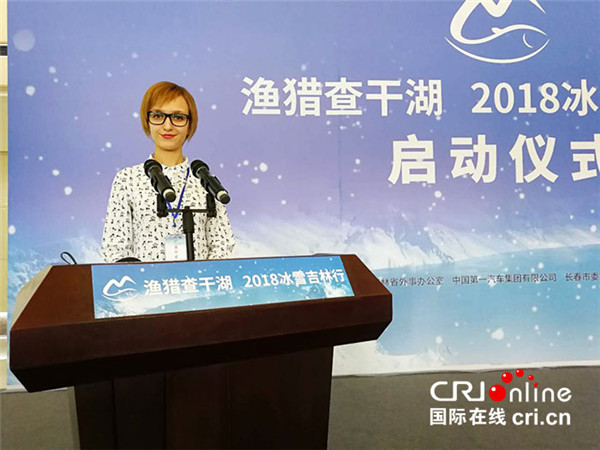 Russian Ussuri Television reporter Olga spoke on behalf of foreign journalists. Photo by Li Peng
Russian Ussuri Television reporter Olga spoke at the launch ceremony on behalf of her international peers. "I have long heard from my friends that the winter scenery in Jilin is spectacular, and I am thrilled to be invited to the event," Olga said. "I look forward to great fun at the ski resort, climbing the snow-capped Changbai Mountain, and tasting fish freshly caught from beneath the frozen surface of the Chagan Lake using a centuries-old technique. Since the tour covers the entire spectrum of winter tourism, it will provide an exciting opportunity for me to learn more about Jilin and China."
The tour spans five regions of Jilin province including Changchun, Jilin, Yanbian, Changbai Mountain and Songyuan. The participating Chinese and foreign journalists will be treated to a complete wintry experience that includes skiing, rime scenery, hot springs, a visit to the Heavenly Lake of Tianshan and ice-fishing, and bear witness to the strength of Jilin's "snow economy". (Kevin)