On April 29th, the 2019 World Horticultural Exposition opened in Beijing. This World Expo not only allows visitors to enjoy the wonderful gardens, but also shows the concept that China share development achievements with the whole world and pursue green life. And the International Bamboo and Rattan Garden, which appears in the Expo for the first time, fully fits this concept.
The main part of the International Bamboo and Rattan Garden is built with more than 5,000 bamboos. The single arch spans 32 meters. It is the largest bamboo structure stadium in China and it is known as the "Bamboo Eye" in the Expo.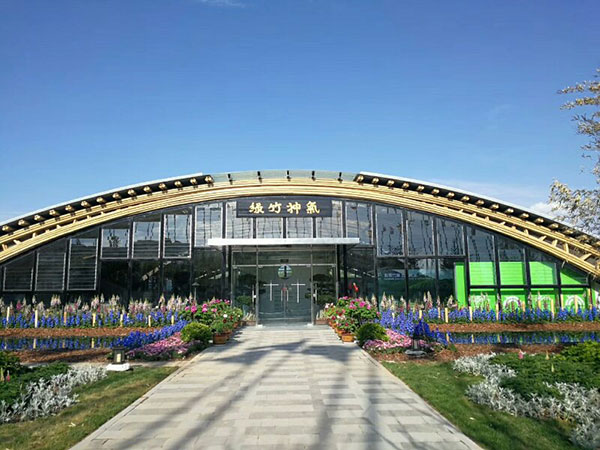 International Bamboo and Rattan Garden [Photo by Meishan municipal party committee publicity department]
More than 70% of the bamboo and rattan products that shows at the International Bamboo and Rattan Garden are from Meishan, Sichuan Province. Meishan has joined hands with the International Bamboo and Rattan Organization to show their unique significances of bamboo and rattan in improving the living environment and the quality of life with the theme of "Green Life and Beautiful Homeland".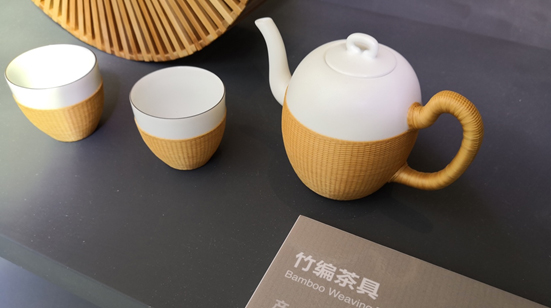 Bamboo tea set fromMeishan [Photo by Li Meng]
The full use of Meishan elements is the biggest highlight of the International Bamboo and Rattan Garden. A series of bamboo products including international fines such as "The Riverside Scene at Qingming Festival" were exhibited here. The Qingshen bamboo weaving of Meishan uses a unique single bamboo to make bamboo wings, such as hair, and weaving it into a beautiful bamboo lantern, bamboo painting and other artworks. It is called "the miracle in the history of bamboo weaving, the ultimate work of arts." Silk, Sichuan embroidery, and bamboo weaving are also called "three treasures in Sichuan" together. Bamboo weaving is also the protection product of Chinese geographical indications.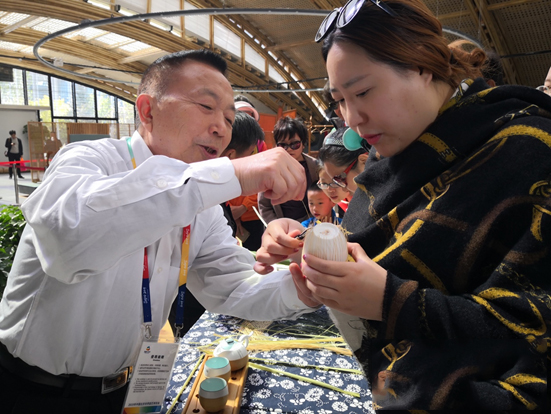 Master of bamboo weaving, Zhang Deming (left) from Meishan introduces the process of making bamboo staff [Photo by Li Meng]