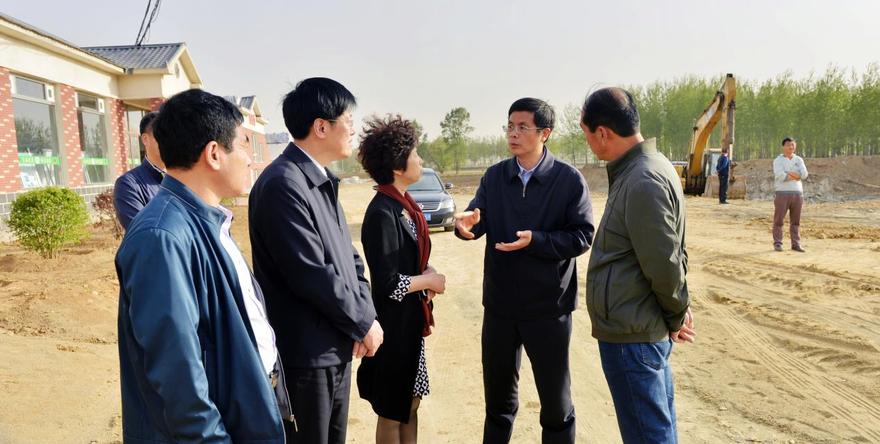 Wang Huanmiao, Secretary of the CPC Committee of Faku County (second from right), discussed the renovation of rural living environment in Shanzuizi village, Shijianfang Town with Lang Weiwen, former secretary of Shijianfang (third from right).
The coordinated development of "environmental construction" and "project development" has created a beautiful chapter in Faku County, Shenyang City, Liaoning Province. In recent years, Faku County has focused on key industries, cultivated characteristic advantages, focused on rural revitalization, and developed urban economy. They achieved remarkable results in optimizing and upgrading industrial structure, stabilized and improved economic operation, and continuously improved the quality of development. The county created a model for all-round development and high-quality development.
"the renovation of the living environment is a" catalyst "for serving the construction of the business environment, the development of the investment industry of the project, strengthening the party building at the grass-roots level, promoting the development of the county economy, and building a well-off society in an all-round way," said Wang Huanmiao, Secretary of the Faku County CPC Committee. "We should start with the trivial things around the common people, do one thing at a time, and constantly enhance the sense of happiness of the people of the whole county."
From the construction of big data Agricultural Science and Technology Park in Gui'ao Faku County, the first of its kind in Northeast China, to the establishment of a sanitary ware production and construction project with an investment of 1 billion yuan by Kohler, a top 500 enterprise in the world, to rising as "the most potential Aviation Industry Park among the 84 general aviation industrial parks in the country, Shenyang Faku General Aviation Industry Base in 2018," Faku is well-known for its rural environment and projects. In fact, closely around the theme of rural revitalization, the formation of "China Porcelain Valley, Northern Navigation Hub, China well-known County, landscape county" four major industrial brands. Especially since the beginning of this year, under the guidance of the Shenyang Municipal CPC Committee and Municipal Government, enterprises and the government have worked together to improve the living environment and build beautiful villages suitable for living and industry, making Faku the first choice for investment in many industries.
Liaoning's Faku is standing at a new starting point towards the stage of all-round development and high-quality development.