China's profile in the eyes of South Korean journalist: feeling a beautiful China in Beijing Expo 2019
|
ChinaNews
|
Published:2019-08-23 18:28:35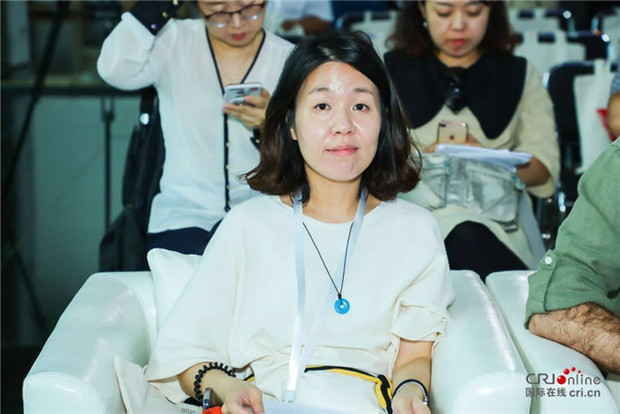 Bae In Sun, Journalist from South Korea
On August 20, 2019 "China Now: Silk Road Rediscovery Tour of Beijing Upon the 70th Anniversary of the PRC", sponsored by Information Office of Beijing Municipality, was officially launched at Tongxing Square in Beijing Expo 2019. Think tank experts, senior media people and well-known authors from 13 countries including South Korea, Cambodia, Canada, Indonesia, Iran, Germany, Kenya, Myanmar, Pakistan, Russia, Serbia, Thailand, Turkey, etc. taking Yanqing as a starting point, have embarked on a trip to show the image of Beijing and convey the voice of China to the world.
Bae In Sun, Head of China News Group of International Department of the Asian Economy in South Korea, who participated in this event as a representative of South Korean media, said that "When I visited the Beijing Expo 2019, I had a strong feeling of the Chinese people's willingness to build a beautiful China".
Bae In Sun said, "There are many international events held in Beijing this year, including the Beijing Expo 2019, the Second Belt and Road Forum for International Cooperation in April and the upcoming 70th anniversary of the founding of the PRC in October. Among them, the Beijing Expo 2019 is held from April 29 to October 7, 2019, with a duration of 162 days. The event featuring 'Live Green, Live Better' has attracted official participants from 110 countries and international organizations. During Beijing Expo 2019, more than 1,200 plants are displayed in over 100 exhibition halls, and more than 2,500 cultural events will be held." Bae In Sun said with excitement, "The park covers an area of 960 hectares, equivalent to 1,200 football fields, which makes it difficult to stroll through in one day."
"China must have such a reason to do so at the expo." She said, "As was mentioned by the Chinese President Xi Jinping in the opening speech of Beijing Expo 2019, we should stop disorderly exploitation and pursue prosperity based on green development. Just like what President Xi Jinping said, Chinese people have demonstrated their willingness to build Beautiful China by carefully designing Beijing Expo 2019, which can be felt everywhere in the expo park."
When asked about the most impressive venue, Bae In Sun said, "The China Pavilion can be viewed as the best highlight of the Beijing Expo 2019. The design focuses on creating green buildings that can 'breath' and have 'life'. The building is very characteristic. For example, the facade uses rock and wooden materials, and there is a rainwater collection system on the top layer to recycle rainwater. The observation deck adapts the most advanced solar film to store sunlight and convert it into electricity. There are also 1024 pieces of photovoltaic glass on the roof."
The exhibition area of the expo is in Yanqing, northwest of Beijing, which is more than 70 km away from the downtown area. Bae In Sun thought Yanying is a good location for the expo because it bears great significance.
She said, "In the past, Yanqing only reminded people of the Badaling Great Wall and Longqing Gorge. Until 70 years ago, Yanqing was still a wasteland, and the green area was less than 7%. Later, a series of efforts have been done by the residents including cultivating this wasteland, opening waterways and planting trees and grass, Yanqing has now become a lush ecological area."
In the end, she said, "I am very impressed by the words 'Win Future with the Ecology' in the expo. I look forward to witnessing China's green growth and sustainable development, and I hope China will soon enter the ranks of 'environmental powers'."