The 2019 World Tourism Cities Federation (WTCF) Helsinki Fragrant Hills Tourism Summit was held in Finland's capital, Helsinki, from September 2 to 4. Helsinki was the first European city to host the Fragrant Hills Tourism Summit. Ms. Laura Aalto, CEO of Helsinki Marketing, said in an exclusive interview with CRI Online that "the Fragrant Hills Tourism Summit has created an opportunity for different cultural and ethnic exchanges among the world tourism cities."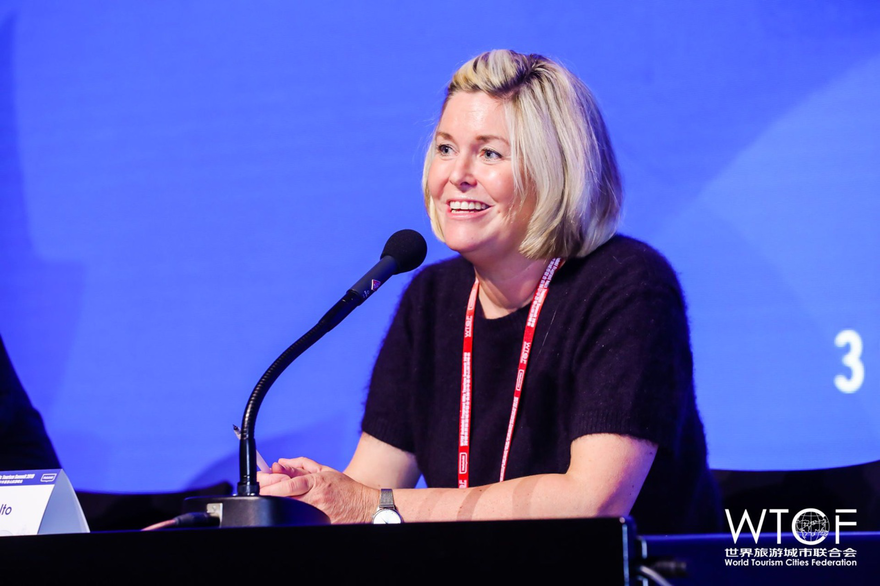 Ms. Laura Aalto, CEO of Helsinki Marketing photo by WTCF
Speaking about opportunities offered to Helsinki's tourism industry as a member city of the WTCF, Aalto said the biggest opportunity is to gain insight into the Chinese tourism market.
"Helsinki is a founding member of the WTCF and has learned a lot about the Chinese tourism market and the preferences of Chinese tourists in outbound tourism in recent years by participating in the Fragrant Hills Tourism Summit," Aalto said. "The training and publication of academic reports provided by the WTCF are very valuable and are also difficult to obtain on other platforms, which help Helsinki gain an in-depth understanding of the Chinese market. The information is also very beneficial for the development of the local industry in Helsinki. More information about the consumption of Chinese tourists can be obtained, thus enabling tourism cities to provide better tourism and city services."
The Fragrant Hills Tourism Summit attracted more than 500 guests from the tourism industry around the world, creating an opportunity for cultural and ethnic exchanges with other cities.
"Although digitalization is an increasingly obvious trend, we still need an opportunity and a platform for face-to-face communication," Aalto said. "We can learn through diurnal meetings, and share experience and strengthen connections with each other through communications during dinner parties."
As for the challenges Helsinki faces in boosting tourism, Aalto believes other cities face many similar problems, such as transport, housing and food issues. Thus, in-depth practice and cooperation are needed, and the city planning and tourism sectors need to explore them together.