On September 3rd, World Tourism Cites Federation Helsinki Fragrant Hills Tourism Summit 2019 officially kicked off. At the opening ceremony, Li Yunpeng, WTCF Expert and Professor of Capital University of Economics and Business published the Global Report on Smart Tourism in Cities.
According to the introduction, the report mainly uses the questionnaire to make an overall assessment of the development of smart tourism in member cities, and combines the case analysis form to analyze in depth how smart tourism cities use cutting-edge science and technology to enhance the development of smart cities. This report highlights the experience of developing smart tourism in six member cities Beijing, Chengdu, Madrid, Helsinki, Buenos Aires and Marrakesh, the exploration by Ctrip and Tencent into helping cities develop smart tourism and the successful case of MIT Senseable City Lab providing technological support for smart cities development with the assistance of cutting-edge engineering and mathematics models, to encourage tourism cities to more actively adopt technological innovation in order to meet the needs of tourists and citizens.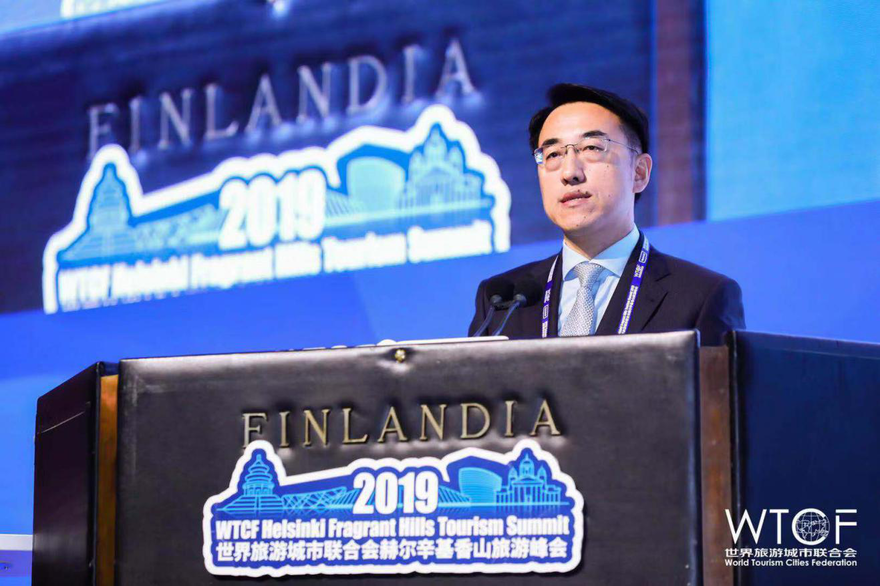 Li Yunpeng, WTCF Expert and Professor of Capital University of Economics and Business published the Global Report on Smart Tourism in Cities at the opening ceremony.
On January 19th, 2017, Ctrip and the China Tourism Academy launched their co-built "Joint Tourism Big Data Lab". In the same year, Guiyang City formulated The Three-Year Action Plan on Big Data Tourism. On the basis of big data tourism resources, Ctrip provided Guiyang City with 3 systems, 12 data modules, over 40 data dimensions and various application scenarios, forming the smart tourism big data system in Guiyang City, which can create the overall on-line tourism connection in Guiyang City in a macro way, facilitate the analysis on the on-line trade distribution scale and trade structure of various forms of industry, such as accommodation, transportatio and scenic spots, in a middle way and contribute to the analysis on tourist portraits and travel preferences as well as enhance the correct recognition of the needs and behavior characteristics of various customer groups in a micro way.
Smart tourism is a new opportunity for tourism development, and the development of China's Internet industry injects new drive and vitality into the development of smart tourism in cities. Against that backdrop, the People's Government of Yunnan Province as well as Tencent Culture and Tourism, by means of Internet of Things, Cloud Computing, Big Data, AI and other technologies, created an all-region smart tourism digital platform "tour around Yunnan with just a mobile phone", promoting the upgrading and transformation of tourism industry in Yunnan, and digital economic innovation and practice so as to build a smart, healthy and convenient Yunnan all-region tourism ecology.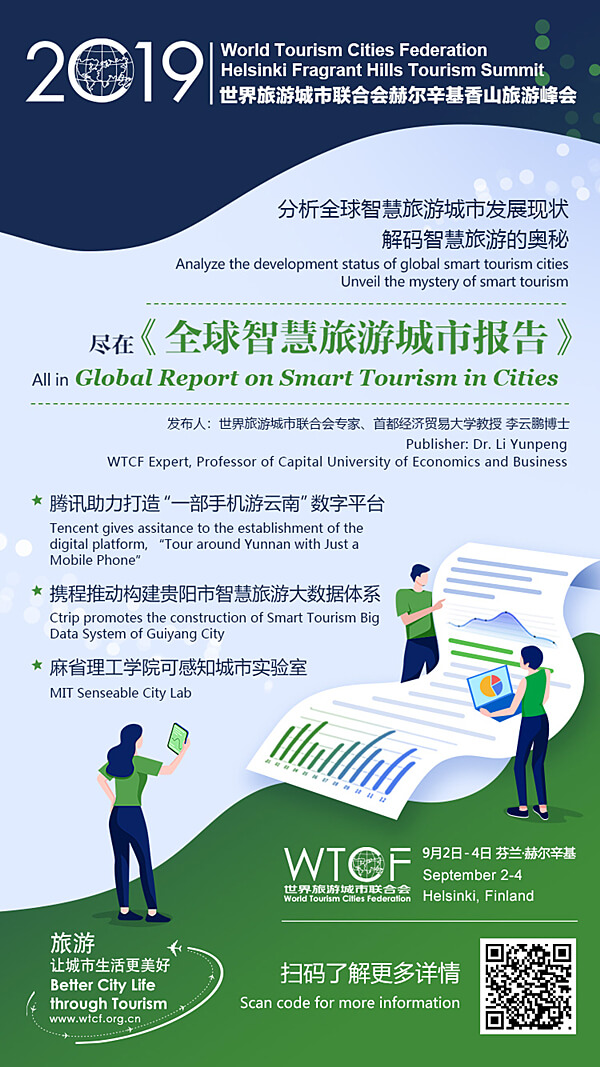 Post of Global Report on Smart Tourism in Cities
By means of cooperating with other organizations, the MIT Senseable City Lab explored innovative ideas and carried out creative empirical practice, in which partner cities offered testing cases, industry members provided technical expertise and financial support and the Lab, at the same time, united public and private sectors with common aspirations in the future. By working with various parties, the Lab grasped the multidisciplinary nature of city issues, provided research and application and entitled citizens to make choices so as to create more livable cities.
The Report also analyzes the experience and perceptions of Chinese tourists as consumers. China has become the world's largest source of tourists, and the unique consumption and tourism customs of Chinese tourists have pushed forward the transformation of the service model of overseas tourism cities. Assessing the development of overseas tourism cities from the perspective of Chinese tourists can provide various cities around the world with valuable reference for developing smart tourism, especially attracting Chinese tourists to those cities.