As one of the European destination countries that witnessed the highest growth in the number of Chinese tourists in 2018, Finland is winning the favor of an increasing number of Chinese tourists. From September 2nd to the 4th, Helsinki, Finland hosted the 2019 World Tourism Cities Federation (WTCF) Helsinki Fragrant Hills Tourism Summit. During the summit, the Head of Visit Finland Paavo Virkkunen said in an exclusive interview that he expected more Chinese tourists to discover the charm of Finland by touring the country.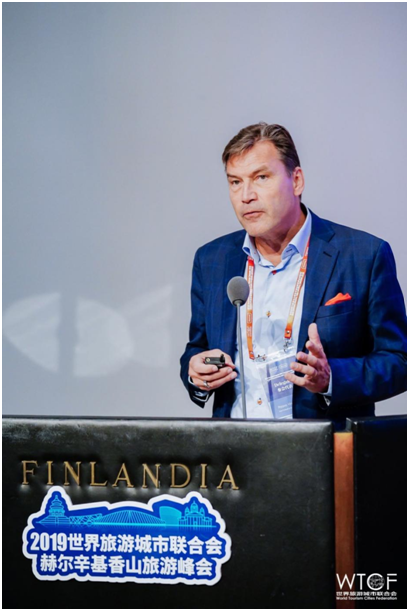 The Head of Visit Finland Paavo Virkkunen presided overForum Session IV: Technological Innovation & Sustainable Travel during the 2019 WTCF Helsinki Fragrant Hills Tourism Summit
At the opening ceremony of the summit, the Chinese ambassador to Finland Chen Li stated in an interview, "In 2018, the number of Chinese tourists who stayed overnight in Finland exceeded 330,000 and China became Finland's biggest source of tourists, second only to the EU. In the first 7 months of 2019 alone, the number of Chinese tourists who stayed overnight in Finland totaled 216,000,recording a year-on-year growth rate of 16.9%. "
Why is Finland loved by so many Chinese tourists? The Head of Visit Finland Paavo Virkkunen explained the three primary reasons, which were the natural environment of the country, its distinct infrastructure and promotional interests.
Paavo Virkkunen also stated, "First of all, Finland is a pure travelling destination. The observation of nature is the cornerstone of Finland's tourism development. Finland offers four main traveling destinations: Lapland in the north, the Lakeland in the southeast, seaside areas including islands and the urban area of Helsinki. In addition, Finland is characterized by four distinct seasons, offering travelers fantastic touring experiences. For example, tourists can experience ice, snow, and watch the aurora borealis in winter. Moreover, they can enjoy the sunlight 24 hours a day when they go to Lapland in summer since the sun never sets there."
Secondly, Finland has spared no efforts to improve tourism infrastructure and services. Paavo Virkkunen pointed out that the country has provided Alipay and Wechat payment services and translating apps around the country so that the Chinese tourists can have better travelling experiences. Additionally, Finland has been vigorously developing the country's airline fleets for increased volume of travelers. Now Finnair has already established air routes to 7 cities of China and the number of weekly flights can reach 40. This April, Tibet Airlines established a direct air route from Jinan to Helsinki. This June, Juneyao Airlines launched a direct route from Shanghai to Helsinki. On September 16th, Sichuan Airlines will also launch a direct flight from Chengdu to Helsinki. These air routes will greatly facilitate an influx of Chinese tourists to Finland.
Finally, Finland has been trying its best to promote its image and its efforts have already paid off. Paavo Virkkunen said that China's big reality show We Are in Love was set in Finland in April, 2016 and this program has drawn a lot of attention since its launch. China's travelling operators such as Ctrip and Utour have been developing products related to Finnish travel and this has contributed to Finland's first peak in the rising number of tourists. In recent days, the nation has invited the famous Chinese actor Wang Kai to serve as its promotion ambassador of winter tourism, hence attracting a lot of attention on social media.
Mentioning how Finland will attract more Chinese tourists in the future, Paavo Virkkunen stated, "To this day, Finland is still a major destination of winter tourism for Chinese travelers, so our primary objective at the next stage is to develop summer products and services to offer Chinese tourists an opportunity to experience the country's stunning natural environment in the summertime."
A great number of Chinese athletes are now training in Finland in preparation for the Beijing 2022 Olympic Winter Games. "We hope that the Chinese athletes will, after finishing their training and returning to China, share their experiences in Finland with others. In this way, more Chinese people will go to Finland to learn about the winter sports and feel the charm of winter tourism. I also expect more and more Chinese tourists to tour Finland and find the diverse allure of the country," said Paavo Virkkunen.