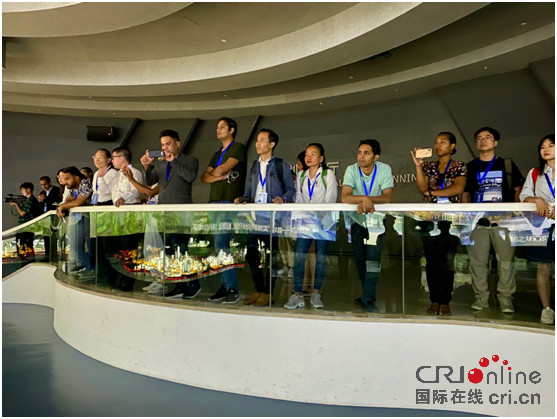 The journalists visited the Qianhai Exhibition Hall (Photo by Qu Yi)
Qianhai is a Special Economic Zone (SEZ) within the greater SEZ of Shenzhen. On October 18, Qianhai embraced a visiting group consisting of 15 journalists from the Belt and Road Countries.
"My greatest feeling is that Qianhai's initiative to provide fertile ground for young people to innovate and start businesses is worth learning from all over the world.""I believe that this area will develop into a prosperous city like Dubai, and promote the economic development of the surrounding area.""There will be a bright future for Qianhai!"The journalists have expressed.
As one of the three pilot free trade zones in China (Guangdong), Qianhai functions as a window for China's future development. From almost a blank paper in 7 years ago, Qianhai, which started from scratch, now has over 163,890 registered enterprises, ranking the first among all the Pilot Free Trade Zone in China.
According to statistics, in 2018, the enterprise added value in Qianhai reached RMB 254.9 billion and the tax revenue was RMB 44.6 billion. The actual utilization of foreign capital exceeded 4.5 billion US dollars, accounting for half of Shenzhen and nearly 3% of China.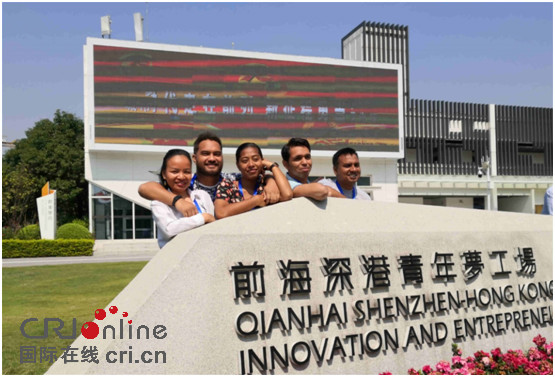 The journalists took photo in Qianhai Shenzhen-Hongkong Youth Innovation and Entrepreneur Hub (Photo by Li Meng)
Wang Jinxia, the Deputy Director of the Management Committee of Qianhai Shekou Free Trade Zone, the journalists expressed that Qianhai is one of the representative areas in China that enjoys the fastest development, the best performance and the highest quality.
It is said that Qianhai is also a demonstration area for close cooperation between Guangdong, Hong Kong and Macao. By the end of September this year, 11,877 Hong Kong-funded enterprises had registered here with a registered capital of over RMB 1.2 trillion.
Wang Jinxia said that the benefits of Hong Kong-funded enterprises in Qianhai are very good, providing about 1/4 of the total economic output, and the actual use of foreign capital accounts for 89%. Qianhai is an area where the Hong Kong-funded enterprises are most concentrated and enjoy the fastest development, and it is also the most desirable area for Hong Kong capital. "Our Qianhai Shenzhen-Hong Kong Youth Innovation and Entrepreneur Hub have fostered 193 innovation and entrepreneur teams from Hong Kong, Macao and Taiwan, and have received more than 50,000 young people from Hong Kong to visit and inspect."
After visiting the hub, Sararh Fatima, journalist from the National Television of Maldives, expressed that when young people begin to start their own businesses, a broad and convenient platform provided by the government like this hub will help them to broaden horizon, improve capability, and reduce difficulties that may occur in the process, which enables them to open the market for their products as soon as possible, make their businesses larger and stronger, and eventually introduce their products to the whole world.
Days before the third 21st Century Maritime Silk Road Forum on China (Guangdong) International Communication, Information Office of the People's Government of Guangdong Province, together with CRI Online, will hold the activity of "2019 Journalists from the Belt and Road Countries Convene in GBA" from Oct. 17th to 23rd, 2019. A total of 15 journalists from 14 countries including Afghanistan, Pakistan, Maldives, Bangladesh, Nepal, Sri Lanka, India, the Philippines, Cambodia, Laos, Mongolia, Myanmar, Fiji and Tonga are invited to visit Shenzhen, Jiangmen, and Zhuhai, hrough the external perspective and overseas communication channels, to demonstrate the measures and achievements of Guangdong in promoting the development of GBA and participating in the construction of the Belt and Road, and fully to demonstrate GBA and China's economic and social development, as well as the bright future and great potential for opening up.