On October 15, 2019 Belt and Road Forum for Cooperation and Development of Sichuan International Friendship Cities International friendship cities governors forum was held in Chengdu, Sichuan province. On the forum, Sichuan and 43 friendship city delegations from 32 countries in five continents issued the "International Friendship City Cooperation and Development Sichuan Initiative".
All parties in the initiative believe that the "Belt and Road" initiative has been widely recognized by the international community. It is hoped that it will fully integrate into the "Belt and Road" construction and continue to uphold the principle of "co-industry, joint construction, and sharing" and establish more long-term exchange mechanisms. We will build more pragmatic cooperation platforms, actively create multilateral cooperation models, deepen mutual exchanges and mutual benefit, and promote mutual benefit and win-win development.
The participating parties hope to continue to regard "interconnection" as the core heart of "Belt and Road" construction, leading by major projects and key projects, and constantly burying infrastructure networks around the country to create more convenient and efficient conditions for expanding economic and trade investment and close personnel exchanges.
The Initiative pointed out that friendship city should further highlight each other's characteristics, give play to comparative advantages, and promote complementary development. Find more cooperation coupling and matching points in the fields of energy, science and technology, innovation, agriculture and food, trade, logistics, medicine, etc., especially in cultivating and creating new ones at the point of economic growth, exchange and complement each other, learn from each other's strengths, and share the results. At the same time, we hope that friendship cities will respect each other's traditional culture, draw extensively on various civilizations, and actively carry out education, science, and cooperation in the fields of culture, sports, tourism, and health, strengthen the organization of non-governmental organizations, close exchanges between women and adolescents, and promote the continuous development of various civilizations in exchanges and mutual learning.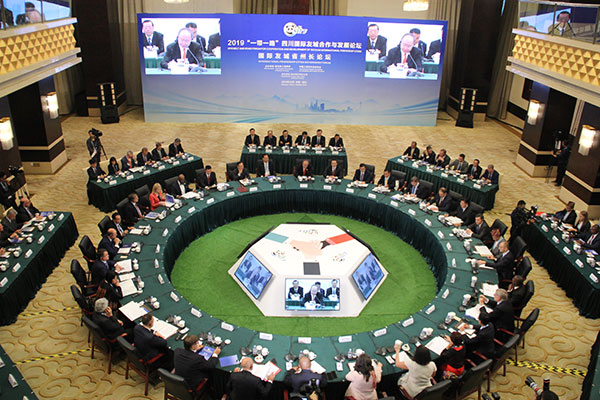 2019 Belt and Road Forum for Cooperation and Development of Sichuan International Friendship Cities International friendship cities governors forum [Photo by Liu Langtao]