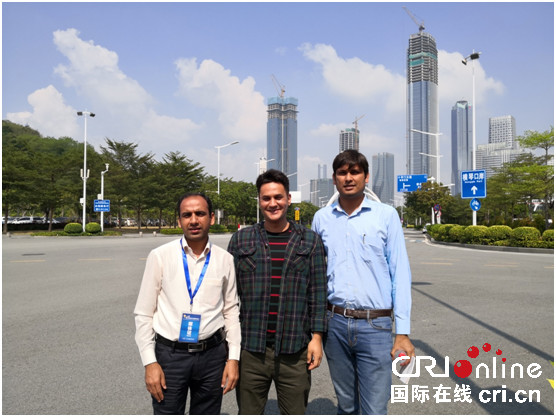 Subedi, journalist of RastriyaSamacharSamiti, (RSS), Hussainy, journalist of Afghanistan Times and Imran, journalist of Dawn News TV in Hengqin, Zhuhai(from Left to right) (Photoby Li Meng)
The Hengqin Free Trade Zone, one of the components of the China (Guangdong) Pilot Trade Zone, has been established for four and a half years.On October 21st, on the eve of the third 21st Century Maritime Silk RoadChina (Guangdong) International Communication Forum, journalists from 14 countries along theBelt and Road countries enteredHengqin.
Thaw Tar Win Pyae Sone, journalist of Myanmar International Radio,said that Hengqin Free Trade Zone enjoys a good geological position because it faces Macao across the sea and connects Macao and Hongkong with a bridge. In the future, it will definitely give full play to its good geological position to become a very international and prosperous place.
The China (Guangdong) Pilot Free Trade Zone consists of Nansha, Hengqin and Qianhai, forming connectivity and mutual complementarity which made the development potential of the China (Guangdong)Pilot Free Trade Zone attracts more attentions.Withthe Hong Kong-Zhuhai-Macao Bridge completed and open to traffic in October 2018, Hengqin became the only area which connects Hong Kong and Macao through land bridge. Thus, its regional advantages are even more prominent.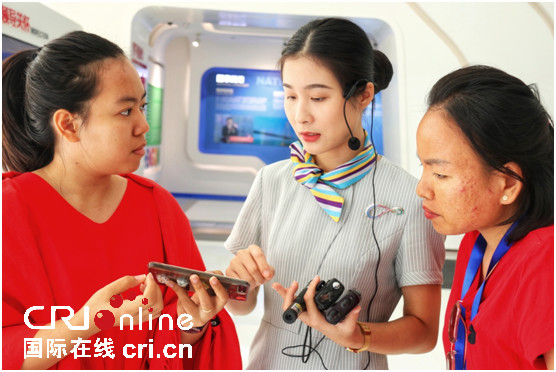 Thaw Tar Win Pyae Sone,journalist ofMyanmar International Radio(left) and KhnetMork, journalist of National Television of Cambodia (TVK)conduct an interview in Hengqin Planning Exhibition Hall, Zhuhai (photoby Li Meng)
KhnetMork, journalist of National Television of Cambodia (TVK),lookedout of window to see the cityscape and streetscape of Zhuhai and Hengqin.She said that the blue sky here is very similar to her hometown."The development of Hengqin is amazing. In just ten years, Hengqintransformed from a desert island which had particularly large contrast with Macao into a modern new city of free trade. I would like to introduce what I saw here to the audience of Cambodia, as well as my colleagues and family."
KhnetMorksaid that Cambodia and China have long-standing friendship. Under the framework of theBelt and Road, the two countries have had much economic, social and cultural cooperation. The Sihanoukville Special Economic Zone is the outcome of theBelt and Roadcooperation between the two countries. In addition, the expressway project from Phnom Penh to Sihanoukville and the new Angkor international airport projectwill greatly improve Cambodia's infrastructure construction. "I hope that the development of the China (Guangdong) Pilot Free Trade Zoneincluding Hengqinwill also benefit the cooperation between Cambodia and China."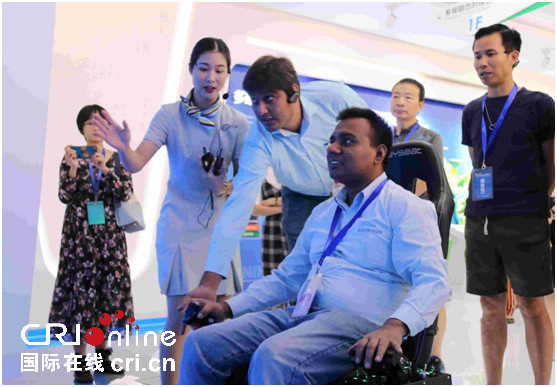 Hassan (front), journalist of Daily Sun, experiences virtual space voyage in HengqinPlanning Exhibition Hall, Zhuhai (photoby Qu Yi)
Hassan, journalist of Daily Sun said that itwas the first timeto come to Guangdong forinterview. Although he had heard about Guangdong-Hong Kong-Macao Greater Bay Area before, he was still very impressed by miracles created by China after witnessed it in person. "I believe that it will become a world-class economic center in the future." Hassan said.
Through interviews, foreign journalists learned that at present Hengqin's overall business environment ranks among the top 30 in the world, among which three indicators including starting a business, obtaining electricity and executing contracts enters the top 10 in the world. The gap in the overall business environment between Hengqin and other advanced areas like Macao and Hongkong is shrinking dramatically.
Hussainy, journalist of Afghanistan Times, believed that in just 10 years, Hengqin has developed into a new urban area with beautiful environment, high-rise buildings and has attached importance to environmental protection in the high-speed development. "Hengqin's future development plan is also very good, this is the impression after visiting the planning exhibition hall. I believe hengqin will have a bright future."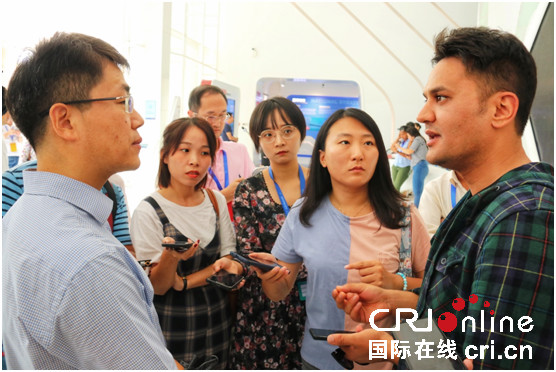 Hussainy (the first on right), journalist of Afghanistan Times,interviews Wang Yan, deputy director of the Free Trade Zone Office of Hengqin New District (photoby Qu Yi)