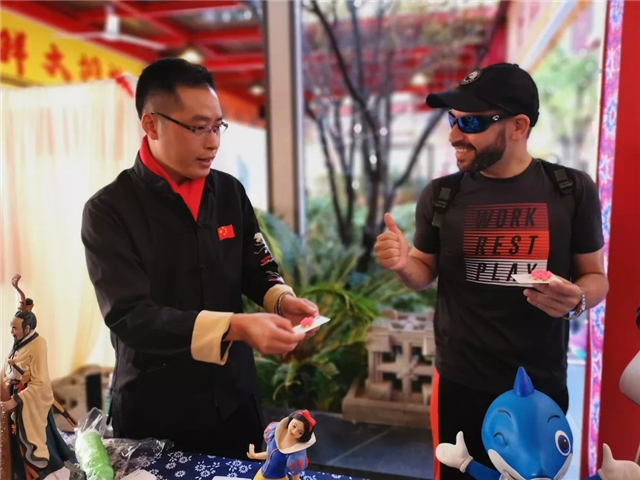 Journalists experienced folk cultures in Kat Hing Street. (photo provided by the Publicity Department of Jiang'an district committee in Wuhan)
Recently, hundreds of journalists at home and abroad attended to an activity of guided journalistic interview of the 7th CISM Military World Games, so as to closely experience the city cultures and life styles in Wuhan, China's Hubei province.
Liddell Bros, Packing Plant, founded in 1905 and located in Qingdao road, Jiang'an district of Wuhan, is the most preserved and completed industrial heritage in early time in Wuhan. So far, the building has attracted some cultural and creative industries in high-end jewelry design, made-to-measure and others, which bring fresh blood into this historical building. A journalist from China's Xinjiang Bole broadcasting and television station praised, "We can not only see the marks left by history, but also see the elements of trends here. This building has well combined with the history and the modern."
Journalists also experienced folk cultures in Kat Hing Street. Some inheritors of intangible cultural heritages showed their handicraft of micro sculpture, clay models and others along the street, while wonderful Chu Opera was performed in a stage of Kat Hing Street. Nie Hongjie, a journalist from CNR of China Media Group, said, "Wuhan is such a charming city that not only for its beautiful sceneries, but also for its strong vitality in everyday life and I will definitely introduce it to my friends."
The multicolored Yangtze River Light Show deeply impressed Zhanna, a journalist from Russia Today. She said that the night scenes along banks of the Yangtze River were very unique with many high buildings and bridges across the river. She saw the beauty of this city and was also amazed by its development.
The journalists all agreed that the 7th CISM Military World Games would bring more vigor into this city.