Nepal-China joint venture Himalaya Airlines connects Kathmandu and Beijing for first time
|
Xinhua
|
Published:2019-10-28 17:18:14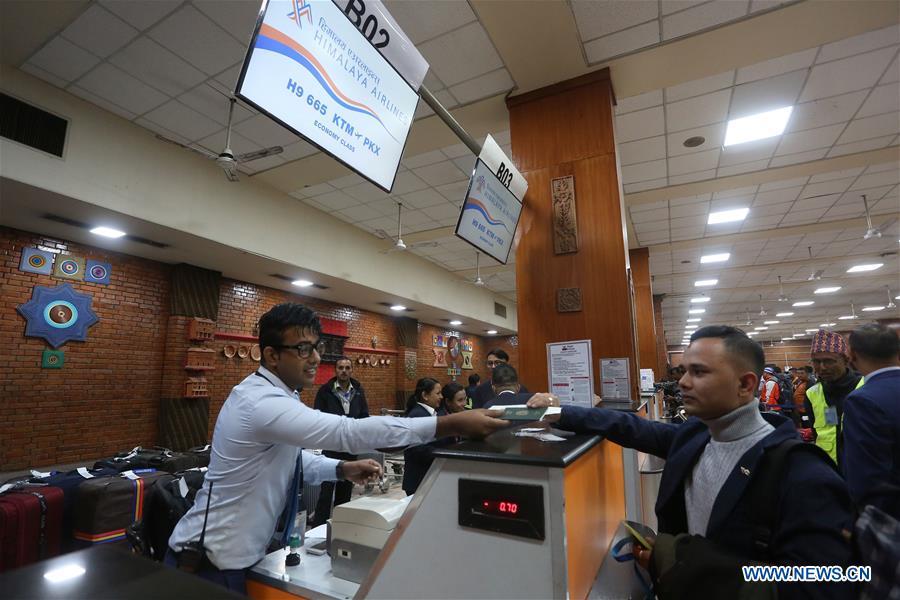 A passenger checks in to board the Kathmandu-Beijing direct flight of Himalaya Airlines at Tribhuvan International Airport in Kathmandu, Nepal, Oct. 27, 2019. In a bid to enhance connectivity between the two neighbors, a Nepal-China joint venture company Himalaya Airlines started the operation of direct flights from Kathmandu to the Chinese capital city Beijing from Sunday. The flight marks the first-ever capital-to-capital direct connectivity between Nepal and China, giving great significance to the bilateral exchanges and cooperation of the two countries. (Photo by Sunil Sharma/Xinhua)
KATHMANDU, Oct. 27 (Xinhua) -- In a bid to enhance connectivity between the two neighbors, a Nepal-China joint venture company Himalaya Airlines started the operation of direct flights from Kathmandu to the Chinese capital city Beijing from Sunday.
Organizing a special function at Tribhuvan International Airport in Kathmandu, the company launched its maiden flight amid the presence of Nepali Minister for Culture, Tourism and Civil Aviation Yogesh Bhattarai and Chinese Ambassador to Nepal Hou Yanqi among others.
The flight marks the first-ever capital-to-capital direct connectivity between Nepal and China, giving great significance to the bilateral exchanges and cooperation of the two countries.
Addressing the ceremony, minister Bhattarai expressed hope that the connectivity between Beijing and Kathmandu can attract more Chinese tourists to visit Nepal.
"Direct flight between Beijing and Kathmandu has added a new avenue in Sino-Nepal relations. We hope more Chinese tourists would visit Nepal," minister said.
Stating that the new connectivity has brought the people of two countries together, the minister shared that he is expecting half a million Chinese tourists to visit Nepal during Visit Nepal Year 2020.
Echoing his statement, Chinese Ambassador to Nepal said that the latest development has taken the aviation cooperation between the two countries to a new height.
Mentioning that China is the second largest tourism source market for Nepal, she said that Nepal has been the most preferred destination in South Asia for the Chinese tourists.
According to Himalaya Airlines, the new route is expected to ship over 40,000 Chinese passengers a year to Nepal for tourism and business cooperation. The airlines will operate three flights a week from Kathmandu's Tribhuvan International Airport to Daxing International Airport in Beijing.
"The opening of this route will further facilitate the commuting of individual passengers and provide more efficient and convenient trade options for government officials, corporate personnel and businessmen of the two countries, " the company president Zhou Enyoung said.
The airlines said that they will soon be launching direct air service to other Chinese cities including Changsha and Shenzhen in the future.
Himalaya Airlines was established in August 2014. Having started with one aircraft and one destination, the airlines has progressively moved its way to three A320 and five international destinations in a span of three years.