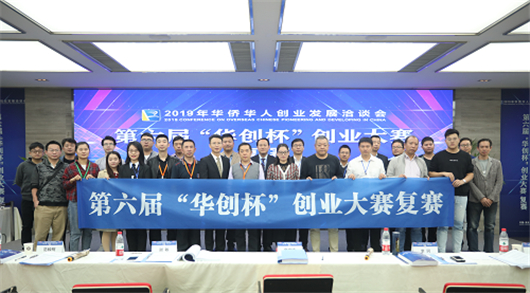 Semi-final of the 6th "Huachuang Cup" Entrepreneurship Competition [Photo: the Organizing Committee of the "Huachuang Cup" Entrepreneurship Competition ]
On November 12th, 2019, a semi-final of the 6th "Huachuang Cup" Entrepreneurship Competition was held in Wuhan, the capital of China's Hubei Province. A total of 45 programs performed road shows, defenses and reviewed by the judges at present, and 21 of which finally won the opportunities for being top three in the final competition, which will be held on November 20th.
The competition had 558 registered programs, 234 of which came from overseas. Among these programs, there were 216 in digital industry and 130 in intelligent manufacturing.
Before the beginning of the semi-final, the organizing committee of the competition had provided tracking services to the participated companies and teams, including guidance by professions, connection between investment institutions and pioneering incubators. The winning programs will receive initial funds for 1.2 million yuan, and the winning companies and teams will have priority to be considered within the policies of special supporting and talents supporting services.
The competition, one of the main activities of Conference on Overseas Chinese Pioneering and Developing in China, aims to encourage professions from overseas and domestic to positively start businesses, to promote and show their capabilities in innovation. The former five competitions in last years had attracted over 1, 800 programs and more than 200 foreign and domestic investment institutions, reaching about 500 million RMB in capital investment and financing. The programs from foreign countries and regions including United States, Canada, Australia, Britain, Sweden, Japan, France and Germany accounted for 40 percent of the total.