Beijing's Yanqing won the title of National Forest City
|
ChinaNews
|
Published:2019-11-19 21:41:17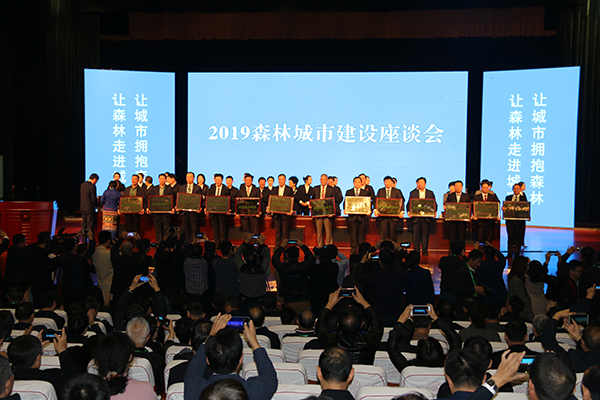 On November 15th, the Forest City Construction Symposium 2019 was held in Xinyang City, China's Henan Province. At the symposium, National Afforestation Committee and the National Forestry and Grassland Administration officially nominated 28 cities that passed the assessment as National Forest Cities. The main leaders of six cities and units, including Yanqing District of Beijing, spoke on behalf of the newly named National Forest Cities.
Yu Bo, Governor of People's Government of Yanqing District, introduced the experience, achievements and follow-up work arrangements of Yanqing District in the construction of National Forest City. Especially during the entire construction process, through three years of unremitting efforts, all the 40 National Forest City indicators of Yanqing has reached the standard. The forest area of the whole district increased to 118,200 hectares, the forest coverage rate increased to 59.28%, the urban green coverage rate reached 67.99%, the per capita park green area reached 46.13 square meters, and the road greening rate and waterfront greening rate reached 100%. The concept of "Greening Earth and Spreading Green in Mind" has been deeply rooted in people's mind, and the awareness of ecological civilization has been significantly improved.
Next, Yanqing will continue to promote the implementation of the medium and long term tasks in the overall planning of the National Forest City construction within the area, so as to build a green development cornucopia, to achieve green dreams, and to make ecological progress.