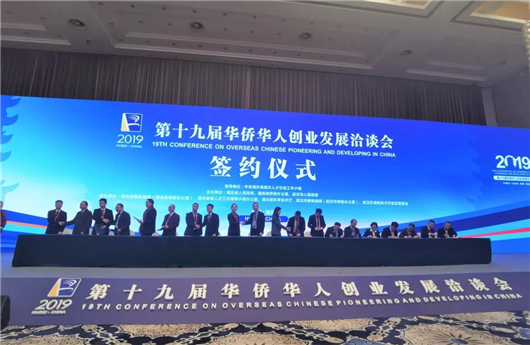 The signing ceremony of the 19th Conference on Overseas Chinese Pioneering and Developing in China [photo: the Publicity Department of Jiang'an District Committee]
In recent days, the 19th Conference on Overseas Chinese Pioneering and Developing in China (COCPDC) kicked off in Wuhan, the capital of China's Hubei province. Over 1, 800 guests from 61 countries and regions and domestic representatives gathered in the conference for a high quality development of China and Hubei province.
The COCPDC totally brought in 1424 foreign and domestic projects, 166 of which were signed agreements. Among the projects, 65 had investment exceeding 100 million RMB and 18 for billion RMB. In the signing ceremony of key projects, 20 projects related to economy and trade, and 10 related to talents and technology. He Daping, Newton International Fellow of the British royal society and a talent introduced by Jiang'an district in Wuhan, officially signed contract to work in Daijiashan scientific innovation area in jiang'an.
He Daping has worked on fields related to graphene materials for 12 years and has made great original achievements, including graphene sheets with high electrical conductivity, which has better conductivity than other products with the same materials in the world. In his next step, Professor He Daping will further work on graphene to promote the transformation of scientific research achievements and to fill gaps in graphene industry in Jiang'an district.
In years, the district has implemented strategy of "Talent leads innovation, innovation drive development", established talents development system oriented by "market application" and accelerated the path of "going out" and "bringing in", so as to enhance an overall integration of industrial elements such as talents, finance, technology and knowledge.