From November 26th through the 27th, WTCF Central Asia Tourism Conference 2019 was held in Samarkand, a famous city with long history and rich culture in Uzbekistan. It was co-hosted by World Tourism Cities Federation (WTCF), Samarkand State Government, and Shanghai Cooperation Organization (SCO). Over 200 representatives of cities, tourism enterprises, investment agencies and media from 10 countries and regions were present at the event. It was the first time for WTCF to hold a regional tourism conference in Central Asia, symbolizing that Central Asia has already become an area of great concern for international tourism.
The conference was themed on "the Belt and Road--Tourism Cooperation and Development", including the opening ceremony, tourism fairs, investment negotiations, forums, themed training and press conferences. It was designed to utilize international organizations as Internet platforms, make full use of the regional features and tourism resource advantages of countries along the Belt and Road, enhance the communication among such countries and relevant tourism cities, provide tailored developmental modes of tourism for Central Asia that are worth learning from, facilitate the in-depth integration and common development of tourism in Central Asia and other parts of the world, and continuously improve the influence of Central Asian tourism on global tourism.
At the conference, the governor of Samarkand Turdimov gave a welcoming address. Speakers included Zhang Wenchuan, chargé d'affaires ad interim of the Chinese Embassy in Uzbekistan, Davrukov Fakhridin, Deputy Chairman of the National Tourism Development Commission of the Republic of Uzbekistan, Li Baochun, deputy secretary-general of WTCF, and vice secretary-general of SCO Akushkar Nurlan Sovetovich.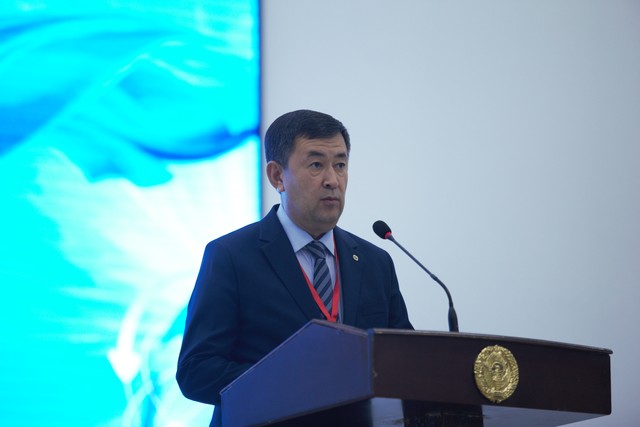 Erkinjon Turdimov, Governor of Samarkand was giving a welcoming address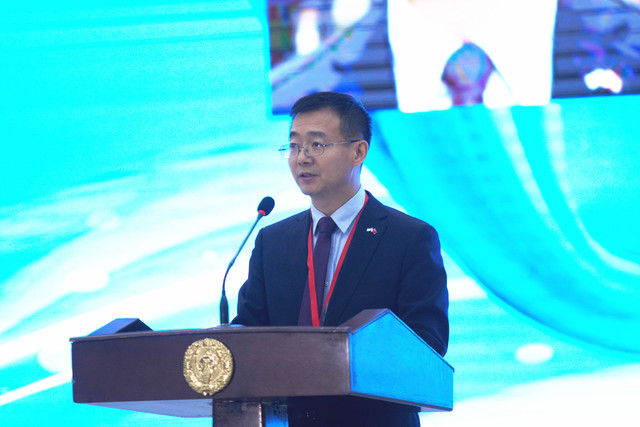 Zhang Wenchuan, Tempory Charge d'Affaires of Embassy of the People's Republic of China in Uzbekistan was delivering a speech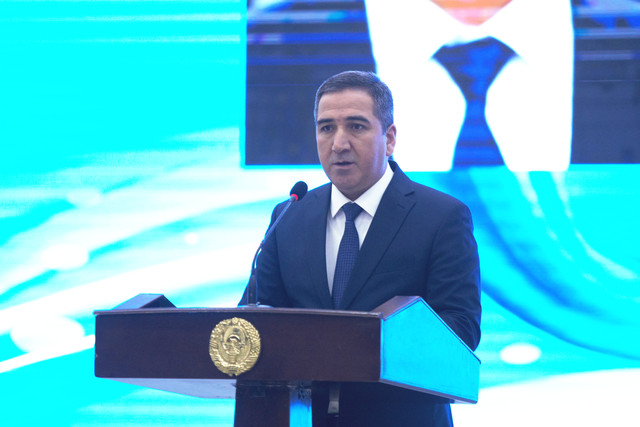 Fakhriddin Davrukov, Vice Chairman of the State Committee for Tourism Development of the Republic of Uzbekistan was making a speech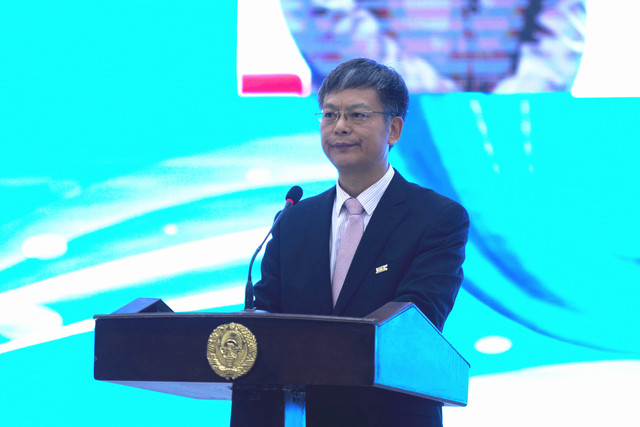 Li Baochun, Executive Deputy Secretary-General of WTCF was giving a speech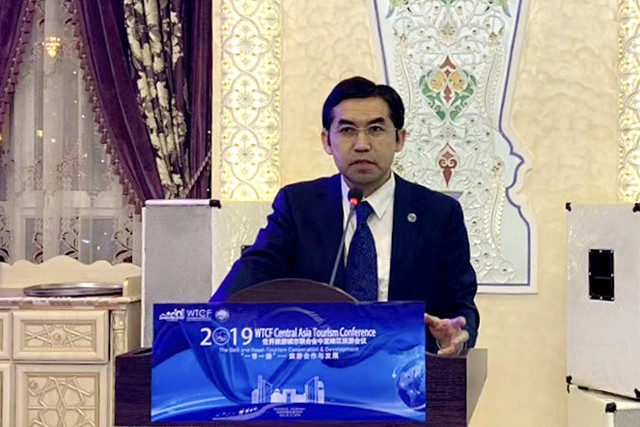 Nurlan AKKOSHKAROV, Deputy Secretary-General of Shanghai Cooperation Organization was addressing a speech
In the forums, the attendees held an in-depth discussion on the development of and cooperation among regional tourism markets against the background of tourism globalization, which was centered on "China's Outbound Travelling Market and Tourism Cooperation" and "Tourism Investment and Regional Development". They also provided a great many constructive suggestions on how to solve major problems in the tourism development of Central Asia.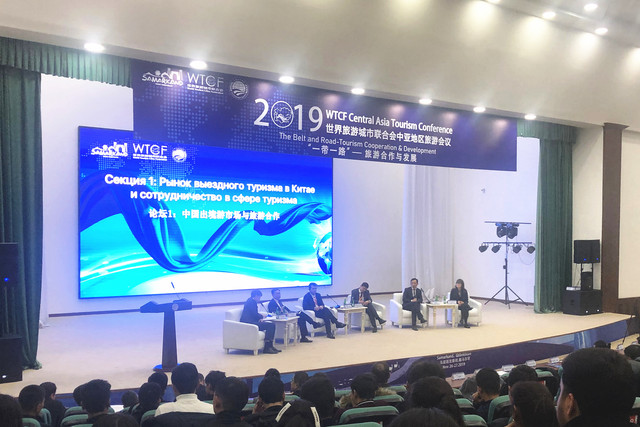 Forum Session 1: Chinese Outbound Tourism Market and Tourism Cooperation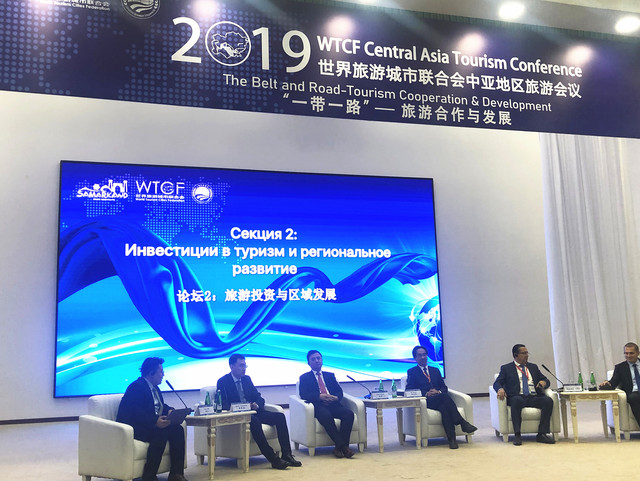 Forum Session 2: Tourism Investment and Regional Development
The themed training was focused on the "Chinese Outbound Tourist Market and Creation of Tourism Destination in Central Asia" and major themes included the "Market of Chinese Outbound Traveling and Tourism Development in Central Asia", "We Build Media- Featured Tourism Destinations", "Integrating Tourism Resources through OTA Platforms and Building High-Quality Tourism Products", and "Analysis on Outbound Consumption of Chinese Citizens". The training was great guidance for tourism enterprises that want to know about the needs of global tourism markets, improve their services and attract investment from society.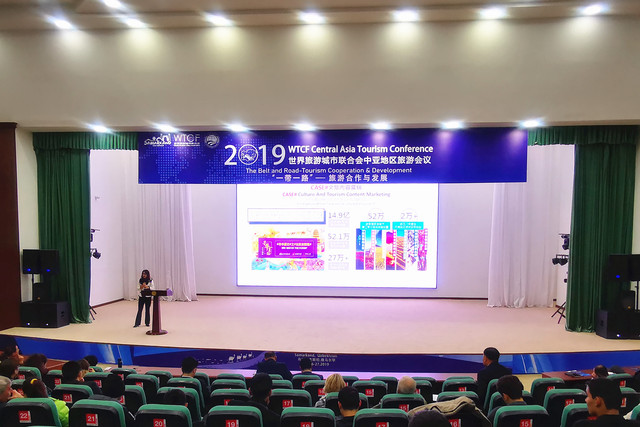 Training Program: Chinese Outbound Tourist Market and Creation of Tourism Destination in Central Asia
The conference also included tourism fairs and investment negotiations, which provided for cities and agencies opportunities in resource and product promotion. Local travelling agencies, hotels and project enterprises held more than 300 times matching business negotiations with numerous Chinese companies in the tourism sector including China International Travel, Caesar, Zhongxin, Tuniu, China Youth Travel, Trip.com and Qyer as well as Chinese project enterprises such as Palm Investment, Huaxia Guozhi, Touareg Capital, Shouchang International and Yangtze River Investment.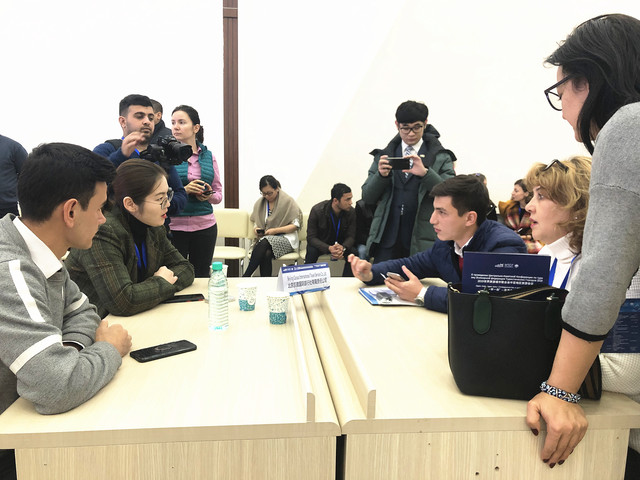 Tourism Trade Fair & Investment Trade Fair
As one of the main hosts of the conference, WTCF is the first international tourism organization centered on cities. It was initiated by Beijing and together voluntarily established by numerous global cities around the world and relevant tourism agencies. Now the number of members reaches 218 and they cover 73 countries and regions, as well as the whole global tourism industrial chain. The core vision of WTCF is Better City Life Through Tourism and it is aimed to facilitate the cooperation and communication among tourism cities around the world. Since its establishment in 2012, WTCF has held 8 Fragrant Hills Tourism Summits in Beijing, Rabat and Fes, Chongqing, Los Angeles, Qingdao and Helsinki, as well as 5 regional conferences in Penang, Malaysia, Casablanca, Morocco, Bogota, Colombia, Seville, Spain, and Panama City, the Republic of Panama. It has provided for global tourism, especially countries and cities relevant to the Belt and Road Initiative, a platform for communication, mutual learning, and cooperation in public services. It has become an international tourism organization boasting of the biggest growth and influence among all the others.
Samarkand is an important hub city along the ancient Silk Road, and a city member of WTCF. As a famous ancient city with rich culture, and center of tourism in Central Asia, Samarkand has been actively echoing the Belt and Road Initiative in recent years. It has, based on tourism, deepened its communication and cooperation with countries and regions along the Belt and Road in the areas of economics, politics and culture. It has made great contributions to Central Asia's efforts to integrate into the global tourism development system. During the 2019 WTCF Helsinki Fragrant Hills Tourism Summit, the Secretariat of WTCF signed with Samarkand State Government a cooperation agreement on co-hosting WTCF Central Asia Tourism Conference 2019, so as to further promote and improve the influence of Samarkand in the global tourism city system and to enhance the tourism development in Central Asia.
SCO is the strategic partner of WTCF. As one of the main hosts of this conference, SCO has been promoting global peace and development, and has played a key role in facilitating the development of and cooperation among Central Asian countries and cities. SCO member countries boast of plentiful tourism resources and vast tourism markets, and they have been taking an active part in major global tourism activities and making great contributions to enhancing multilateral cooperation in global tourism. WTCF Central Asia Tourism Conference 2019 is the first regional global tourism meeting co-hosted by WTCF and SCO. Its success has presented a new mode for multilateral cooperation among international organizations, symbolizing that the strategic cooperation between WTCF and SCO has entered a new stage of development.