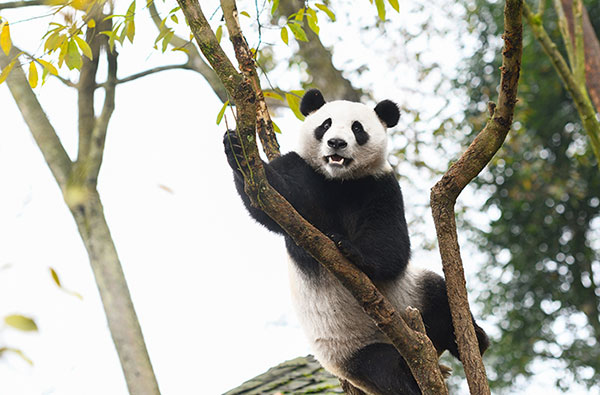 Lively Giant Panda [Photo by Liao Zhiquan]
On November 28, Silk Road Journalists and Youth Tour of Sichuan came to Ya'an City, Sichuan Province. During the visit, more than 40 journalists visited the Bifengxia Base of Ya'an, China Giant Panda Conservation Research Center, and got in close contact with the giant pandas. They went into the Chinese Tibetan Tea Museum and tasted the mellow Tibetan tea.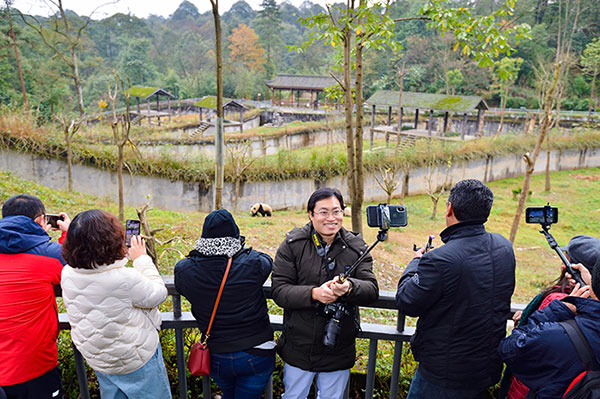 The delegation takes photos with the giant panda [Photo by Liao Zhiquan]
Bifengxia Base of Ya'an, China Giant Panda Conservation Research Center is located in the Bifengxia Scenic Area in Yucheng District, Ya'an City. It is a panda paradise that combines the breeding, rescue and publicity of giant pandas. The base covers an area of more than 6000 acres, and has built a giant panda research center, a giant panda hospital, a giant panda nursery center, a giant panda breeding center, a giant panda external display center, a staff living and logistics support center, and so on. At present, the number of wild pandas in the base has reached more than 340.
At the panda base, the delegation learned more about the panda's daily diet and living habits, and watched the "talent show" brought by the panda. The delegation praised the panda as China's "national treasure". And it is a great honor to see the panda up closely this time for them.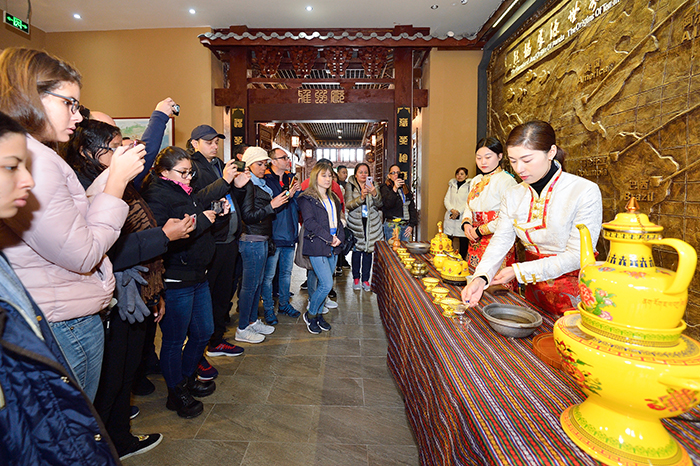 The delegation enjoy the tea art show [Photo by Liao Zhiquan]
The delegation also visited the World Tea Culture Museum and watched tea performances in Mengdingshan, Ya'an. Everyone expressed their admiration for the profound tea culture in China. "Polish and Chinese like drinking tea. This is a common feature of these two countries." Wang Yaojia, an international student of Sichuan university from Poland, and she has been in China for three years. She believes that Poland and China can have more exchanges in tea culture and use the tea culture to promote the development of the tea industry.