"This is really a great project!" Iary Maria Gomez Quesada, general manager of the Costa Rican newspaper, praised with thumbs up. On the afternoon of November 28, the delegation of "Charming Sichuan in the Eyes of Overseas Journalists · Silk Road Journalists and Youth Tour of Sichuan" came to Sihuan YaKang Expressway, and visited Erlangshan extra-long tunnel and Luding Dadu River Bridge.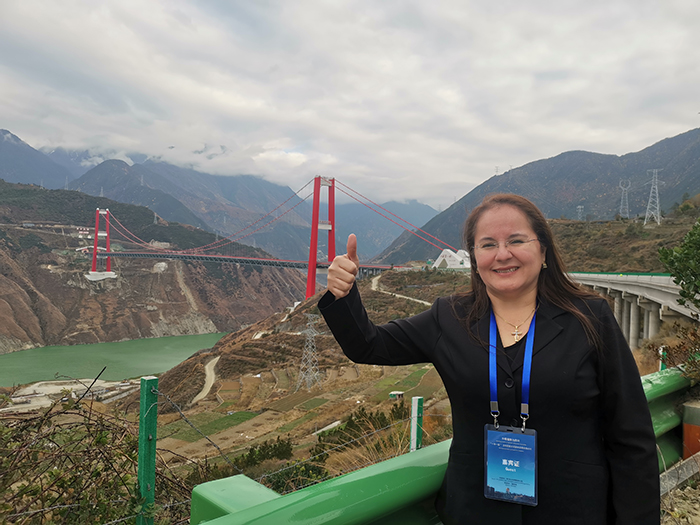 Iary Maria Gomez Quesada praises Yakang Expressway [Photo by Xu Qin]
It is understood that, as the first expressway to rapidly climb from the Sichuan Basin to Qinghai-Tibet Plateau, the construction of the Yakang Expressway project faces the severe challenges and tests of the "five extremes", and the construction is so difficult that is called "Mount Everest in the construction of climbing road" . During the construction of the Yakang Expressway, the builders overcame many difficulties and created one "the first" in the world, one "the first" in China, and four "the first" in Sichuan Province.
According to Li Wanjun, deputy general manager of Sihuan YaKang Expressway Co. Ltd, "long, deep, and dangerous" are the three characteristics of Erlangshan extra-long tunnel. The tunnel is buried at a maximum depth of 1,500 meters, with high ground stress and easy to produce Rock bursts and large deformations passed through 13 seismic fault zones, and there were adverse geological phenomena such as gas, karst, and gushing mud. It was called "geological museum" and the construction safety risks are extremely high. In this regard, Liari Gomez expressed shock.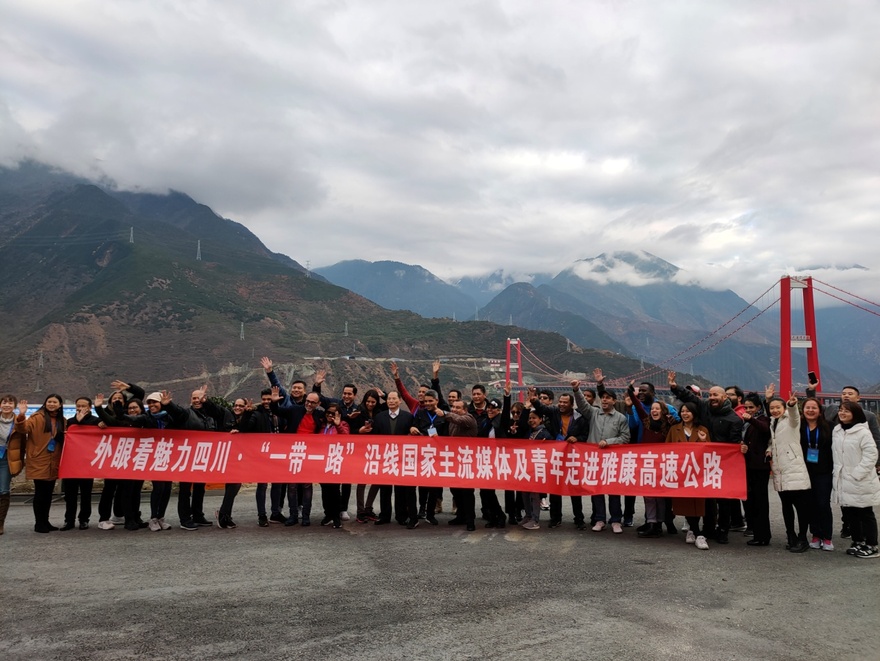 The delegation take a group photo on the Yakang Expressway [Photo by Xu Qin]
And then, the delegation came to Luding Dadu River Bridge. The bridge is a super-long-span steel truss suspension bridge built in a high altitude, high seismic intensity zone, and complex and strong wind field environment. Because of its special geographical location, located at the intersection of three seismic fault zones, the bridge is known as the "Sichuan-Tibet First Bridge" and has won the "Gustav Lindenthal" Gold Award at the 36th World Bridge Congress ("Nobel Prize" in the bridge sector).