Recently, "A bosom friend afar brings a distant land near–Exploring Beijing online and enjoy intangible cultural heritage at home" Beijing Intangible Cultural Heritage Overseas Communication Project jointly launched by the Beijing Culture and Tourism Bureau and CRI Online invited Arabic, Spanish, Thai and other multilingual "streaming" anchors from China Media Group broadcast in the native language entered Tong Ren Tang in Dashilanr, Qianmen, Beijing, and experience the broadness and integration of traditional Chinese medicine.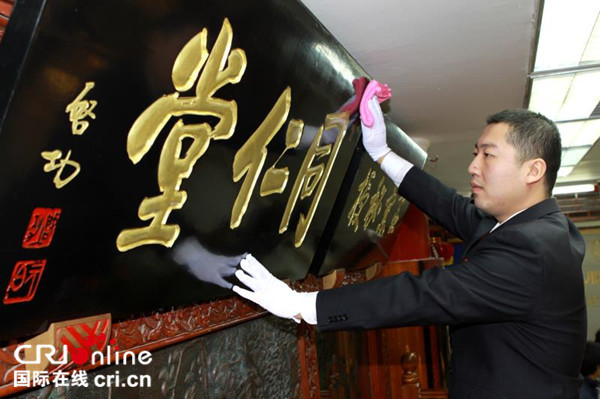 The staff of Tong Ren Tang is wiping the plaque of "Tong Ren Tang" Photo: Zhang Linrui
Beijing Tong Ren Tang was founded in 1669 and has a history of 351 years. It is a well-known "time-honored brand" in traditional Chinese medicine industry. At present, Tong Ren Tang has 8 projects enlisted into intangible cultural heritage (including 3 national-level projects).
At present, COVID -19 epidemic is spreading around the world, becoming a common challenge that international community is facing. As a cultural treasure of the Chinese nation, traditional Chinese medicine has been playing an important role in fighting against the epidemic. Tong Ren Tang Sinopharm, which is in charge of international business under the Tong Ren Tang Group, takes advantage of the unique advantages of traditional Chinese medicine, and establishes an expert group for the prevention and control of overseas epidemic situations in Tong Ren Tang. 149 Tong Ren Tang stores in 28 countries and regions provide local people with anti-epidemic services of Chinese medicine, and have made unremitting efforts to fight with COVID -19 epidemic.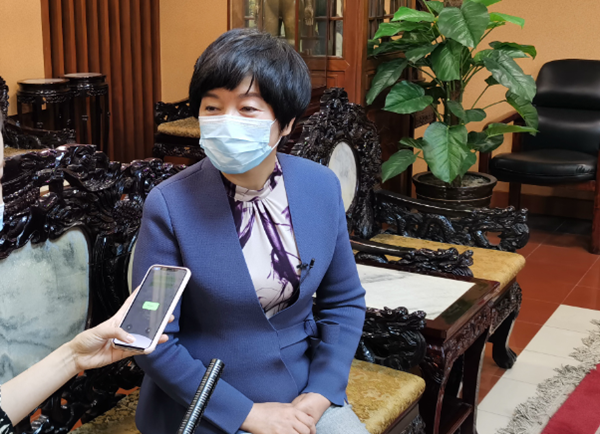 Ding Yongling (right), Deputy General Manager of Tong Ren Tang Group, interviewed by reporter Photo: Li Yu
Tong Ren Tang is both an economic entity and a cultural carrier. While accumulating and expanding its overseas business, it actively spreads the culture of traditional Chinese medicine. In cooperating with the world to cope with the challenges of the epidemic, Tong Ren Tang has fully demonstrated the unique advantages of traditional Chinese medicine and contributed Chinese wisdom to help the global anti-epidemic.