On April 21, the theme interview activity named "International Internet Influencers to Experience the Happy Life of Wuhan" was held in Wuhan Business University. Foreigner internet influencers and multilingual anchors from America, Russia, and Italy tasted special dishes of Hubei cuisine and enjoyed the pleasure of international equestrian.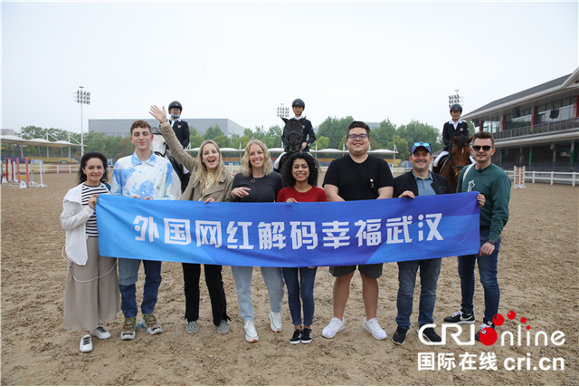 Foreigner Internet influencers pose for photos at horse riding sports park in Wuhan Business University [Photo by Huang Zhengheng]
The group was fascinated by a wide variety of special dishes at the Museum of CHU-CAI. Three chefs cooked 4 different representative dishes in the cooking area and invited the media group to give it a try. "This golden crispy fish chip looks so good!", foreign internet influencers communicated with chefs while they were doing live streaming.
"I'm from Milan, Italy. The horse Industry is our advantage industry. I've learned how to ride a horse when I was a kid, so I'm very happy to see horses here. It makes me recall my happy childhood." says Rachele Longhi, an internet influencer from Italy.
The cuisine and equestrian majors are of particular features and professional at Wuhan Business University. The cuisine major was established in 1963. Since then, the school has made a batch of important theories on Wuhan cuisine through constantly discovering, reorganizing, inheriting and innovating the techniques and cuture of Wuhan cuisine. In 2008, the equestrian major was established in Wuhan Business University, and it was also the first equestrian major in China. In 2019, the 7th CISM Military World Games was held in the university. The venues and facilities there were received a high evaluation.