On April 20, the media group of the theme interview activity named "International Internet Influencers to Experience the Happy Life of Wuhan" was held at Ville de Fleurs, a flower EXPO park in the Caidian District, Wuhan province. Foreigner internet influencers and multilingual anchors from America, Italy, and Colombia visited the park and watched a special variety show.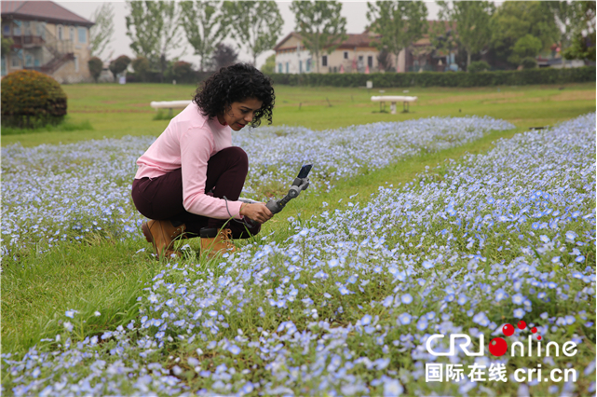 Celia Esquivel Salguero, an Internet influencer from Guatemala was taking a Photo of Flowers [Photo by Huang Zhengheng]
Located in Caidian District of Wuhan, the Ville de Fleurs is the hometown of Zhiyin. It's the main part of the Sino French Wuhan Ecological Demonstration City. Beautiful sceneries can be found in the Ville de Fleurs, with flower town in French style, the biggest verbena fields in the middle of China, and many Chinese style homestays. It also boasts the creative and cultural products as well as the ancient stage. Foreign influencers were attracted by the beautiful flowers walking in the park.
The group were amazed to see different kinds of flowers with various colors. "The scale of the park is shockingly huge. It's amazing to be able to see this many types of flowers at different seasons." says Christopher Chiou, an internet influencer from America
After visiting the flower area, the media group went to the ancient opera stage at the Ville de Fleurs and watched many traditional Chinese operas such as Drum Song of Hubei, the Huangmei Opera The Love Eterne, and shadow puppetry Wu Song Fought the Tiger. "It's amazing that we can enjoy the beautiful scenery and Chinese traditional culture here. The Chinese opera was very amazing to watch, and their costumes were very unique," says Alessandro Martin, an internet influencer from Italy.