In the afternoon of July 20, the Shangqiu First People's Hospital in Henan Province convened to honor Chinese model workers. Han Chuan'en, Secretary of the CPC Committee of Shangqiu First People's Hospital and President of the hospital, stated that the event was intended to promote the dedication of model workers and drive innovation. He hoped that more would learn from these exemplary individuals. Moreover, the hospital should comprehensively enhance pandemic prevention and control as well as improve its daily operation and treatment. Priorities like safe production must be implemented to make sure the smooth operation of the whole-year workload.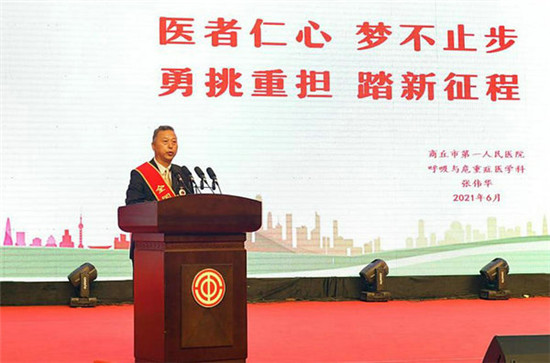 Zhang Weihua tells his own stories of dedication as a model worker. (Photo by Zhao Mei)
During the event, Zhang Weihua, Head of the Internal Medical Department and the Second Ward of Respiratory and Critical Care Medicine Department at the Shangqiu First People's Hospital, National Advanced Worker, shared his own stories of dedication in the past 36 years as a medical professional.
Zhang is devoted to his work and has led his team in developing new businesses, improving the development of respiratory diseases research in Shangqiu City and East Henan at large as well as the treatment of patients. As the leader of Shangqiu's Expert Medical Team against COVID-19, he shouldered heavy responsibility and made great contributions. He has been fighting on the frontline against COVID-19 to ensure the health and safety of the public.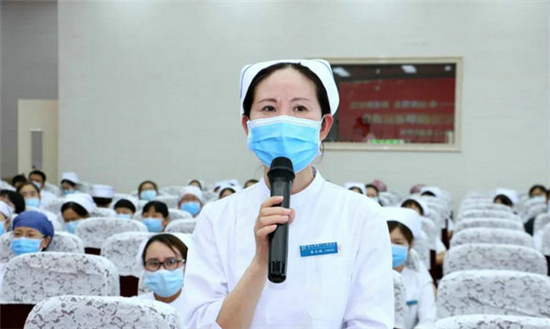 A delegate speaks at the conference. (Photo by Wang Lu)
All the participants praised Zhang Weihua as the exemplary representative of medical workers, whose stories of dedication and noble virtues are impressive and inspiring. They claim to learn from Zhang in future daily work and implement the spirit of respecting life, helping the injured, dedication and selflessness, to make contribution to the steadiness and harmonious development of the Shangqiu First People's Hospital. (Written by Li Penghui)