Zhang Aijun from Springboard International Bilingual School: The Core of Education is Talent Cultivation
Zhang Aijun, the independent investor, chairperson and founding principal of Springboard International Bilingual School, has devoted herself to education for nearly 50 years. Her experience in education and her school-running philosophy will surely render special inspirations to educational practitioners.
As an exemplary principal, she expounds on the standards of an exemplary school. An exemplary principal has to be proficient in two aspects: well-grounded educational methodology and professional competence in school running. As the founding principal and independent investor, she has translated her original aspirations into the school's DNA: love for students, love for teachers, and love for the motherland. With this unalterable DNA, the school would enjoy robust growth undeviatingly along the well-planned track.
"We understand that talent cultivation is at the heart of education, so we are committed to building Springboard into an excellent school, an institution with indisputable teaching quality, a flowerbed for personalized care and growth of each and every child, a campus without arena-like, desperate competition, selection or elimination. We would like to establish a naturally operated campus where the kids have both good cultural literacy and mental attitude," she said.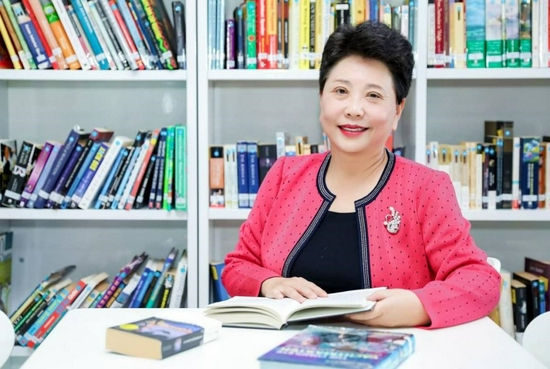 Zhang Aijun, Chairperson, Founding principal and independent investor of Springboard International Bilingual School
What makes a "good school"?
A good school should be equipped with a cutting-edge curriculum system for its sustainable development. Springboard, while offering state-mandated curriculum, also provides the IB PYP courses for its primary pupils. From Grade 6, the IB MYP program, the continuation of the IB PYP, will be available to the students. Those of Grade 8 and above can choose to stay with the MYP project, or shift to the IGCSE program under the Cambridge System. Students of Grade 10, the most critical grade, can choose the AP courses of the US if aiming to further their study in the US, or choose A Level program under the Cambridge system if aiming to study in the British Commonwealth. Over the years, more than 2,000 Springboard graduates, with their innovative, open-minded, visionary and challenge-responding personalities, their aptness for thinking, questioning and problem-solving, as well as their confident demeanor, have taken the international stage to show their talent.
Rooted in moral accomplishment while pursuing a flourishing academic career. Here in Springboard, an internationalized bilingual school, students are generally "sensible and thoughtful". Immersed in the atmosphere of freedom, the children who are going through a rebellious phase still maintain good manners,impeccable respect for teachers, and precious virtues including innocence and kindness.
The school adopts a flat management structure, in which teachers are the foundation of school. The principal believes that teachers must be competent, so she makes enormous demands on the teachers. For Zhang Aijun, teachers play a vital role in a student's healthy growth. Leading by example, teachers show the students what could be defined as "good characters" and "good behaviors".
Among the Springboard teachers, there are more than ten doctors and more than forty masters. Many foreign teachers have worked in the school for seven or eight years. The middle school has 4 IB examiners from all over the world, who have rich experience in Cambridge curriculum. The school has a high percentage of foreign teachers and the students can interact with different foreign teachers every day, so the students' linguistic competence naturally develops and their vision is broadened , paving the way for their future study abroad.
Principal Zhang also directly manages the school's financial affairs. Whenever the school gets any revenue, it is not obligated to pay any dividend to other institutions, and can invest all the money in improving its operation, of which the larger portion goes to faculty salaries and insurances, and the rest is used for upgrading the teaching facilities. With the capital abundance, Springboard, despite of the pandemic, stays uninterrupted in its charity efforts, including two donations of RMB 5 million to handicapped children in Bahrain Left Banner, Inner Mongolia.
Unlike the red tape of education groups featuring a rigid hierarchy, and procrastination, Principal Zhang spends at least 12 hours a day in school to see if any changes is needed. She personally attends to the details about the children's study and life, so that every problem can be found and solved without any delay. Therefore, the parents enjoy the best service with the lowest cost, and the kids can feel at home. In Springboard, all the students can get a sense of belonging, and cherish every minute they stay at school.
Springboard welcomes overseas Chinese students to continue their international education in China
Springboard is called an "international" school not only because it has various international courses and many foreign teachers, but also because its students are from all over the globe. Since the COVID-19 pandemic is raging abroad, many overseas Chinese students have chosen to further their study in Springboard. They are good at English, but weak in subject knowledge. To solve the problem, the school provides CSL (Chinese as a Second Language) courses for those who do not speak Chinese, and requires them to take the TCSL regularly; at the same time, the school increases the basic intellectual courses to consolidate their subject knowledge. Besides, the cases of these students have also motivated many Chinese students transferred to Springboard from public-funded schools. They help each other and complement each other, creating an international school atmosphere in the truest sense. Now, the school opens its arms to more overseas Chinese students returning to their motherland. You will find Springboard the right place for your study and growth.
Launching such an unadulterated international educational institution might not be that hard, but it is literally arduous to stick to it for 20 years. Small steps accumulated will make a long journey in the end. Principal Zhang, driven by her unshakable commitment and devotion, is pursuing more lofty goals in education with unswerving efforts, and with unabated love.
Her story shows that, only with genuine purity in heart can the soul shine brilliantly from the inside.