Luoyang held the press conference on the Winter Cultural Tourism and People Consumption Season
|
ChinaNews
|
2019-01-16 17:09:55
On December 10, Luoyang held the press conference on the Winter Cultural Tourism and People Consumption Season. Luoyang started a series of winter cultural tourism activities to benefit the people on December 12, 2018 and this will last until February 20, 2019.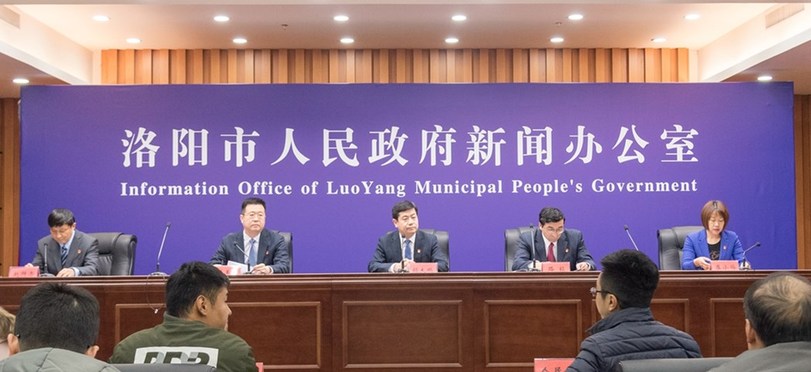 With the theme of "the same winter, the different Luoyang", this cultural tourism consumption season focuses on "winter", and the three elements of winter scenery, folklore and culture closely. With the integration of snow and ice, hot springs, temple fairs, the urban study, museums, bookstores and movie theaters, restaurants, shopping malls, performing arts, entertainment and other kinds of cultural tourism resources, the cultural tourism consumption season has launched winter tourism, winter customs, winter shopping, winter reading, winter performances, winter learning, winter entertainment and seven other plate activities.
Winter Tourism·Unique Scenery.Luoyang City will give out experiential coupons for going to scenic areas. skiing resorts and hot springs, and give discounts for admission into skiing resorts and hot springs.
Winter Customs·Unique Memories. Temple fairs will be the highlight. Luoyang City will, in parks, scenic areas, traditional villages and other densely-populated areas, hold botanical garden temple fairs and lantern festivals at the relic site of Sui and Tang Dynasties, the Spring Festival Cultural Temple Fair at Luoyi Ancient City, the Spring Garden Party at Mingtang and Scenic Paradise and the night-themed lantern festival during the Lantern Festival, combining intangible cultural heritage, cuisines, performances and the cultural and creative industries.
Winter Shopping·Unique Gains. Luoyang City will hold shopping festivals on December 12th, New Year's Day and during the Spring Festival and Lantern Festival.
Winter Reading·Unique Atmosphere. Luoyang City will promote reading through "The Beauty of Books:Luoyang" and other brand activities. 103 libraries across the city will be open for 24 hours during the holiday and there will a reading place which takes 15 minutes to reach no matter where you are. All levels of public libraries and cultural centers and other public cultural service agencies will be open free to the public during the holiday in order to provide favorable places to go for reading and learning for citizens and tourists.
Winter Performances·Unique Feelings. Luoyang City will hold the 2019 Luoyang New Year Concert named "the Night of Dukang", the 2019 Luoyang Spring Traditional Opera Gala, the Spring Festival Greeting Party, traditional Chinese opera formances and song and dance dramas.
Winter Learning·Unique Experience. Luoyang City will present the research and learning activities named "the City of Museums" and "Falling in Love with Museums", organize tens of thousands of students to learn about Luoyang, stage the exhibitions of court treasures and pictures about Shengxiao, and hold paper-cutting activities.
Winter Entertainment· Unique Happiness. Luoyang City will organize theaters across the city to present film-watching activities at the slack season and themed film-watching activities named "The Film Week for Students" during the winter vacation.
In addition, the Winter Cultural and Tourist Beneficial Consumption Season will, during the Spring Festival and Lantern Festival of 2019 and under the theme of "Watching Snow, Embracing Customs and Bathing in Hot Springs, Enjoying the Spring Festival in Luoyang", hold temple fairs, lantern riddle guessing activities and museum visits, in order to create more happiness and more gains for the masses.