Sure-footed Sabalenka leaps to new heights of adulation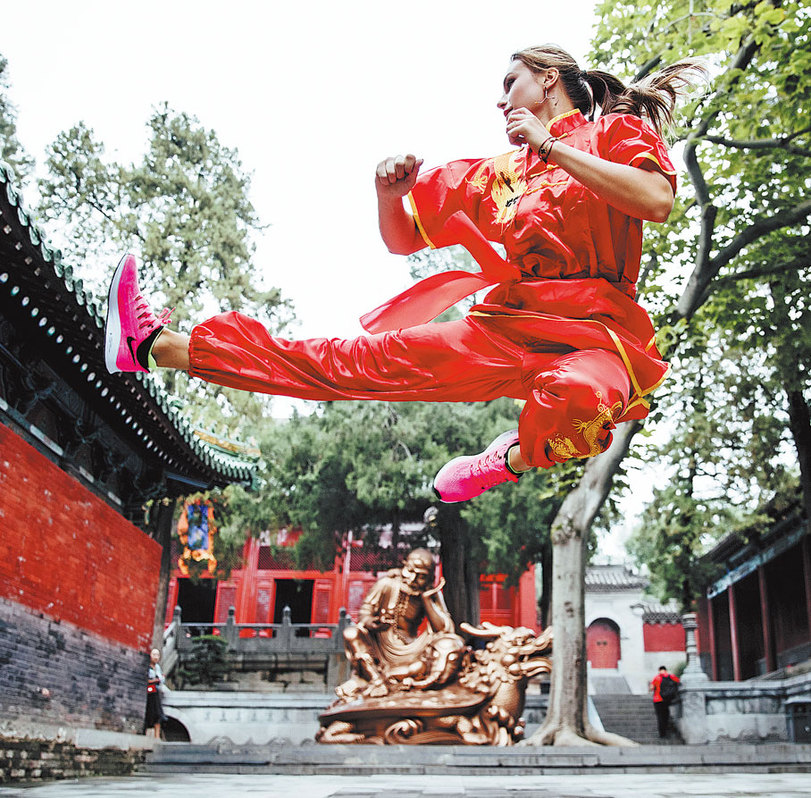 Aryna Sabalenka of Belarus shows off her wushu skills at Shaolin Temple in Henan province earlier this month. [Photo/ZHENGZHOU OPEN]
Aryna Sabalenka's popularity has literally kicked up a notch thanks to the Belarusian's impressive kung fu skills.
The world No 13's victory at last year's Wuhan Open had already assured her of warm welcome on her return to China.
However, images of the 21-year-old expertly executing flying kicks like a wushu master have endeared her even more to Chinese fans.
The pictures, which went viral on social media, were taken earlier this month during Sabalenka's visit to martial arts shrine the Shaolin Temple following her run to the quarterfinals of the Zhengzhou Open in the capital city of Henan province.
"It was a very nice experience, and I enjoyed every minute of being there," Sabalenka told China Daily in Wuhan.
"I was there to watch the kung fu show. It was truly a nice one. I don't know exactly what they are all called, but I did some jumps, easy positions. It was really nice and I enjoyed it."
The experience has left Sabalenka curious to learn more about Chinese traditions and cultures.
"I just tried kung fu, and I'm really looking forward to something else. I really like it," said Sabalenka, who also learned to cook hand-pulled noodles during a promotional event in Zhengzhou.
The big-hitting Sabalenka has begun to show glimpses of superstar potential in recent years.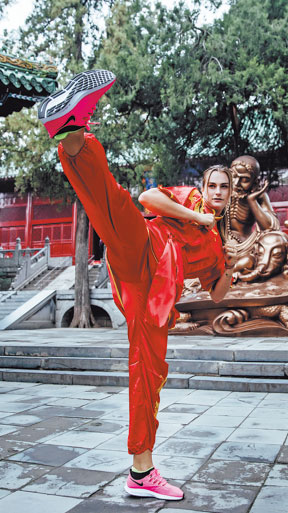 Aryna Sabalenka of Belarus shows off her wushu skills at Shaolin Temple in Henan province earlier this month. [Photo/ZHENGZHOU OPEN]
Her coach, Dmitry Tursunov, went so far as to claim the 6-footer "could be the person that changes the game, the way Serena (Williams) changed the game, or the way (Monica) Seles changed the game, or the way (Steffi) Graf changed the game".
Last year's victory in Wuhan, where Sabalenka dropped just one set before overpowering Anett Kontaveit in the final, added to the hype.
It's no surprise she's happy to be back in Hubei province as she builds towards the season-ending WTA Finals in Shenzhen next month.
"I like to play in China, and I'd like to play more events here if possible," said Sabalenka.
"For me, it's always nice to be here. I have a lot of fans here and they always support me. It's really cool to play in China, especially in Shenzhen to finish the season."
Sabalenka began her title defense in ruthless fashion on Sunday, blasting compatriot Aliaksandra Sasnovich 6-1, 6-2 to set up a second-round meeting with American Danielle Collins, who battled past Venus Williams 7-5, 7-6(5).
"It was the first time I stepped on the court as a defending champion," said Sabalenka.
"It was a nice feeling. I remembered some matches from last year and some tough situations also.
"The feeling of winning the title was really nice. It actually helped me to bring my best today.
"Definitely I learned a lot this year. One of the important things is to play with freedom and be fearless.
"When it's a tough situation, just go for it. Don't be afraid of anything."