With the theme of Youth Blooming during the Epidemic - "Celebrating Labor Day and Youth Day with International Friends", an online event was held in Liaoning Province, China, on April 28.
Not only foreign friends who work and study in Liaoning Province, Liaoning people who work overseas, excellent young model workers from Liaoning Province, but also the Liaoning medical team members who are fighting against COVID-19 in Shanghai participated in this online event. Young people at home and abroad met each other online to discuss their responsibilities amid the fight against the epidemic and share their passions and dreams.
Raik Kleiss-Schmid, vice business manager of Volkswagen Automatic Transmission (Dalian) Co., Ltd., is from Germany. He and his family have been living and working in Liaoning Province for three years and have fallen deeply in love with Liaoning. He shared his stories in Liaoning via a video talk. He said that he felt at home in Liaoning, so he extended his work contract with the company to continue working in Liaoning.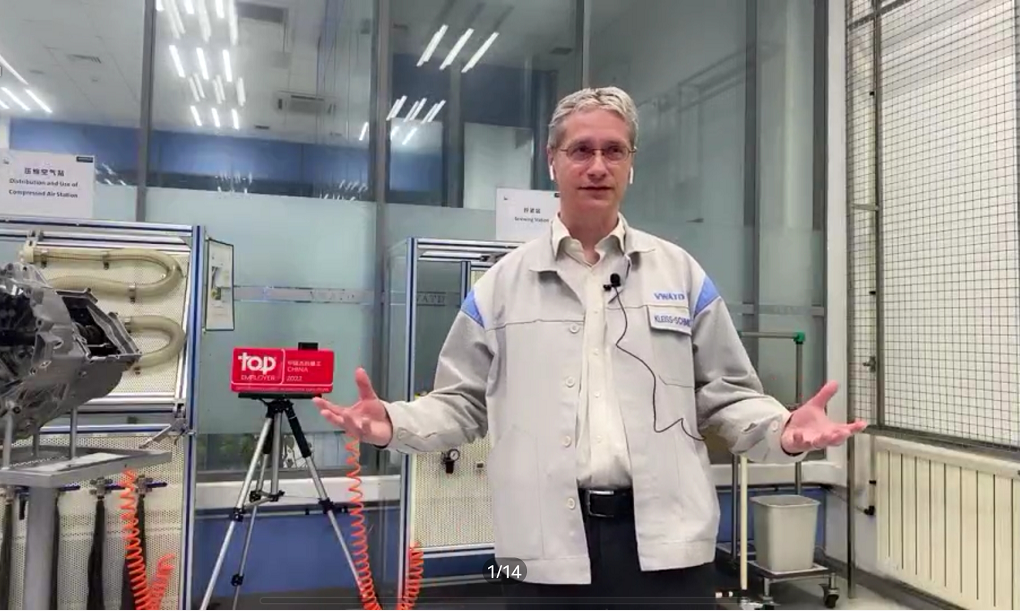 Raik Kleiss-Schmid shares his stories in Liaoning via a video talk. [Photo via the screenshot of the event video]
Nkrumah Seth, a Ghanaian postgraduate studying at Liaoning University of Traditional Chinese Medicine for nearly eight years, is committed to promoting traditional Chinese medicine (TCM) techniques in his hometown. "China is my home, too!", Nkrumah Seth said that Liaoning had nurtured his dream about TCM. His biggest dream is to spread TCM theory to the rest of the world so that TCM can help alleviate the pain of more patients.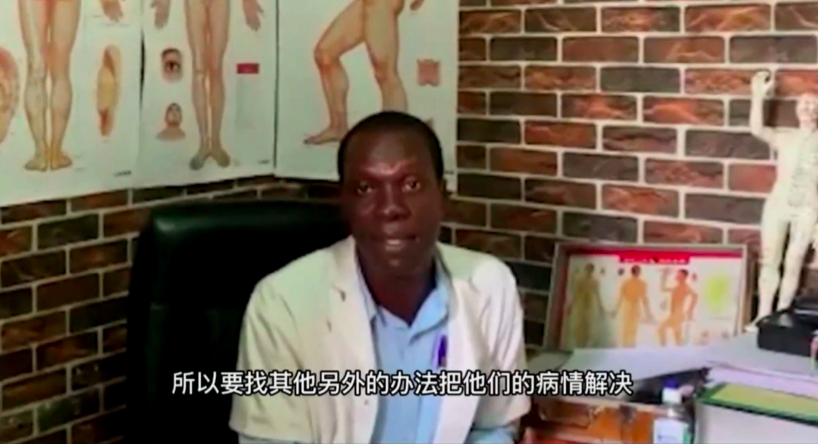 The foreign student Nkrumah Seth hopes that TCM techniques would benefit more people. [Photo via the screenshot of the event video]
Amid the epidemic, food delivery workers can be seen everywhere in the streets and alleys. They deliver daily necessities to thousands of households. Kaaya Jackson Samwel, a Tanzanian student studying at Shenyang Institute of Engineering, said with emotion, "In the past two months, one of the happiest moments was when I heard 'your takeaway has arrived.' " He spent a day experiencing how food delivery workers try to ensure the city's supply of vegetables and foods in person. Such experience has told him that the work of food delivery can be much more difficult than he had imagined.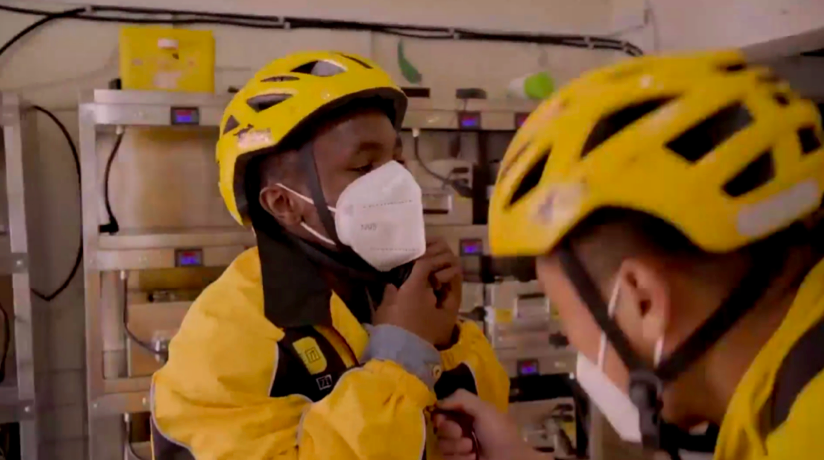 The international student Kaaya Jackson Samwel is experiencing the work of food delivery. [Photo via the screenshot of the event video]
"Amid the pandemic, we face severe challenges in doing business in Namibia, but we still struggle to create jobs for the local community despite the great pressure." Sun Duo is one of many people from Liaoning Province who are working hard overseas, and he now works for a China-funded company in Namibia, Africa.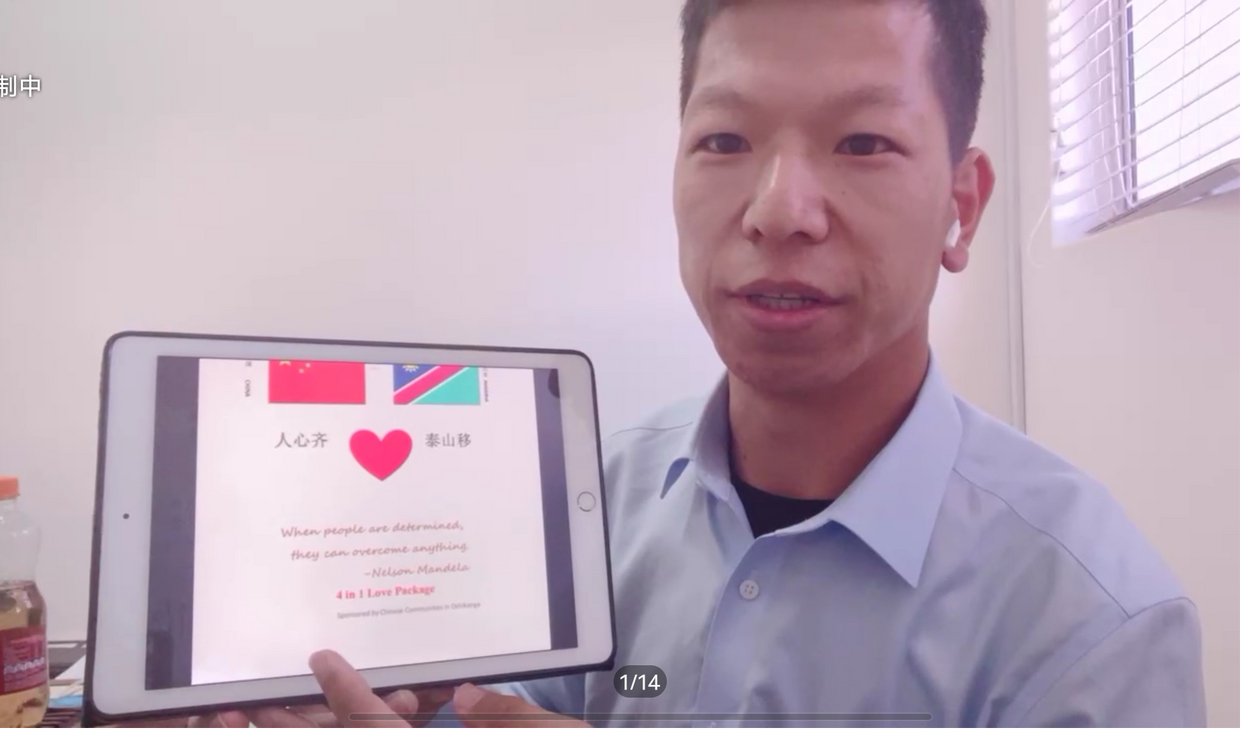 Sun Duo, a young man from Liaoning Province who is now working in Namibia, shares his stories about fighting against COVID-19. [Photo via the screenshot of the event video]
Chinese and foreign youths met each other online, and were moved in interaction, which strengthened their confidence towards the future!
The event ended with the chorus of "I Built All My Dreams" by Chinese and foreign youths.