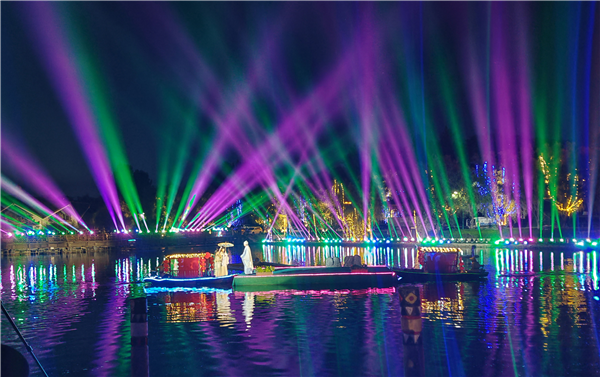 Live-action performance by a cruise boat at the center of the lake [Photo by Huang Fei]
Live-action performance of "the Legend of the White Snake" by a cruise boat at the center of the lake, colorful and dazzling light display, and dancing "Goddess of the Great Tang Dynasty" with elegant beauty. This year, nighttime tourism activities newly launched by Hulu Ancient Town in Huludao focus on the theme of "Dreamlike Ancient Town with China-chic Light Shows, Live-action Performance of Aquatic Fairy Tales". "Storyline-based night tourism + immersive performance" will bring the audiences an audio-visual feast of light shows integrating traditional culture and modern technology.
Recently, CRI Online Liaoning Channel has participated in the interview event themed "Eying Huludao for High-quality Development" and followed the interview group for a visit to Hulu Ancient Town. The nighttime tourism activities presented a "Dreamlike World", and the participants were amazed by an endless stream of new scenarios and experiences at the ancient town.
Huludao City was awarded as the capital of Chinese Hulu (gourd) culture in 2009. Hulu Ancient Town located in Huludao City has grasped the opportunity and focused on developing the brand of "Hulu culture".
Hulu Ancient Town has held 11 editions of the Gourd Cultural Festival. Every year, competition activities of gourd carving and pyrography are organized to provide a platform for folk artists to showcase their skills. Gradually, the Gourd Cultural Festival has evolved into a well-known brand of local cultural tourism, and it was recognized as a national festival in 2020. In winter, Hulu Ancient Town turns into "Guandong Folk Snow Town", promoting the development of the ice-snow economy with differentiated cultural tourism industry.