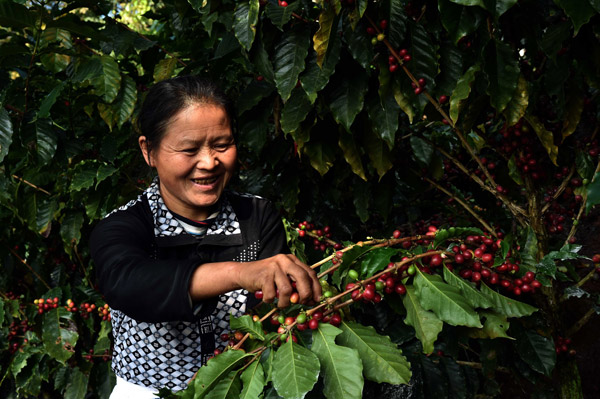 A farmer of the Miao ethnic group picks coffee beans at a coffee plantation in Simao, Yunnan province. [Photo/Xinhua]
The fact that this is the 15th year in a row that the No 1 central document, an indicator of policy priority, has been devoted to agriculture, farmers and rural areas indicates how challenging rural issues are and how important they are for the country's food security, stability and people's well-being.
While there has been marked rural and agricultural development over the years, some pressing issues have now become prominent, including the issue of the "left-behind" elderly and children and weak grassroots governance, which has led to environmental problems, among other things.
In order to tackle such issues, in this year's No 1 document released on Sunday, the central government has set out a package of policies aimed at setting in motion the revitalization strategy for rural areas.
This strategy was first outlined at the 19th National Congress of the Communist Party of China in October by top leader Xi Jinping. It aims to address the intractable issues relating to agriculture, rural areas and rural people by establishing a thriving rural economy, a pleasant rural living environment and effective rural governance.
For urban residents, a livable environment is the basis of a modern lifestyle and with the country's development it is now often taken for granted. Yet for rural residents, it is a different story, and if it is allowed to continue, it will render the country's modernity drive meaningless.
Take the environment, for example. Official figures suggest 3.3 million hectares of farmland in China have been contaminated with heavy metals, and nearly 200 million rural residents have no access to safe drinking water.
It is time to clean up the mess and establish better governance to ensure rural residents also enjoy the fruits of the country's modernization. As the document points out, China cannot become modernized without modernizing its agriculture and rural areas. Only when each and every one of its more than 590 million rural residents start to enjoy the same benefits as their urban counterparts in education, medical services and the environment can they share in the dream of realizing a beautiful country.
The timetable for realizing the revitalization of rural areas was set at the central rural work conference in December, and it will require firm resolve to implement and push through the necessary reforms, as it calls for the country to eliminate rural poverty by 2020, achieve the basic modernization of agriculture and rural areas by 2035, and realize the grand goal of strong agriculture, a beautiful countryside and well-off farmers by 2050.
The policies released to begin achieving those targets include green farming, improved infrastructure and living facilities such as sanitation systems, as well as comprehensive environmental upgrading.
The document outlines the first steps in the journey to achieve this historic task for the new era.