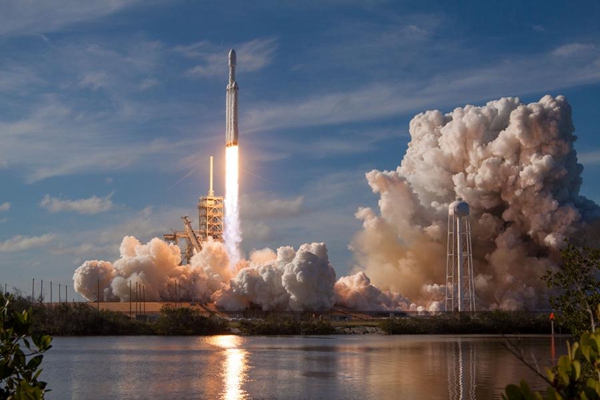 A SpaceX Falcon Heavy rocket lifts off from historic launch pad 39-A at the Kennedy Space Center in Cape Canaveral, Florida, US, February 6, 2018. [Photo/Agencies]
The idea of launching into space a Tesla Roadster, playing David Bowie's Space Oddity, on a billion year elliptic Mars orbit, with the message "made on Earth by humans", may be more about marketing than about marking a milestone moment in our space odyssey.
Certainly many people would have thought a private company launching the most powerful rocket in the world into space, especially one that is lower in cost and reusable, would be a big enough story to make any publicity tricks unnecessary.
Elon Musk obviously thought differently, however, and his "Starman" is likely to live long in our collective memory.
But the accompanying razzmatazz should not detract from the launch itself, which really is something quite amazing. Also shocking in some ways, at least to the Chinese audience. Especially those who believed China had progressed to be at the forefront of space exploration, having sent astronauts into orbit.
To some of them, it is beyond imagination that the payload of the Long March 5, the strongest ever carrier rocket of China, is less than half that of the Falcon Heavy, a product of Musk's young, small SpaceX company.
"While the Chinese slept, Americans accomplished a magnificent feat that throws China farther behind!" exclaimed the title of an article widely reposted on China's social media.
There is nothing wrong with taking pride in our country's own accomplishments. Generation after generation of our scientists and technological workers have worked diligently, and they have indeed made conspicuous achievements, enabling the country to be a member of the elite global space club. Still it is self-deceiving to assume the country can so easily overtake one industry-leader after another or to presume that it had already become the leader itself.
The single launch of the Falcon Heavy, shows that despite all the progress made by China over the past decades, which has seen it develop the leading mobilization mechanism, it still has a lot more to learn. Not least, from the mechanisms in the United States that have encouraged and cultivated private research and development of space technology.
Now that China is promoting "mass entrepreneurship and innovation", the lessons the Falcon Heavy presents should not be ignored.