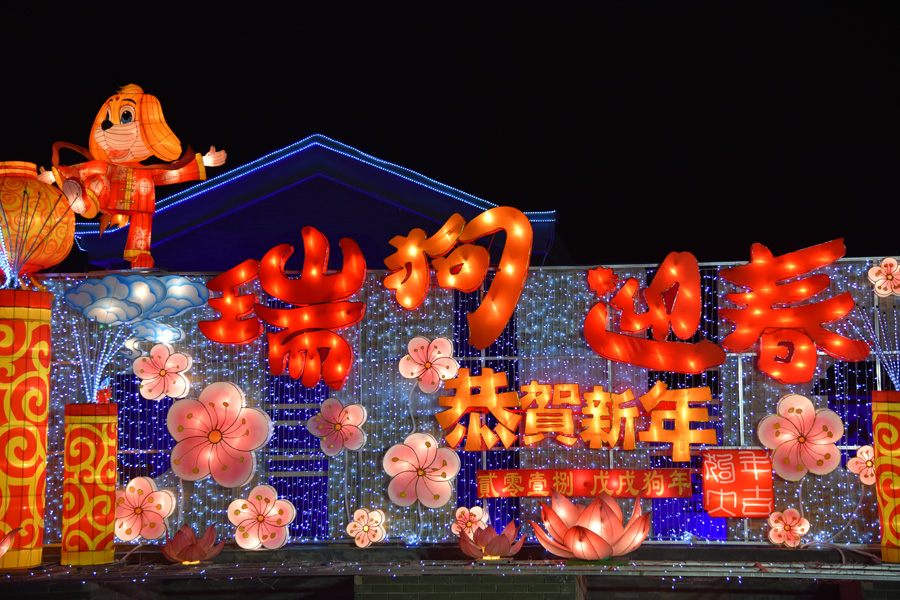 2018 marks the Year of the Dog. The 2018 Dingsheng Royal Lantern Fair includes many images of dogs to welcome the coming Chinese lunar new year. [Photo by Zhang Xingjian/chinadaily.com.cn]
Despite the fact that I have an Egyptian and Canadian background, I consider China to be the haven for my heart and soul.
Without stating the obvious, the Chinese Spring Festival is considered to be the most enjoyable event in the Chinese calendar for families and friends.
To celebrate the precious occasion, I usually attempt to seize the opportunity to bridge the gap between Egyptian, Canadian and Chinese cultures through the Chinese New Year.
During previous celebrations, my Chinese wife and I talked about our cultural customs and traditions while satisfying our taste buds by sampling dishes from China, Canada and Egypt.
This year, as the Spring Festival approaches, I began to contemplate innovative means to break the monotony of our celebration of the Chinese New Year.
Since the Chinese New Year is celebrated by Chinese and their foreign friends in every corner of our universe, I do believe it deserves to be categorized as a universal event to join its Western counterpart.
To apply that concept to this year's celebration, I came up with the idea of inviting members of my wife's family to have a party with a universal theme.
I assigned a simple task to each member — coming up with a fact about a nation of the world and share it with us.
My wife and I will prepare some famous dishes from those countries to snack on during the party. She will cook her sumptuous dumplings while I will prepare some fried meatballs and breaded French fries, along with Russian and Greek salads.
During the party, we will share our accomplishments and regrets over the passing year while exchanging our hopes and aspirations for the upcoming Year of the Dog.
As for my fellow expats, I found myself pondering the idea of seizing the opportunity of Chinese New Year to bridge or at least narrow the gap of differences between my generous hosts, the Chinese people, and them.
To accomplish that objective, I am inviting all my fellow expats to extend their hands of friendship to Chinese individuals who share the joys of Spring Festival with them.
If you have Chinese friends, coworkers or neighbors, take a moment of your time to wish them a Happy Chinese New Year. You could take advantage of the joyful spirit of the holiday to establish new friendships with them, or strengthen the ones that you already have.
You may go one step further by inviting them for a drink to toast the Chinese New Year or a meal to celebrate the event which will go a long way in earning their gratitude and trust to establish new friendships.
You may show interest by asking them about the event and how they celebrate it while sharing customs and traditions of celebrating similar events in your native country.
The same goes for Chinese individuals. They could take the initiative of getting closer to their guests, expats, by inviting those who live nearby or work with them into their homes to share a drink or a meal during the festivities of the Chinese New Year. They may discover foreigners are not that different from them. They may be eager to establish friendships with them.
Through communication and friendship, we can ensure the survival of humanity. Sharing joyous events such as Chinese New Year could help us bridge the gap.
(This article is written by Sava Hassan, a Canadian Egyptian educator.)