Beijing 2022 mascots, integration of Chinese culture and Olympic Games
|
Xinhua
|
Published:2019-09-19 18:37:41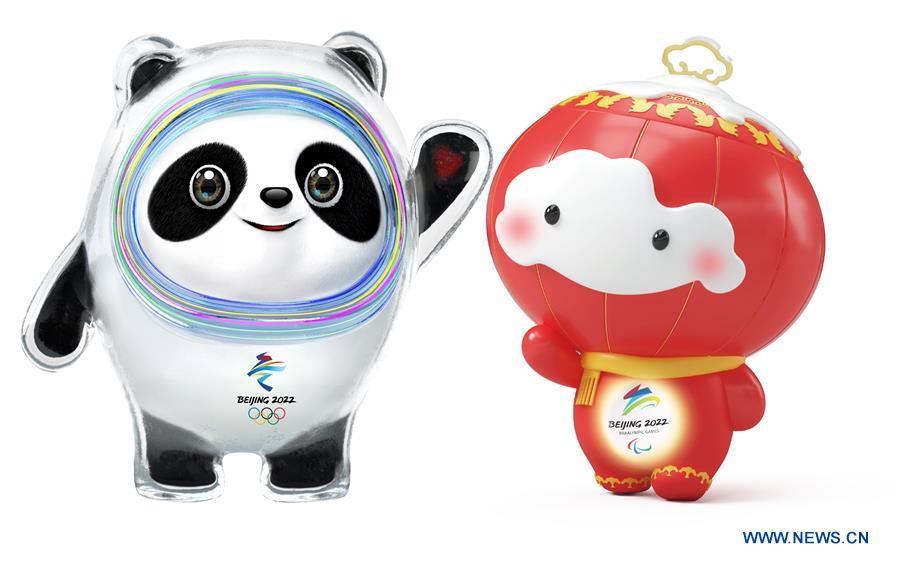 This handout image shows the mascot of Beijing 2022 Olympic Winter Games Bing Dwen Dwen (L), and the mascot of Beijing 2022 Paralympic Winter Games Shuey Rhon Rhon, unveiled by Beijing Organising Committee for the 2022 Olympic and Paralympic Winter Games in Beijing, capital of China, Sept. 17, 2019. (Xinhua)
By sportswriters Su Bin, Wang Yong, Ji Ye
BEIJING, Sept. 17 (Xinhua) -- Once unveiled here on Tuesday, official mascots of the Olympic and Paralympic Winter Games Beijing 2022 have been regarded as innovated legacy combining traditional Chinese culture and Olympics Games in modern design.
Standing out from 5,816 submissions since the launch of a worldwide competition last August, Winter Olympics mascot Bing (Ice) Dwen Dwen is prototyped on China's icon panda, while its Paralympics counterpart Shuey (Snow) Rhon Rhon draws inspiration from lantern widely used during the Chinese Spring Festival.
Panda is no strange to mascots of international Games held in China. Dating back to the 1990 Asian Games in Beijing, the image of mascot Panpan, a cute panda, appealed to many across the globe. For China's first ever Olympic Games in 2008, panda also serves as prototype of Jingjing, one of the Games' five mascots.
Bing Dwen Dwen, combining the image of panda and ice crystal to reflect characteristics of winter sports, is legacy with glory from previous international competitions in China.
Colorful decoration above Bing Dwen Dwen's head is inspired by the National Speed Skating Oval known as the "Ice Ribbon", venue for speed skating of Beijing 2022. Bright colors and flowing lines signify track and 5G technology, and exterior appearance of the mascot's head derives from helmet in winter sports.
Based on China's iconic animal, Bing Dwen Dwen shows vitality of life through its modern design and sense of technology.
Ice crystal surrounding Bing Dwen Dwen tells about the feature of winter sports. Olympic spirit is also transmitted through panda's power.
Innovation of Chinese designers can be discovered by difference between Bing Dwen Dwen's design and those with wild pandas' image in previous occasions, giving the Beijing 2022 mascot more sense of technology.
As China's national treasure, panda enjoys high recognition and clear identity. The message that Bing Dwen Dwen conveys is modesty, diligence and friendship of Chinese people endeavoring to making contributions to their country's welfare and realizing their dream, which expresses image of China under the context of a modern era.
Prototyped on Chinese lantern, Shuey Rhon Rhon came from a clear idea of design from the start, based on designer Jiang Yufan's memory of her hometown Jiayin, a county in northeastern China's Heilongjiang Province.
Atmosphere of festival is deeply felt in Jiang's hometown when lanterns are put on everywhere.
Through revision by a top-level design team, lantern, a traditional icon representing harvest, happiness, warmth and brightness for over two thousand years in China, is transformed into mascot of the Winter Paralympics.
Chinese 'Ruyi' ornament on top of the lantern signifies auspice and happiness. Image of pigeons and Tiantan (Temple of Heaven) implies peace and friendship. Decoration around the lantern incorporates traditional Chinese paper-cutting art. Snow blocks on surface of the lantern indicates a fruitful year, as Chinese old saying goes, while displaying cuteness of mascot through its personified design.
Taking red as its basic color, the lantern sets out festive atmosphere of the Chinese Spring Festival in 2022 when the Winter Olympics and Paralympics are held. Brightness around the lantern is a sign of lighting up dream and giving warmth to the world, representing friendship, courage and strength that Winter Paralympics athletes possess, along with idea of how Winter Paralympics motivates the world.
Jiang Xiaoyu, head of the mascot design review committee, described the two mascots are perfect combination of Chinese cultural icons and Olympic spirit, demonstration of Chinese culture and Olympic Winter Games, and precious gifts offered by the organizing committee and Chinese people to the Olympic movement and entire world.
From submission to revision, Chinese designers' intelligence and creativity is clearly stated throughout the process. After successful practice of the 2008 Olympic Games, they are now making further strides towards the world ahead of the Beijing 2022.
"Once again it's splendid exhibition of Chinese culture on the Olympic stage. Through a modern design, mascots demonstrate form, connotation, style, elegance and glamor of Chinese civilization," commented Jiang.