Beijing adds area for self-driving vehicle tests with passengers
|
Xinhua
|
Published:2020-01-02 10:45:11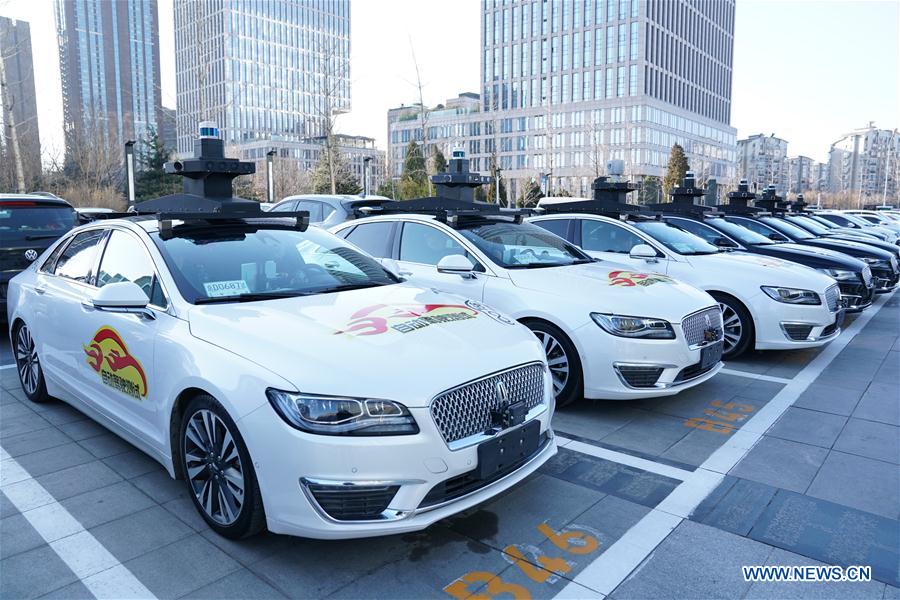 Vehicles ready for self-driving tests are seen in Beijing, capital of China, Dec. 30, 2019. Beijing on Monday added a new 40 sq km area for testing self-driving vehicles with passengers, as the capital pushes for further application of the technology, according to the Beijing Municipal Commission of Transport. The city also issued a license for carrying passengers in self-driving car tests to 40 vehicles from Chinese internet giant Baidu. (Xinhua/Ju Huanzong)
BEIJING, Dec. 30 (Xinhua) -- Beijing on Monday added a new 40 sq km area for testing self-driving vehicles with passengers, as the capital pushes for further application of the technology, according to the Beijing Municipal Commission of Transport.
The city opened 111 roads with a distance of about 322.46 km in the Beijing Economic-Technological Development Area in the southeast suburb for the tests, covering almost the whole area except for sections where schools, hospitals and office buildings are located.
The city also issued a license for carrying passengers in self-driving car tests to 40 vehicles from Chinese internet giant Baidu.
Rong Jun, deputy head of the Beijing Municipal Commission of Transport, said self-driving has gradually developed from road tests to passenger-carrying tests both in China and abroad.
The city issued detailed regulations for the testing of autonomous vehicles earlier this month. The regulations gave the green light to road tests for self-driving vehicles carrying passengers.
For safety reasons, test vehicles must have self-driving data recorders and an emergency system that allows a human to manually override the automated driving system, the regulation stipulates.
So far, Beijing has opened 151 roads with a distance of about 503.68 km, ranking first in the country. As of December, the city has issued road test licenses to 77 vehicles from 13 companies, which traveled over 1 million km.
According to a government plan, test spaces for intelligent connected vehicles in the capital are expected to reach 500 square km by 2022, and a total of 2,000 km of roads are expected to be open for testing.
Six cities in China have allowed passenger-carrying tests on autonomous vehicles, including Beijing, Shanghai and Guangzhou, according to The Beijing News.
In November, a fleet of 30 self-driving vehicles started carrying passengers in the economic development zone of Cangzhou, north China's Hebei Province, in the first such pilot program to cover an entire city district.