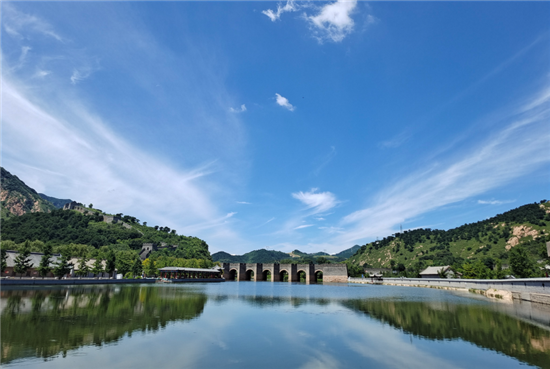 Water City Bridge of the Jiumenkou (Nine Gates) Great Wall [Photo by Huang Fei]
In the scorching hot summer, a water bird arrives unexpectedly, resting on the city bridge made of stones and bricks, and waiting for an opportunity to prey on the passing fish. At its feet is the only section of the Great Wall that runs over water, namely the Jiumenkou Great Wall in Suizhong, Huludao, and its water city bridge.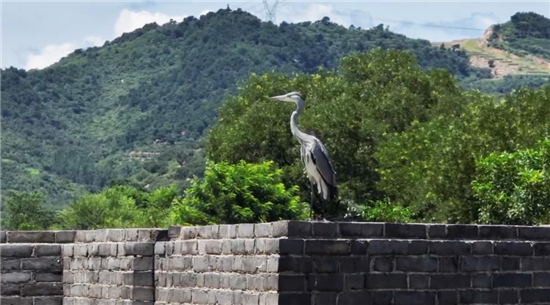 A water bird stands on the water city bridge of the Jiumenkou Great Wall. [Photo via the Publicity Department of CPC Huludao Municipal Committee]
Recently, CRI Online Liaoning Channel participated in the interview event themed "Eying Huludao for High-quality Development", and followed the reporters' group for a visit to the Jiumenkou Great Wall, a UNESCO world cultural heritage site where visitors will be amazed by the spectacle of "A City on the Mountains with Water Flowing Beneath".
The Jiumenkou Great Wall is located at the border of Liaoning and Hebei provinces, offering an important route for going from northeast China into the Central Plains. In order to strengthen the military defense east of Beijing, the Ming Dynasty (1368-1644) built the Jiumenkou Great Wall here, which integrated cities, bridges and passes, forming a military defense system that facilitated attacks and defense several miles deep.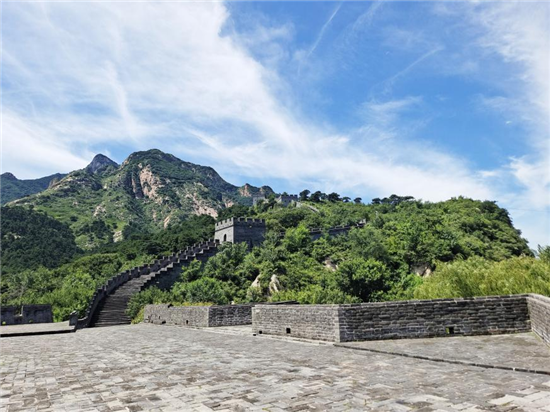 The Jiumenkou Great Wall going up the mountains [Photo by Huang Fei]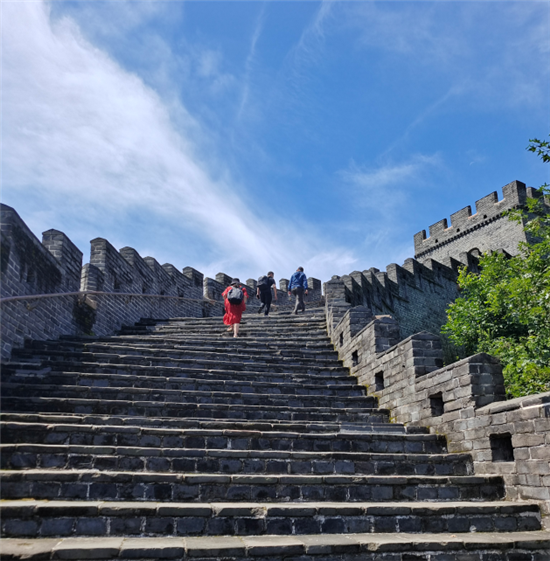 Tourists climbing up the stairs to visit the Jiumenkou Great Wall. [Photo by Huang Fei]
The Jiumenkou Great Wall spans 1,980 meters, including more than 20 structures such as walls, city bridges across the river, passes, forts, beacon towers, horse blocking ditches and walls, watchtowers and barracks.
Normally, the 10,000-li Great Wall follows the shape of the mountains and disconnects when it meets a river. But the section crosses the Jiujiang River in Suizhong with city walls and nine water gates, breaking this tradition and presenting a spectacular scene.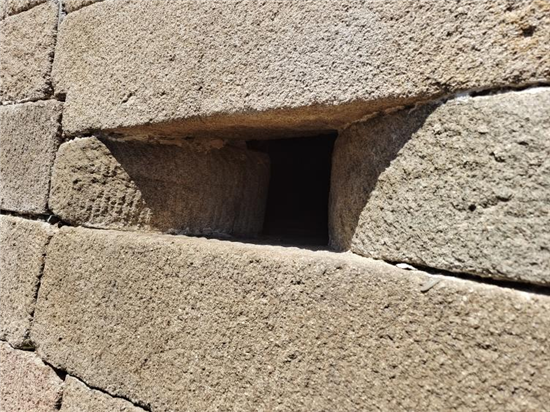 A defense shooting hole beside the nine water gates [Photo by Huang Fei]
"A visit to the Great Wall won't be worth it if you miss Jiumenkou." Nowadays, the Jiumenkou Great Wall draws tourists from far and wide with its unique historical charm, and also drives the development of the local cultural tourism industry.