On November 19, participants of "Hi, Confucius" International Online Influencers' Study Tour in Nishan visited Nishan Sacred Land in Qufu, Shandong. Dressed in Hanfu or Han-style costumes, they enjoyed hand-written experiences of the Analects of Confucius and witnessed the perfect combination of Confucian wisdom and modern architectural art.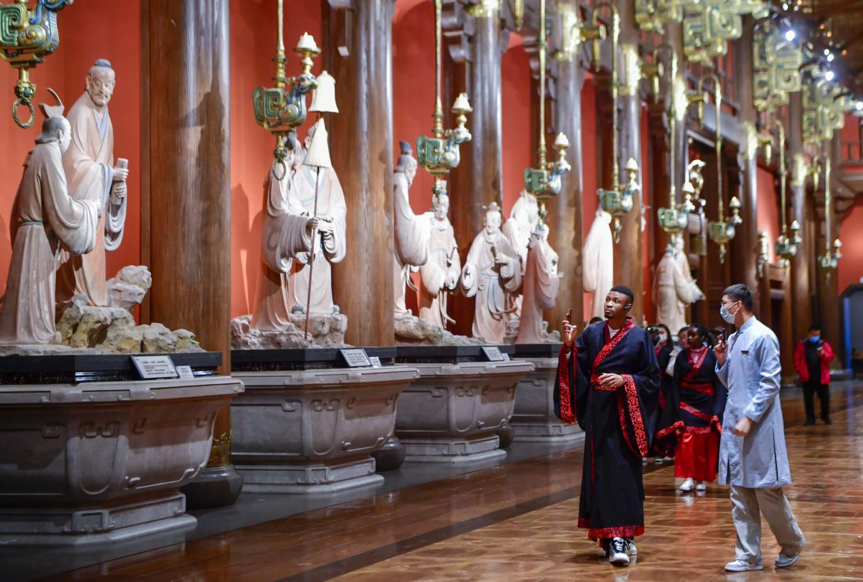 An interior view of Nishan Sacred Land [Photo by Zhang Kan]
In Nishan Sacred Land, what met the eyes of the participants first was a tall and stately statue of Confucius. "It's so tall! "Truly unbelievable!" They were so impressed by the 72-meter-tall Confucius statue and took out their mobile phones for picture taking and sharing.
The Grand Study Hall (Daxuetang) in Nishan Sacred Land embodies the essence of the millennium-old architectural culture and ancient construction techniques in China. Patrick Chinazam Onyekwelu from Nigeria noted, "Unlike the modern architecture we have seen in China before, these buildings dazzle us with their unique styles and create a sense of time travel."
In the Grand Study Hall, the participants put on Hanfu, watched the light show, and quietly concentrated on finishing their works about "reading the Analects of Confucius by hand" in an immersive cultural atmosphere.
"According to the Analects of Confucius, learning without thinking is useless, and thinking without learning is dangerous. Moreover, do not do to others what you don't want to be done to you." Lydia Nduta Njoroge from Kenya waved her Hanfu sleeves and easily repeated Confucius' famous sayings. "I have come to Nishan Sacred Land for the second time, and I feel that every time I come, I will gain something new." (Text by Hou Yanyan)