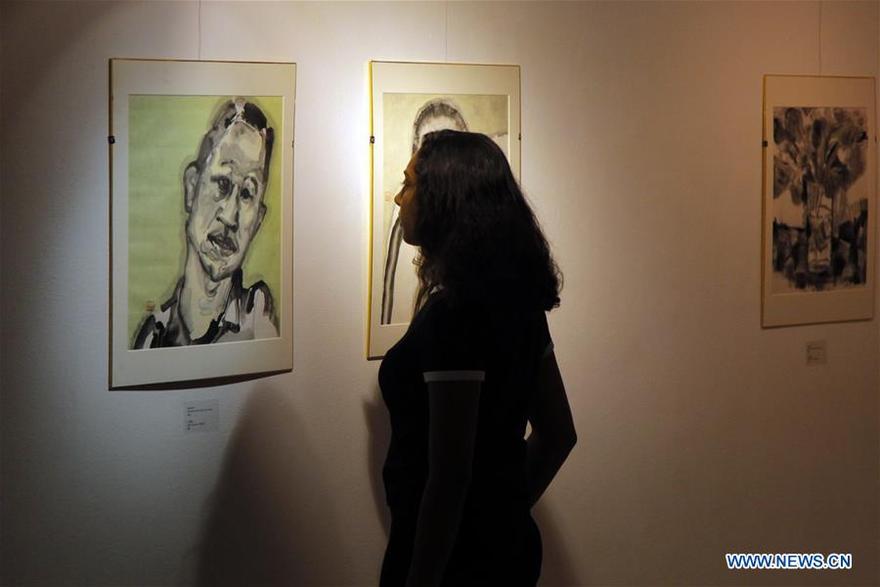 An Egyptian visits the "Art without Borders" exhibition at the Gezira Art Center in Cairo, Egypt, Aug. 15, 2018. Egypt's capital Cairo embraces a seven-day Chinese fine art exhibition that is meant to promote mutual cultural ties between the two nations. (Xinhua/Ahmed Gomaa)
by Ahmed Shafiq
CAIRO, Aug. 18 (Xinhua) -- Egypt's capital Cairo embraces a seven-day Chinese fine art exhibition that is meant to promote mutual cultural ties between the two nations.
Six artists from the Shanghai Academy of Fine Arts showcased their works at the "Art without Borders" exhibition which is being held at the famed Gezira Art Centre since Wednesday.
The exhibition, which is co-organized by the Shanghai Academy of Fine Arts and the Chinese Culture Center in Cairo, has attracted dozens of Egyptian visitors who showed admiration of the Chinese art.
"The exhibition is really marvelous. Today I saw diversity of arts in China with different artistic trends," Omar Sameh, a civil engineer from Cairo, told Xinhua.
Sahem said that it is important for cultures to meet at some point, adding that the cultural exchange between Egypt and China is beneficial for both peoples.
"It is my first time to see Chinese art works in real life. Such an exhibition enabled me to get closer to Chinese arts and culture," he said.
The 80 artworks put on show included traditional Chinese paintings, oil paintings, print works and sculptures.
Despite the modern forms and concepts of the works, they keep the unique Chinese cultural temperament, which becomes a microcosm of the contemporary China.
Jiang Tieli, head of sculpture department of the Shanghai Academy of Fine Arts, said all the art works are made by teachers and graduate students of the Academy, adding that they did not bring any large sculptures because of the transportation restrictions.
"The six teachers come from different departments and are experts in different types of paintings," he pointed out.
Jiang said that art transcends cultures as it is the shared way of communication of human beings.
"In a big way, communication between different cultures is a must; for artists, constant participation in various exhibitions will promote artistic creation. They find the positioning of their own creation," he said.
After upgrading the relations between China and Egypt to a comprehensive strategic partnership in 2014, cultural exchange has been at its peak as artists, cultural and musical delegations have paid frequent visits.
Through such cultural moves, both countries want to boost friendly ties under the background of the Belt and Road Initiative which certainly promotes deeper understanding of each other and wake up the ancient civilization in the new era.
"Today's exhibition is very important for the cultural exchange between the two nations," Chinese Cultural Counselor to Egypt, Shi Yuewen, told Xinhua, adding that "the recent years witnessed an unprecedented cultural exchange between Egypt and China in many fields."
However, he said few Chinese art works exhibitions were held in Egypt as the two countries focused more on musical and cultural domains.
"Through this exhibition, we provide a chance to the Egyptian people to get closer to the Chinese fine art," he said, adding that "I believe that any relationship between two nations is based on mutual exchange, with the cultural exchange on top."
The counselor expressed appreciation of the Egyptian visitors who came in big numbers to have a close look at the Chinese arts, expressing hope that the Chinese people could soon visit an Egyptian art exhibition in China.