September 18th, World 'Tourism Experts' Visit Wuhan comes to a perfect ending. During this travel, tourism experts visited Zhiyinhao cruise, Wuhan Greenland Center, Hubei Provincial Museum, Guanggu walking street, Hubu Alley, Eastlake Greenway, Yellow Crane Tower, Hankou Longwang Temple, Zhongshan avenue culture block, Jiqing Street and other famous spots, feeling the combination of traditional custom and modern civilization. And they show the industry scale and development prospect of Wuhan tourism to the world via kinds of the social platforms.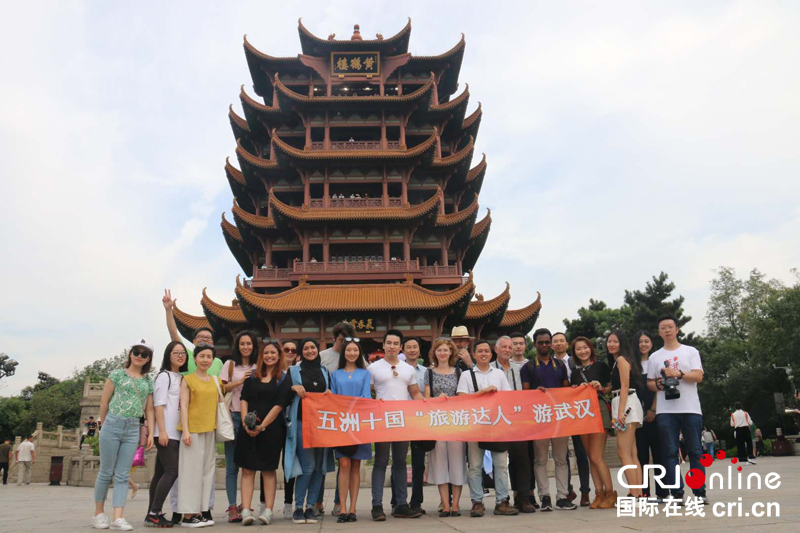 Tourism experts take a group photo in front of Yellow Crane Tower [Photo by Yang Mengdie]
Amazing Modern Civilization of Wuhan
In the evening of September 15th, the first light show which takes Yangtze River as the background in the world was played splendidly at Zhiyinhao pier. The grand projector equipment casts at the pier. Zhiyinhao Cruise becomes a floating boat of light and shadow on the Yangtze River. Light and Shadow carnival was held in Guanggu walking street in the evening of September 16th. The carnival took advantage of 4D imaging, holographic technique, and building projection, combining technology, art, shadow, and light, creating an amazing visual feast. Both of the shows were full of Wuhan elements and technological style, making tourism experts had a new understanding of the development speed of Wuhan. Moreover, tourism experts also had the most intuitive feeling of the height of Wuhan after their overlooking at the top of Wuhan Greenland Center.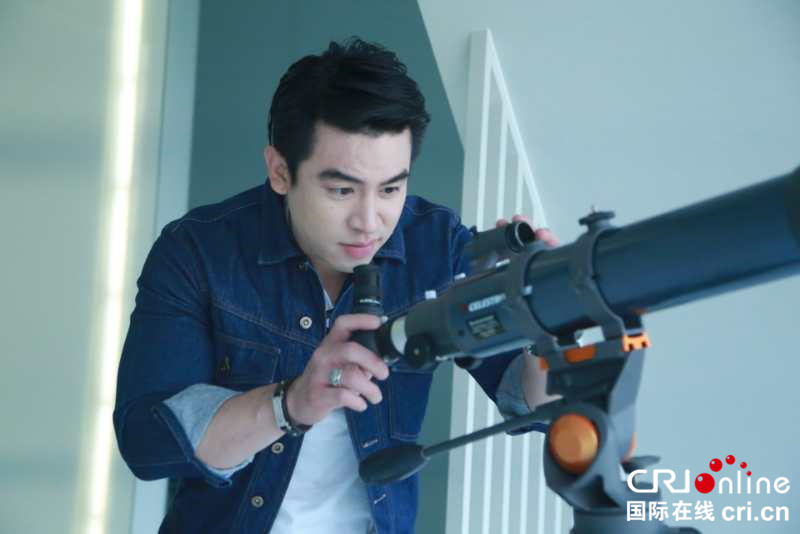 Nuttapong Namsirikul, Thailand famous host and tourism expert overlooks the beauty of Wuhan [Photo by Yang Mengdie]
Greenland Center is a super high-rise skyscraper in Wuhan, as the new landmark of Central China, it has become the name card of Wuhan city. 'Overlooking on the top of Wuhan Greenland Center, you will find the cultural deposits and romance are gather here, you can touch the history directly even.' The experience of overlooking Wuhan from hundreds of meters left a deep impression on Nuttapong Namsirikul.
Glamorous Citizenry of Wuhan
Regan noodles, Doupi, crawfish, Wuchang bream……as the thoroughfare of nine provinces, Wuhan has formed food culture of 'breakfast in Hubu Alley, Night snack in Jiqing Street'. On September 17th, twelve tourism experts came to Hubu Alley and Jiqing Street, experiencing authentic citizenry of Wuhan.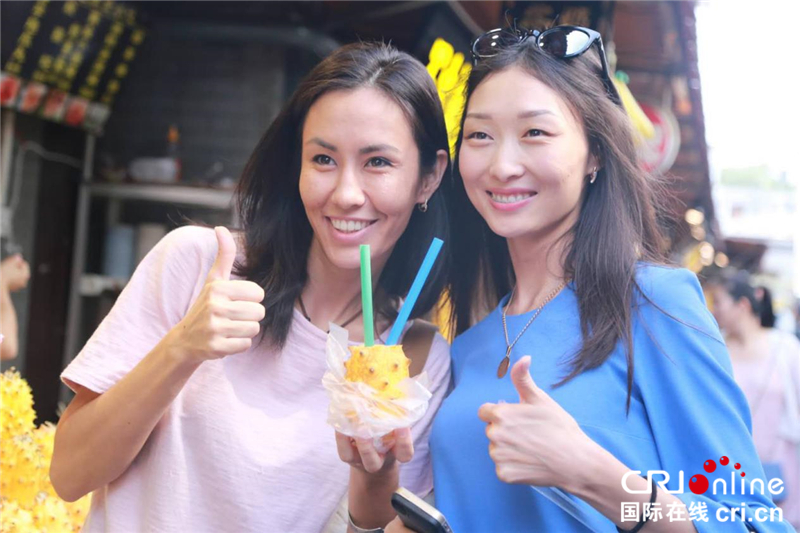 Aberova Dara, the leader of Russian youth project and Saikeneva Dinara, Kazakhstan tourism expert in Hubu Alley [Photo by Yang Mengdie]
'Wuhan is actually the capital of food, I like Wuhan cuisine so much. All of them are really delicious, I especially like duck, lotus root, Toufu and beef.' Egyptian web singer, Doha Samir Sobhy Aly Tolba said joyfully.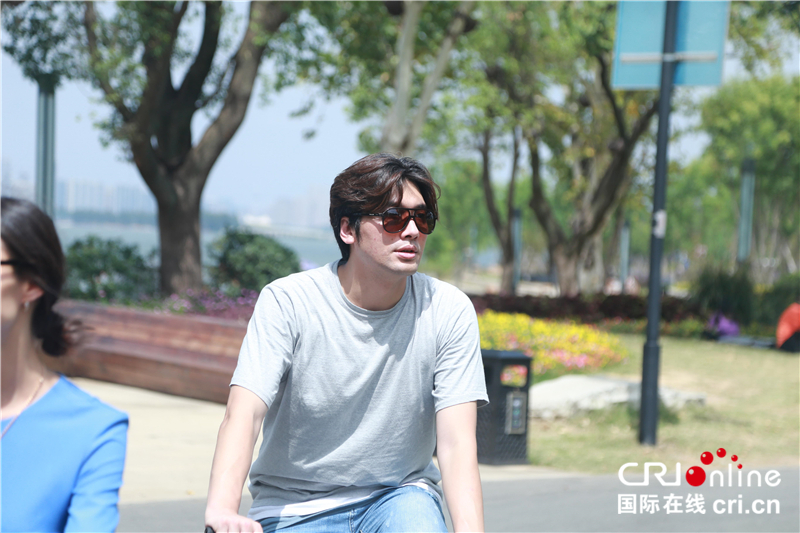 Kim Woojoung, Korean representative of tourism industry visits Southlake by bike [Photo by Yang Mengdie]
While Kim Woojoung focused on Greenland way with great passion, and he said that It's the most beautiful, quietest place, with the nature beauty of mountains and lakes. It's also the genuine number card of this city. 'Riding a bicycle along the lake made me feel so comfortable.'
'The enthusiasm for life of Wuhan people is beyond my imagination.' Zavaryka Mykola, the member of Ukrainian national association of photographic artists showed his deep interests in Wuhan citizenry.
Evocative Cultural Background of Wuhan
Wuhan is an international city with profound cultural background. This is the comment of these twelve tourism experts.
'The situational play of Zhiyinhao cruise gives me a feeling of nostalgia by its unique story and the charm old world. We're brought into time tunnel to experience the stories from different eras, although the world outside still continues.' Philippine travel writer, Berida Stephen Joshua exclaimed.
Zhiyinhao Cruise shows the old customs and Wuhan dock culture during 1920s to 1930s vividly, while The odes reproduced ancient Chinese civilization of ceremony and culture before thousands years ago. All of these make tourism experts exclaim in great surprise.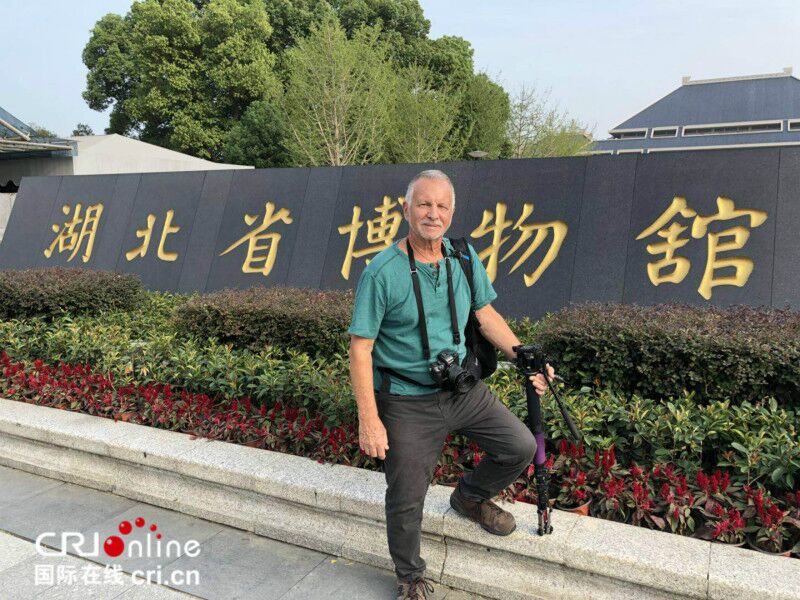 Len Kaufman, the member of Society of American Travel Writers (SATW) takes photo in front of Hubei provincial museum [Photo by Hu Liguo]
Len Kaufman said that the antiques in Hubei Provincial Museum are world-class, 'just an afternoon is too short to visit the whole museum, while I still can feel the greatness of ancient Chinese civilization and science technology. The ode also makes me feel shocked by the development of ancient Chinese music, and it can be a global name card of Hubei province'.
Yellow Crane Tower, located on the top of Snake Hill, is also appreciated by tourism experts since it's the landmark of Wuhan. 'Yellow Crane Tower is one of my favorite scenic spots and historical sites. The traffic and skyscrapers add radiance and beauty to each other, forming an image which is a feast for the eyes.' Aberova Dara said.
See You Soon, Wuhan
On September 18th, World 'Tourism Experts' Visit Wuhan came to an end. During these three days, twelve tourism experts learned about the tourism culture of Wuhan from all aspects. When they were leaving here, they said, 'See you soon, Wuhan!'
'Wuhan gives me lots of joy, it's not only a historical city, but also an interesting place with its unique charm.' Russian reporter and tousim expert, Maryna Belkova said.
Nepali photographer, Sanjev Dhakal gave a positive comment on Wuhan tourism,' I can see the bright future of Wuhan tourism development. History, culture, food and some other wonderful experiences will leave the tourists an unforgettable memory.'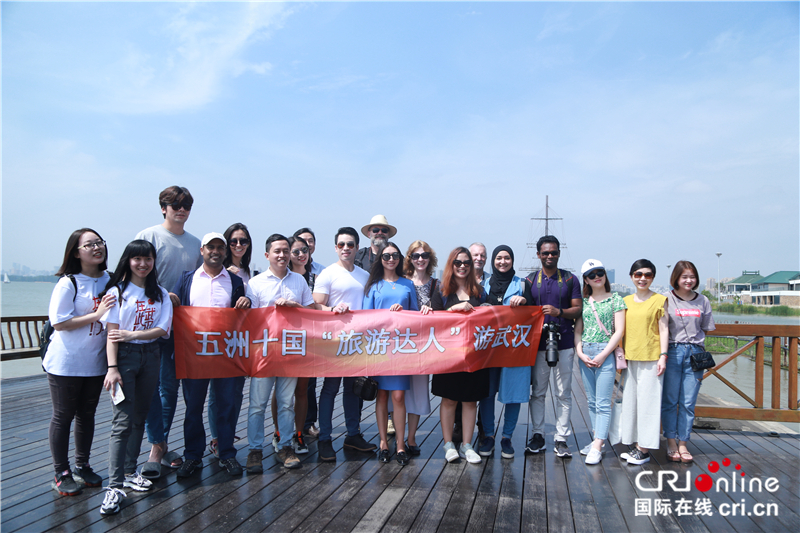 World tourism experts take a group photo in Southlake Greenway [Photo by Yang Mengdie]
In the eyes of Anissa Syifa Adriana, Indonesian tourism expert, Southlake Greenway, Zhiyinhao Cruise, Chu River and Han Street, and Hubu Alley are the irresistible invitations sent from Wuhan, catching the eyes of all over the world.
'Wuhan is still developing rapidly. I wish Wuhan can be more attractive in the future, and I'm sure I will come here again soon. Wuhan is a fully functional city with well-scheduled management. And there are also lots of excellent universities. In a word, Wuhan is a perfect city, giving the people who live here happiness.' Bangladesh photographer, Mostak Ahmed expressed his expectation of Wuhan.