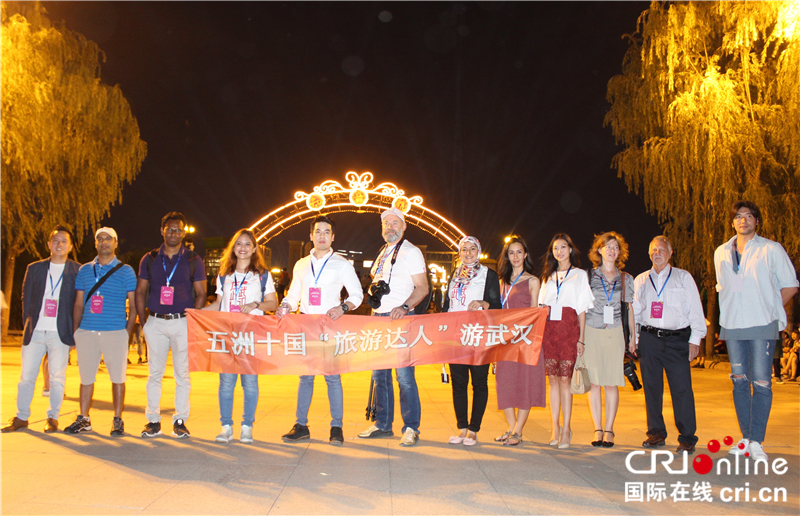 World 'Tourism Experts' takes a group photo in front of Zhiyinhao [Photo by Zhang Yongliang]
I must admit that, although I'm heavily involved in tourism industry and I usually travel around the world, I have taken lots of beautiful sceneries of many kinds of countries and regions. I thought that maybe there is no city would make me feel surprised. But from the opening ceremony of Wuhan international tourism festival in the evening of September 15th, it seemed like a door to the east world. I have never thought that there will be such a shinning star, Wuhan, in middle reaches of Yangtze River. Now that I am here, I had my eyes opened wide to catch all the highlights of this city.
In the evening of September 15th, opening ceremony of the 17th Wuhan international tourism festival, 2018 was held at Zhiyinhao pier. I aboard Zhiyinhao cruise with the members of World 'Tourism Experts' in Wuhan. We're welcomed by Chen Ruifeng, deputy secretary of Wuhan municipal committee of CPC, and executive vice mayor, and other leaders of Wuhan city, as well as the organizer. It made me feel that Wuhan was paying attention to opening-door to the outside world and promoting Wuhan tourism to all over the world. It is absolutely an international city with world vision. In the opening ceremony, I had a deeper understanding of Wuhan. Known as 'Hundreds of Lakes city', there are hundreds of lakes separated in Wuhan, and it's also one of the cities with the most abundant fresh water resources in China. Southlake is the second largest city lake in China, while the largest one, Tangxun Lake, is in Wuhan as well. Moreover, Hubu Lane, Yellow Crane Tower, and some other historical spots were also promoted in the opening ceremony. In my opinion, It's a successful introduction, so that I couldn't wait promoting what I've seen here to my American friends.
After opening ceremony, we aboard Zhiyinhao cruise, I found it was a floating theatre when I entered it. The stories of the Republic of China era made the audiences feel like coming back to the old time. Although I can't understand all the words, the appeal of art is without borders. And this kind of artistic expression is worth learning from the artists all over the world.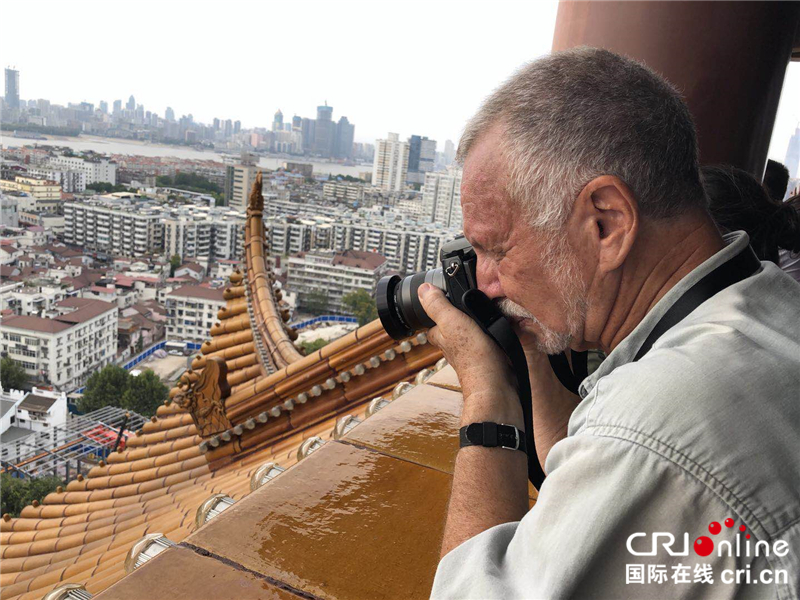 Len Kaufman is at Yellow Crane Tower [Photo by Ai Tao]
Wuhan develops rapidly, we can see the high-rise blocks everywhere in this city, full of energy. The setting for the city, on the Yangtze River is magnificent. No wonder it is often called the 'Chicago of Asia'.
In the afternoon of September 16th, we visited Hubei Provincial Museum, all the antiques here are world-class. Just an afternoon is too short to visit the whole museum, while I still can feel the greatness of ancient Chinese civilization and science technology. The ode made me feel shocked by the development of ancient Chinese music, and it can be a global name care of Hubei province.
In addition, I was also further impressed by the apparent enthusiasm of the city officials and the people of Wuhan for tourism. One demonstration of that enthusiasm is the very act of inviting our group of 12 travelers to join in the Wuhan international festival, 2018. During these days in Wuhan, I felt the charm of Wuhan grand rivers and lakes, for me, the journey is full of surprises. And of course the next journey makes me long for it. And I believe in the short future, there will be more tourists come to Wuhan, learn about Wuhan, and fall in love with Wuhan.