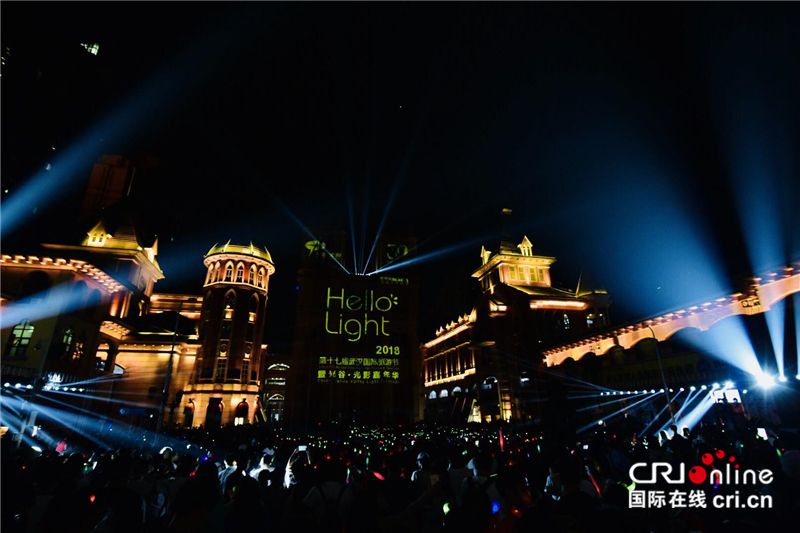 The scene of Guanggu light and shadow carnival [Photo by Bangladesh tourism expert Mostak Ahmed]
September 16th, at 7:30 PM, hosted by the management committee of Wuhan east lake new technology development zone and supported by Wuhan tourism development committee, the '17th Wuhan international tourism festival 2018'and Guanggu light and shadow carnival was held in milan spring square, Guanggu walking street, Wuhan. Tourism experts came to watch the light show with thousands of citizens and students.
The projection equipment filmed video and picture on the wall of a tall building, which turned into a huge art curtain. Light and shadow, lines continuously delineate the 'lotus', Guanshan Avenue, Guanggu biological city, etc. Each of the landmarks reveals the special elements of Guanggu and technological style. Taking advantage of 4D imaging, holography, architectural projection and other technologies, the show perfectly combines technology with art, light and shadow with architecture.
Magnificent light and shadow create a stunning visual feast; the scene is like a dream. The 12 tourism experts danced with the light and shadow on the spot as if they were participating in a super sci-fi blockbuster, their phones and camera kept busy. 'I was very impressed by the light and shadow show. It's really beautiful,' said Dara, one of the tourism experts, 'Wuhan develops rapidly. There are high buildings everywhere. I've been to walking streets of other cities before, and the architecture is a little bit like here, but there's no such wonderful light show.'
'I had a lot of fun here, especially when the host said how to express love and some couples expressed their love in different ways. Different light and shadow displays are very attractive, music and event site management are quite good. I felt very happy and grateful to Wuhan for giving me such a wonderful night.' Mostak Ahmed said although this is his first visit to Wuhan, he first came to China in 2013 and has already been to at least 35 cities. He praised Wuhan as a clean city with its new and diverse buildings, convenient transportation and interesting food and people. 'At present, Wuhan is still developing rapidly. I hope it will be more attractive in the future and I will come here again. Wuhan is also a fully functional city with well-planned urban development and some excellent universities. Generally speaking, Wuhan is a perfect city. I think people here live a happy life.' Mostak Ahmed expressed his feelings and expectations.
On the afternoon of May 16th, tourism experts visited the Hubei Provincial Museum to see the world-renowned historical relics and appreciate the magnificent chime performance to know Wuhan as a national historic and cultural city with its profound history and charm. In the next trip, tourism experts would climb Yellow Crane Tower, walking on the Eastlake Greenway, cultural block of Zhongshan Avenue, and having the opportunity to taste the delicious cuisine. (Translator:Cheng Xi)