Beijing: Ambassador of Pakistan to China, Madame Naghmana Hashmi has said that the Iron Brothers China and Pakistan are said to bring about a revolutionary change in the lives of masses and economies of nation by comprehensively benefitting from mega development projects of China Pakistan Economic Corridor (CPEC) under the umbrella of the Belt and Road Initiative and that media's role was very important in achieving all the roles in this regard.
  She expressed these views while addressing the audience at the screening ceremony of a documentary titled ''The Pledge of Iron brothers'' produced by Islamabad-based English language newspaper The Daily Mail and Pakistan China Media Friendship Association. She said that initiatives like the creation of this documentary were very healthy and were positive signs of the media realizing its roles and delivering to the cause of promotion of people to people contact. She said that although China and Pakistan were enjoying the bond of exemplary friendship for almost last seven decades yet the BRI and CPEC had emerged as the game changer factors to take these relations to entirely new horizons.
  She hailed the efforts of Mr. Makhdoom Babar and his team for taking this initiative and making it such a spectacular piece of art. She also thanked People's Daily, Global Times, CRI ,China Daily, Beijing Review, Power China, CRCC and all other organizations from both Pakistan and China who expanded their cooperation and assistance in their respective capacity in the making of The Pledge of Iron Brothers that would emerge as a landmark in enhancing people to people contact and understanding of CPEC.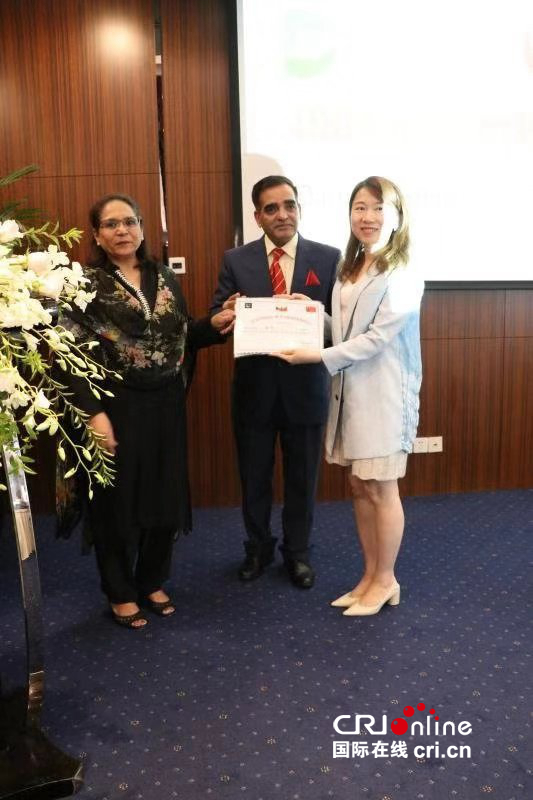 Ambassador of Pakistan and Chairman of Pakistan China Media Friendship Association gave certificates to Chinese journalists for their positive contributions to promote Pakistan China relations and BRI's CPEC.
  Speaking on the occasion President of The Daily Mail and Chairman of the association Mr. Makhdoom Babar said that the project of the documentary was simply a tribute to those individuals who have been putting all out efforts to bring people from China and Pakistan closer over the last 70 years. He said that Pakistan China Media Friendship Association that was found by him back in 2005 with a mere aim to take upon the media challenges through joint efforts of Pakistani and Chinese Media now entered into a new era of contributing to the cause of CPEC and BRI and the documentary was just a new beginning in this direction. He said that The Daily Mail has recently opened up a new CPEC and BRI research wing in Islamabad from where they will continue to contribute to the spirit of BRI and CPEC.
  He said that The Daily Mail was the only newspaper in the world that has been publishing two pages on China every day since 2004-2005 which clearly reflects the esteem and importance the management pays to China and Pakistan's relations to China. He also thanked, amongst others the embassies of Pakistan and China. He concluded by extending immense thanks to CRI, Peoples Daily, China Daily, Beijing Review, China Economic News, Xinhua News Agency, CGTN, Global Times, Communication University of China ,Peking University, Beijing Foreign Studies University, Power China, CAIFC, Mr. Asif Jalil, management of Shanghai free trade zone, Ali Baba group and all others who contributed in the creation of the documentary and announced his next project for the documentary on tourism in China and Pakistan which would be followed by a documentary on Iron Brothers of Media from the two countries.