The emergence of a wave of new technologies such as intelligent automation, electrification and digitalization has brought new changes and challenges to the Chinese construction machinery industry in recent years.
During the "two sessions"- the annual meetings of the national legislature and the top political advisory body in Beijing, Zeng Guang'an, President of Guangxi Liugong Group Co. Ltd., said in an interview with CRI Online that the company will actively develop cutting-edge technologies, accelerate industrial transformation and upgrading, and strive to internationalize its operations.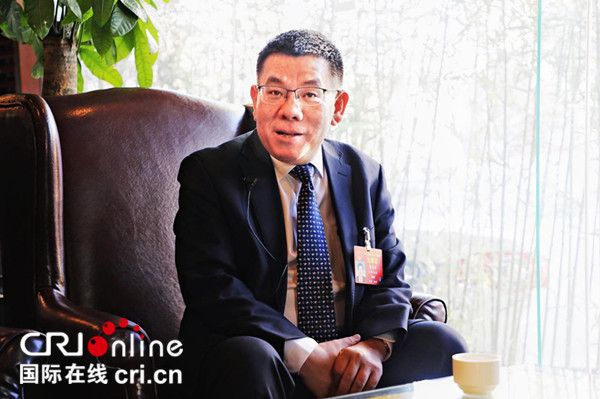 CRI Online with Guangxi Liugong Group's President Zeng Guangan
Photograph by Qin Xiaobo
Mr. Zeng believes that a global consensus on the definition of the Industrial Internet of Things remains elusive as the field is still being explored.
"From the perspective of the construction machinery industry, the driving philosophy behind the Industrial Internet of Things (IIoT) is the intelligence of the smart machine and the effective application of other related technologies," Zeng said. "It generates tremendous value through exploring data processing and data sharing between devices, mining and analyzing big data."
According to Zeng, data streams from industrial machines are updated in real time, and the mining and analyzing of which could generate great value. Using the excavator index as an example, he said that an analysis of the operating rates and service levels of machines can help one gleam insights into the current economic climate and investment hotspots.
Zeng pointed out that the Belt and Road Initiative provides a historic opportunity for the internationalization of China's manufacturing industry.
"Liugong Group has been developing international markets since 2003. Now the company operates in 140 countries and regions, including more than 50 countries and regions along the 'Belt and Road'," he said. "Currently, overseas business accounts for about 30% of the entire business of Liugong Group."
Zeng also made clear that Liugong Group will strengthen its in-depth marketing capabilities, improve its service quality, grow its brand awareness, integrate its research and development, manufacturing and marketing systems as it seeks to internationalize its operations across the board. At present, Liugong's loaders and excavators are already being manufactured locally in India, Poland and Brazil.(Kevin)