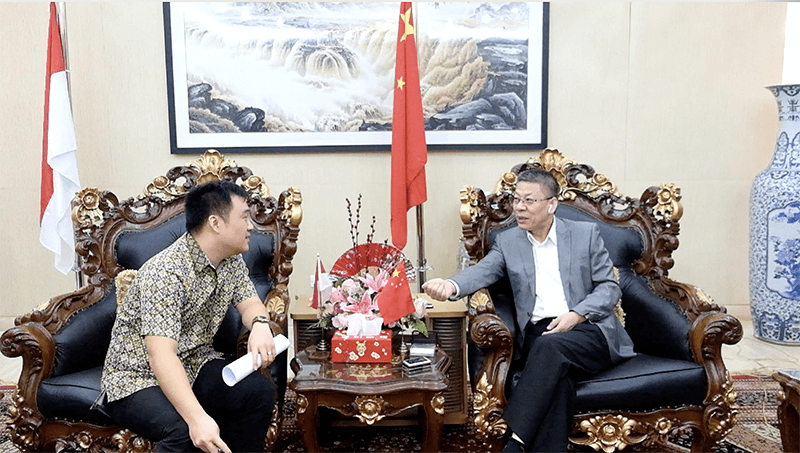 Wang Liping (right) was having an interview (photo by Li Shukun)
The 16th China-ASEAN Expo (CAEXPO) will be held from September 20th to 23rd, 2019 in Nanning, Guangxi, China.
Wang Liping, Minister Counsellor for Economic and Commercial Affairs of the Chinese Embassy in Indonesia, recently said in the interview that the CAEXPO can work as a bridge to promote the cooperation between China and ASEAN in various fields, as well as to set up a broader stage for the cooperation between China and ASEAN under the Belt and Road Initiative.
Wang Liping mentioned that as the largest economy in ASEAN, Indonesia has rapidly developed economic and trade relations with China through recent years, and the two sides have made remarkable achievements in the economic and trade field. In 2018, China has become Indonesia's largest import and export partner, the bilateral trade volume between the two countries has reached a record high of 77.4 billion US dollars.
The CAEXPO has been successfully held for 15 years. Wang Liping said that with ASEAN countries actively participated, cultural exchanges, policy communication and economic and trade exchanges between China and ASEAN also have been effectively promoted. This year marked the first time for Indonesia as the theme country of the CAEXPO since 2010, the Indonesian government will send high-level delegations to attend and host a series of events, to demonstrate Indonesia's development achievements and business opportunities in economy and culture, and to promote its own featured products through the platform of the CAEXPO.
Wang Liping pointed out that the product and service quality of the CAEXPO has improved every year. And he hoped that the CAEXPO will continue to upgrade its content and capacity through strengthening cross-border e-commerce cooperation and the "Internet + CAEXPO" model innovation, promoting offline-online service and around-the-clock service, extending the value chain of the exhibition, and providing more effective services for ASEAN goods to enter the Chinese market.