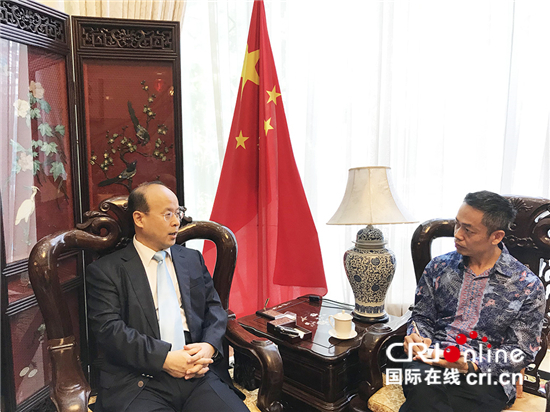 Chinese ambassador to Indonesia Xiao Qian (left) interviewed by CRI Online
Photograph by Li Shukun
On the eve of the opening of the 16th China-ASEAN Expo (CAEXPO), Chinese Ambassador to Indonesia Xiao Qian said in an interview that China and Indonesia have achieved ideal results through promoting the Belt and Road initiative jointly and steadily.
Indonesia is an important neighbor of China, Xiao Qian said. In recent years, the two countries have reached important consensus on the concept of Global Maritime Fulcrum, and cosigned a MOU to build the Belt and Road initiative and the Global Maritime Fulcrum together. The two sides are currently planning on how to implement these political consensus.The landmark projects of the development strategy of the two countries, the Jakarta-Bandung High Speed Railway and the Regional Comprehensive Economic Corridors in Indonesia have made continuous progress.In the next phase of collaboration, the two sides will further promote the coordination of the development strategy, expand cooperation in a wide range of fields such as infrastructure, resources, communications, finance, and e-commerce.
Xiao Qian made clear that since the Belt and Road initiative was put forward, the exchanges and cooperation in tourism, education, media, think tanks, youth, science and technology between the two countries have been fruitful.In 2018, the number of Chinese tourists visiting Indonesia exceeded 2.1 million. China has become the second largest overseas study destination favored by Indonesian students. Indonesia also has more than 15,000 students studying in China. Chinese pandas Cai Tao and Hu Chun have settled in Indonesia and became a bridge for friendship between the people of both countries. A large number of Chinese companies have set up factories in Indonesia to make contributions to Indonesia's economic and social development.
Xiao Qian finally emphasized that with the continuous development of China-Indonesia relations, the exchanges and interactions between the two peoples have increased substantially, mutual understanding will continue to deepen. Under the framework of "the Belt and Road ", the goal of interconnection between China and Indonesia in all fields of humanities communication will be realized at an early date. 2020 marks the 70th anniversary of the establishment of diplomatic relations between China and Indonesia. The two countries will hold various celebrations to enhance their comprehensive strategic partnership.