There are many authentic Chongqing food gathered in Bayi Road, Yuzhong District, Chongqing. The aroma of snacks and beverages attracts visitors from different places and makes the street popular among many foodies.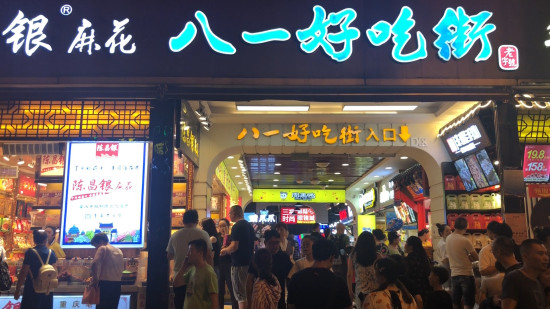 Snack Street of Bayi Road is crowded with visitors (photo by Liang Zimo)
Snack Street of Bayi Road is one of the five major sections of Jiaochangkou Night Market in Yuzhong. It is known as a traditional food street. There are more than 100 food and beverage outlets in the area, gathering a variety of flavours such as fragrant, spicy, sour and sweet. Local snacks can satisfy the imagination of tourists from all over the world.
"I'm from Hebei. I've been on a business trip in Chongqing recently. I come to Snack Street of Bayi Road to try the hot and spicy rice noodles here." Wang from Hebei said that he heard from friends that he could eat the most authentic Chongqing snacks in the street, so he come all the way here. "I think it's good. I'll come here again with my family in the future."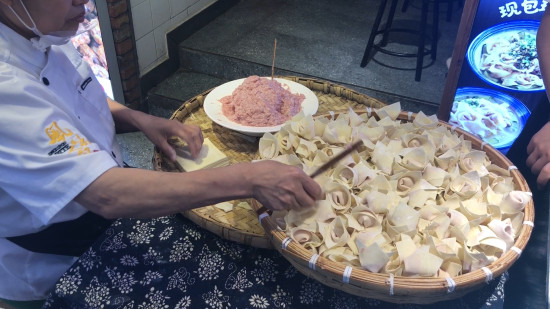 Snacks that can be observed along the road (photo by Liang Zimo)
It is known that Snack Street of Bayi Road was once a well-known area in Chongqing where various foods were gathered. Many time-honoured brands were original here. In order to ensure the flow of people and the comfort of the visitors, the traffic, environment, industrial format of Jiefangbei Pedestrian Street have been comprehensively transformed and upgraded. Snack Street of Bayi Road has gradually become a distribution centre that collects specialty snacks in Chongqing.
Early this year, as Jiefangbei Pedestrian Street has been included in the First Pilot Project of Pedestrian Street Renovation and Upgrading, Snack Street of Bayi Road once again ushered in a new development opportunity. In the future, Snack Street of Bayi Road will be upgraded to a street with better environment and higher quality.