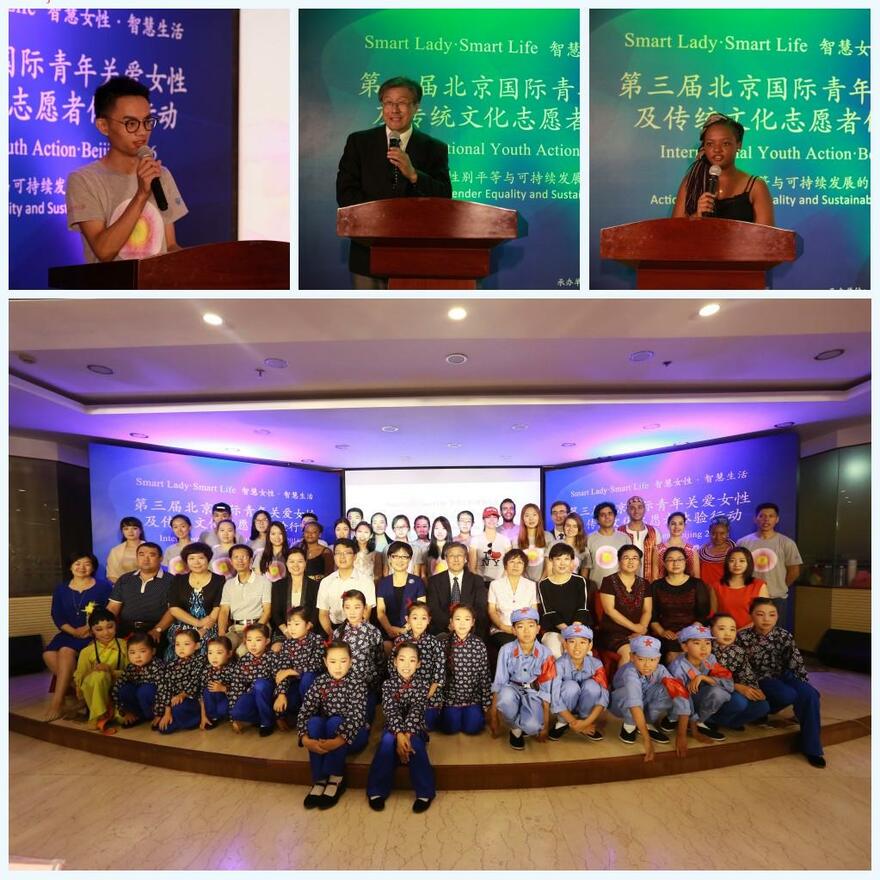 The representatives of organizers and volunteers delivered speeches
The 3rd International Youth Action · Beijing 2016, kicking off in the capital on July 10, focused on the theme of "Care for Women and Traditional Culture Volunteer Experience". The launching ceremony was held at the Chinese Society of Education in the city's Dongcheng District.
The activity, which is run under the headline "Smart Lady, Smart Life" was jointly organized by Beijing Women's Federation, the Chinese Society of Education, and the Foreign Affairs Office of the People's Government of Beijing Municipality.
It was undertaken by Beijing Women's International Exchange Center and the International Exchange Center of the Chinese Society of Education. Assistance was also given from Yanqing District Women's Federation and cosmetic retailer Mary Kay.
In the next nine days, more than 30 international youth volunteers, from Russia, Egypt, Republic of Korea, Spain, Poland, Tanzania, the U.S., Mexico, Indonesia and China, will visit the site of the upcoming 2022 Winter Olympic Games in Yanqing District. They will participate in themed activities to inherit and carry forward the spirit of the 1995 World Conference on Women, on promoting gender equality, women's empowerment, traditional culture and natural heritage protection, and to promote cross-country cultural exchange.
Ma Jianhua, Deputy Secretary General of the Chinese Society of Education delivered a speech at the launch on behalf of the organizers. He placed hopes on the international volunteers, expected them to take practical action to encourage the younger generations to attach importance to the maintenance of cultural diversity and build a harmonious, open and inclusive world together at the background of globalization.
Gertrude Mugwe Mongella, the representative of international volunteers from Tanzania, who is also the granddaughter of Gertrude Mongella, the Secretary General of the 1995 World Conference on Women; Jose Manuel Olvera Iniesta from Mexico; and, Zhou Yinqiang, the representative of the Chinese volunteers recommended by Shifang Women's Federation in Sichuan Province, also delivered speeches. They told attendees about their understanding of voluntary action, gender equality and sustainable development from different points of view.
After that, pupils from Yaojiaying central school in Yanqing District received books donated by Mary Kay, and they performed a Pingju Opera. Finally, the international youth representatives formally launched the activity in the form of musical performance.
International Youth Action Beijing for Women Caring and Traditional Culture Volunteer Experience has been held for three times since 2014. Over 200 international volunteers and over 1,000 youths from more than 20 countries have participated in the actions. They have spread their experience and ideas all around the world.
Source: beijingwomen.org.cn