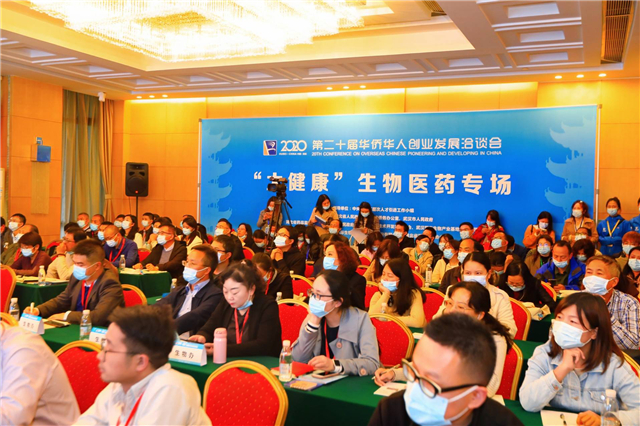 The health biomedicine special event scene Photo: Zheng Zhangqi
On November 19th at 2 PM, the health biomedicine special event was successfully held at Wuhan, Hubei. This special event is part of the 20th Conference on Overseas Chinese Pioneering and Developing in China.
The event focuses on the discussion of the recovery of the economy after the epidemic. The event also chose "pushing biomedicine forward and how to use it for the public" as a discussion topic. Top rate experts from the Global Biomedical Innovation Center and the Overseas Chinese Biomedical Innovation Association discussed how to create new cooperation of biomedicine industries, new high technology introduction, and current popular medical technologies with representatives from the World's top 500 transnational corporations. This event was trying to help Hubei's biomedicine industries grow faster, by analyzing new trends of global biomedicine industries, make topic speeches, and sign up for new technologies.
The event also invited experts to share their thoughts on current biomedicine policies. After that, they did a presentation about the progress of Chinese COVID-19 vaccine development.
As a communication platform, the Conference on Overseas Chinese Pioneering and Developing in China was always trying to promote personnel, new technologies, and the economy to cooperate. The goal of the special event is to find more personnel of biomedicine, unite pharmaceutical enterprises to work together, support the development of Wuhan's National Biological Industry Base and Hubei's Biomedicine Industry Incubator, and accelerate Hubei's Biomedicine and medical devices industries' development.