On March 6th, the activity of "Decode a Happy Aba – Foreigners Witness the Poverty Alleviation Achievements of Aba Prefecture" kicked off, which is sponsored by the Information Office of Aba Prefecture People's Government, and organized by CRI Online Sichuan Channel. Foreign students from Argentina, Peru, Rwanda, Thailand formed a group, going into A'buluo village, which was a poor village in Aba Prefecture, to find the secret of overcoming poverty and achieving prosperity by local villagers.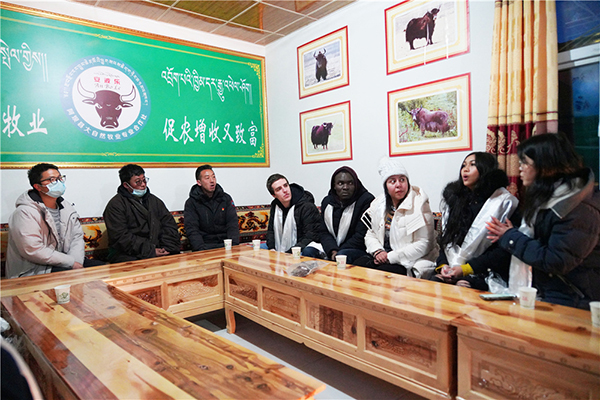 Foreign students are listening to the poverty-alleviation story of A'buluo Village Photo: He Gang
"Our village sold a total of 15 yaks last year, earning nearly CNY 70 thousand, among which village collective economy retained CNY 20 thousand, with CNY 50 thousand distributed to the villagers." said Hu Jun, the First Secretary of Party Committee of A'buluo Village.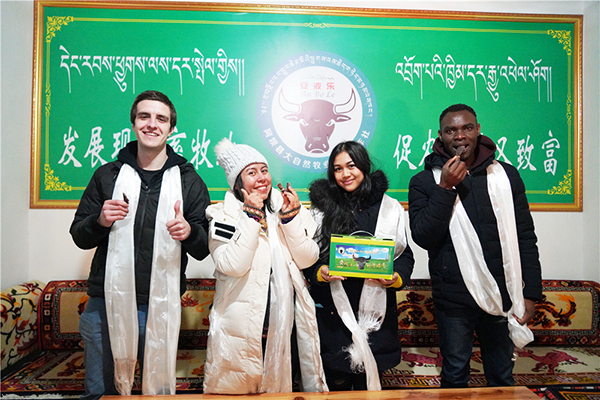 Foreign students are full of praise for the air-dried yak meat of A'buluo Village Photo: He Gang
The foreigners are full of praise after tasting the air-dried yak meat produced in the Yak Breeding Base of A'buluo Village. Hu Jun said, they only added salt in the production of yak meat, so its original delicacy was retained. Joaquín Estrader, a foreign student from Argentina expressed his wish of buying the air-dried yak meat in e-commerce platforms.
Que Gesheng is a village of A'buluo Village, who got the rid of poverty in 2018. Que Gesheng said that he is very grateful for the policy of poverty alleviation. By the benefit of this policy, his children went to high school with most fees waived, and they can also get 95 percent reimbursement for medical expenses.
A foreign student from Thailand named Paphattareeya marveled at what she heard, "Chinese government waived so many fees for the villagers, and it is really great!"